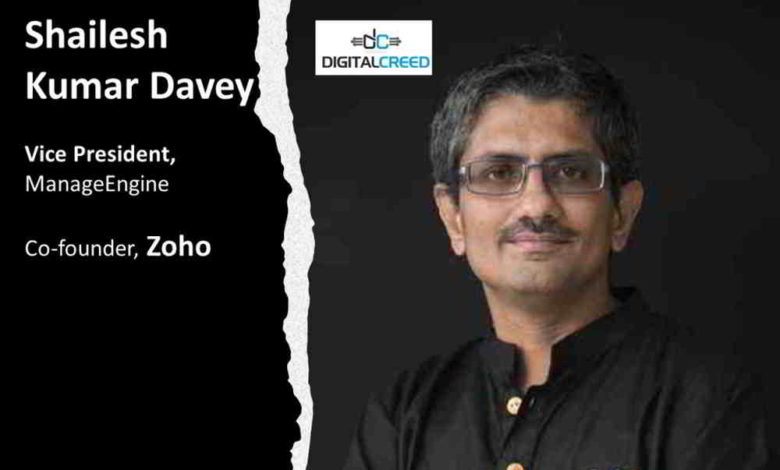 Zoho Corporation, the Chennai-headquartered company was incorporated in 1996, and has just completed 25 years of being a global technology provider.
Zoho is an Indian multi-national company that makes great software for the world. Today it has 60 million plus users for its software – and its portfolio is fast expanding. Who hasn't heard about Zoho Office, a business suite that includes most business functions – from sales & marketing to customer service, finance, project management, collaboration, to Bi & Analytics and IT solutions.
Over the years, the company has diversified, with three brands serving different markets, starting with IoT platform (under WebNMS), enterprise IT management (under ManageEngine) and cloud platform and applications (under Zoho).
Mr. Shailesh Kumar Davey is the Vice President at ManageEngine and one of the Co-founders of its parent company, Zoho Corp. He is currently involved in implementation of engineering processes across the organisation. He is a veteran in the industry with decades of experience at leading IT companies such as TCS and IBM before starting Zoho.
In a candid chat with Brian Pereira, Founding Editor, Digital Creed, Davey takes us down memory lane and talks about the early days of the company. He shares the success of his company and its ethos and vision.
RSS: https://feeds.soundcloud.com/users/soundcloud:users:209219062/sounds.rss
Tech That! is the podcast series on business technology concepts like cloud computing, data centers, virtualization, cybersecurity, artificial intelligence, machine learning, blockchain, business analytics, IoT, robotics, applications, 5G/mobile, and other enterprise computing trends. The episodes are recorded and produced by Brian Pereira, a tech journalist with over 26 years of journalism experience.
Episodes: https://www.digitalcreed.in/category/more-topics/podcast/
Subscribe and like our channel on SoundCloud: https://soundcloud.com/brian9p
Email us: [email protected]