PODCAST
Episode #20: Using Cloud Platforms to Build Resiliency into Supply Chains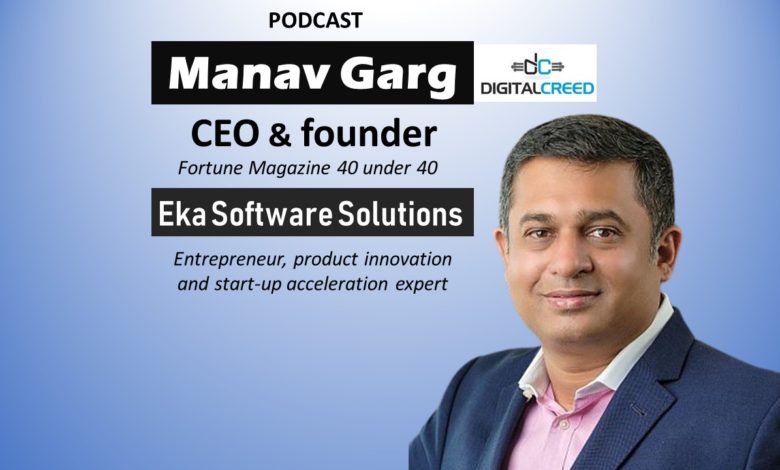 Back in 2004, when most companies in the Indian IT industry were focusing on Services, Eka Software Solutions took the bold step towards building a Product company. And the bet paid off. It soon grew to become a global multi-million dollar company. Listen to the man who took that risk – Manav Garg CEO & Founder Eka Software Solutions. Manav is widely recognized for his leadership in the enterprise software industry and was listed in the "40 Under 40" compilation of executives in India by Fortune Magazine.
He founded Eka Software Solutions in 2004 with the vision to modernize commodity management. He's a former commodity trader himself and one of the pioneers who successfully built a global software company from India in an era when everyone was focusing on services.
Today, he is credited with steering Eka's transformational growth into a platform company driven by cloud for supply chain and financial management.
Alluding to "black swan" events like the pandemic and the Suez Canal incident, Manav recalls how supply chains were disrupted. He then explains how a cloud-native platform helps organizations plan for unforeseen events like these, to minimize impact on supply chains.
Tech That! is the podcast series on business technology concepts like cloud computing, data centers, virtualization, cybersecurity, artificial intelligence, machine learning, blockchain, business analytics, IoT, robotics, applications, 5G/mobile, and other enterprise computing trends. The episodes are recorded and produced by Brian Pereira, a tech journalist with over 26 years of journalism experience.
Episodes: https://www.digitalcreed.in/category/more-topics/podcast/
Subscribe and like our channel on SoundCloud: https://soundcloud.com/brian9p
Email us: [email protected]