In this episode, Subram Natarajan, Chief Technology Officer, IBM India/South Asia says Hybrid Cloud is regarded as the 4th platform. He elaborates on how organizations need to plan their cloud journey with these four steps:  Advice, Move, Build, and Manage.
Subram has been with IBM for over 20+ years, serving various roles. As the CTO, he leads the technology mandate for IBM India/South Asia.  Along with a team of Deep Technology experts, he drives IBM's Platform conversations around Cloud and Cognitive with Enterprises, ISV's, Developers, and Startups. He is responsible for all technical engagements with key customers in the region in helping them address their IT and Business challenges.
In the recent past, he was leading the Industry Solutions team and the client center teams for IBM in India and South Asia. In this role, he helped develop key architectural patterns and drove industry adoption of cutting-edge domain-specific solutions.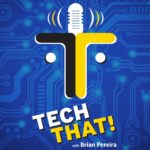 Tech That! – the podcast series on business technology concepts like cloud computing, data centers, virtualization, cybersecurity, artificial intelligence, business analytics, IoT, robotics, applications, 5G/mobile, and other enterprise computing trends. The episodes are recorded, edited, and produced by Brian Pereira, a tech journalist with more than 25 years of journalism experience.
More podcasts: https://www.digitalcreed.in/category/more-topics/podcast/
Subscribe and like our channel on SoundCloud: https://soundcloud.com/brian9p