DOHA, Qatar – Qatar Airways today celebrated the delivery of the world's first Airbus A350-1000 as the aircraft's global launch customer before an audience of international media at the Airbus Delivery Centre in Toulouse, France. It is the first Airbus aircraft to be fitted with Qatar Airways' revolutionary Qsuite Business Class seat.
Qatar Airways Group Chief Executive, His Excellency Mr. Akbar Al Baker, hosted a press conference in Toulouse to mark the delivery of the spectacular state-of-the-art aircraft to Qatar Airways, in the presence of Airbus President and Chief Operating Officer, Mr. Fabrice Brégier; and President of Defense Aerospace Rolls-Royce, Mr. Chris Chorleton.
Qatar's Minister of Finance and Chairman of Qatar Airways Group, His Excellency Mr. Ali Shareef Al Emadi, said: "This is a very proud day for the State of Qatar, as Qatar AIrways becomes the global launch customer for the world's most technologically advanced aircraft. The Airbus A350-1000 will be a wonderful addition to our national carrier's fleet, allowing Qatar Airways to continue to set the highest standards of excellence and quality in the industry. Today's delivery is a testament to Qatar Airways' commitment to continued expansion."
Qatar Airways Group Chief Executive, His Excellency Mr. Akbar Al Baker, said: "Qatar Airways always demands the very best for its customers, so it is right that we are the first airline in the world to take delivery of the very first Airbus A350-1000. This remarkable state-of-the-art aircraft will be the first of 42 to be flown on our expanding global route network. It will become a firm part of the Qatar Airways fleet, making us the biggest operator in the world of this aircraft type and maintain our status as flying one of the youngest fleets in the sky, with an average age of just five years.
"The Qatar Airways A350-1000 will keep us ahead of the curve and allows us to continue to offer our passengers the outstanding levels of comfort and style that they expect from Qatar Airways. And at 23 feet longer than the A350-900, it will also enable us to substantially increase our capacity on the routes on which we operate it, offering 46 Business Class seats in our award-winning and revolutionary Qsuite, and 281 extra-wide 18-inch seats in Economy Class.
"Combine this with its cutting-edge light-weight carbon composite design, incredibly fuel-efficient Rolls-Royce Trent XWB-97 engines, the additional revenue benefits generated by the A350's lowest seat mile cost in its class, and its excellent reliability record, and you have an unbeatable aircraft on which we will offer our world-famous award-winning five-star service."
Airbus President and Chief Operating Officer, Mr. Fabrice Brégier, said: "It is a huge source of pride for Airbus to deliver the very first A350-1000 to our launch customer Qatar Airways. Bringing major advantages in fuel and cost efficiency along with unmatched passenger comfort, the A350-1000 is the ideal aircraft to showcase Qatar Airways' legendary customer service. With its greater capacity compared to the A350-900, the newest widebody will play a major role on the carrier's busiest long-haul routes and will contribute to strengthen their position at the forefront of the aviation industry."
The A350-1000 is the latest member of the Airbus wide-body aircraft portfolio. As the global launch customer, Qatar Airways will be the first airline to fly the A350-1000, which will go into service on the Doha-London route this month. Qatar Airways operates six daily flights between Doha and London Heathrow Airport. The airline was also the global launch customer for the A350-900 in 2014, and now operates 21 in its fleet.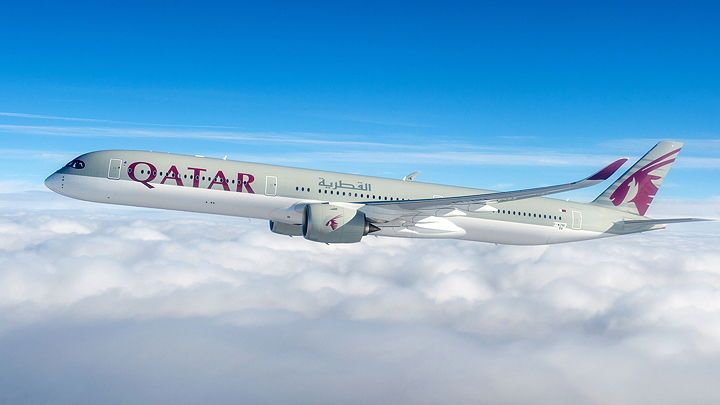 Compared to the A350-900, the A350-1000 features 44 extra seats, with a two-class cabin of 46 award-winning Qsuite Business Class seats in a 1-2-1 configuration, featuring 80-inch fully flat beds and 22-inch HD in-flight entertainment screens. This will include 46 suites, with the middle suites able to convert to six double beds, and six quad suites. Economy Class will contain 281 seats, each 18-inches wide in a 3-3-3 configuration, with up to a 32-inch pitch. Each individual seat will feature an 11.6-inch in-flight entertainment screen, and extra space at shoulder level for passengers in window seats, thanks to the near vertical side wall panels. It offers enhanced levels of passenger comfort, thanks to the lowest twin-engine noise level of any aircraft, advanced air conditioning technology and full LED mood lighting.
Two state-of-the-art higher thrust Rolls Royce Trent XWB-97 engines power Qatar Airways A350-1000, offering lower approach speeds. They were developed by Rolls Royce' engineers with new technology in the engine's core to provide a higher take-off thrust capability of 97,000lbs per engine, without compromising operating costs. As the world's most efficient large aero engine, they save around $2.9 million per aircraft per year on fuel.
Like the A350-900, more than 70 per cent of the A350-1000's lightweight airframe is made from advanced materials combining composites (53 per cent), titanium and advanced aluminum alloys. The aircraft's carbon fibre reinforced plastic fuselage results in lower fuel burn, as well as easier maintenance. The A350-1000 also features a distinctive all-new, six-wheel main landing gear and four per cent larger wings
Qatar Airways operates a wide range of 118 Airbus passenger and cargo aircraft in its fleet of more than 200 aircraft. This includes nine Airbus A380s, 21 A350-900s, four A340-600s, 13 A330-300s, 13 A330-200s, seven A321-200s, 39 A320s and two A319LRs.
As well as being voted Skytrax 'Airline of the Year' by travellers from around the world, Qatar's national flag carrier also won a raft of other major awards at last year's ceremony, including 'Best Airline in the Middle East,' 'World's Best Business Class' and 'World's Best First Class Airline Lounge.'
Qatar Airways operates a modern fleet of more than 200 aircraft to a network of more than 150 key business and leisure destinations across Europe, the Middle East, Africa, Asia Pacific, North America and South America. The airline is launching a host of exciting new destinations planned for 2018, including Thessaloniki, Greece and Cardiff, U.K, to name just a few.
Image credit: Airbus
Other aviation articles on Digital Creed:
How do you solve a problem like Air India?
Indian aviation ramps up tech investment