OPINION
Disrupt or be Disrupted! (How to survive in a Digital world)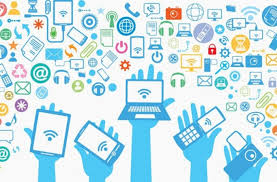 I heard you on the wireless back in Fifty Two
Lying awake intent at tuning in on you.
If I was young it didn't stop you coming through.

Oh-a oh

They took the credit for your second symphony.
Rewritten by machine and new technology,
and now I understand the problems you can see.

–Lyrics, Video killed the radio star (The Buggles)
I've been tracking technology for years and see a consistent pattern with each new wave: New technology introduces a lot of convenience and makes our lives more comfortable. But it also kills a preceding technology that has been in use for years. You've probably heard the song Video killed the radio star (The Buggles, 1979). Likewise, MP3 and streaming services killed the audio CD; and CD killed the cassette tape, which in turn killed long play records (LPs) and 45s.
Well, we are seeing this serial elimination of sorts in services too. Taxi aggregation services are ruining business for the traditional cabbies. And The Marriott is threatened by AirBnb.  The next industry that's about to be shaken (not stirred) is Banking. With a roost of payment companies lining up for Banking licenses in India, you can imagine what's going to happen once the bBanking regulator (RBI) changes the rules and grants licenses.
So how do we (traditional players) react?
In Paris, taxi unions would protest the entry of Uber. In Mumbai, the Kaali-Peelis would go on a flash strike and attack all the radio cab drivers.
But in Bangalore, some forward thinking rickshaw drivers would partner with Ola (as I was delighted to experience). Mumbai Rickshaw drivers can learn something here and do likewise, instead of refusing fares.
So the mantra is: If you can't beat 'em, join 'em.
Coming back to the Banking industry.
Traditional banks like the SBI are trying to understand how all these cool startups with their 20-something CEOs work. Their officials sit in the front rows of startup conferences and lap up every word uttered by CEOs — who are young enough to be their nephews and nieces. For them, it's back to school days : The Dummies Guide to how Startups Work.
Many Private sector banks (and some Public sector ones) are embracing digital and creating apps for mobile wallets. Their marketing teams are hard at work trying to get the attention of the young consumer on social media channels; and trying to understand consumer behavior.
The Airline industry in the United States and Europe is another prime example. Where is BOAC, TWA, PanAm etc today? Why have they closed down?
They became too confident and too complacent, turning a blind eye to changing consumer trends, and refusing to adapt. Who needs intercontinental flights? Transatlantic and coast-to-coast will do for us, thank you.
Former Intel Chairman, Andy Grove said, "Only the paranoid survive." He also wrote a book by that name.
So the advice for all the traditional services companies is: Don't just be paranoid, but also be a disruptor yourself.
Evolve, change, and embrace digital. Adapt business models, like Starbucks did.
Embrace technology, apps and social media.
Either disrupt or be disrupted.
———————————————-