The education system in India is fraught with challenges and unemployment continues to be a major problem. Around 1.5 million engineers graduate from India each year but fewer are getting hired. Last year employability assessment company Aspiring Minds claimed that 95 per cent of engineers in the country were not fit for software development jobs. And this story is repeated for managerial jobs as well.
Wiley is a 200-year old publishing group that began with textbook and journal publishing. With the advent of the digital age, it transformed itself into a digital learning platform and embraced technology. It now offers learning management solutions, certifications, online journals, and digital courseware.
Wiley has studied the education system in India and has identified the gaps. It works with industry, academia and research institutions to provide solutions for learning and skill development – to make students employable in the industry. Rather than just learning the theory, Wiley believes in adding more context, by teaching students to solve real-world business problems.
Brian Pereira met Vikas Gupta – MD, Wiley India at the Wiley Global Innovation Summit in Bengaluru, in January 2019, to discuss the WileyNXT platform and other Wiley initiatives.
The WileyNXT platform enables skill transformation through experience-based applied learning.
Excerpts from the interview:
DC: What are the key challenges you see in the Indian education system? How do we solve these challenges with sustainable solutions?
Vikas Gupta: One of the biggest challenges in the education system is Employability. In India, students go to colleges believing the outcome of that is a job. But the reality is despite education, the industry says that the students need 4 to 6 months of training to become billable. And increasingly, it is becoming impossible for companies to bear this burden not just in India.
Attempts have been made to solve this, through initiatives such as bridge curriculum and boot camp training, to add to the academic curriculum. These are good strategies that work in some form, but these are not sustainable or scalable; they will not change the education system.
You can't change the system because there are multiple stakeholders involved, such as the government and universities. But you can augment that with certain add-ons that do not change the curriculum, but changes the way students learn.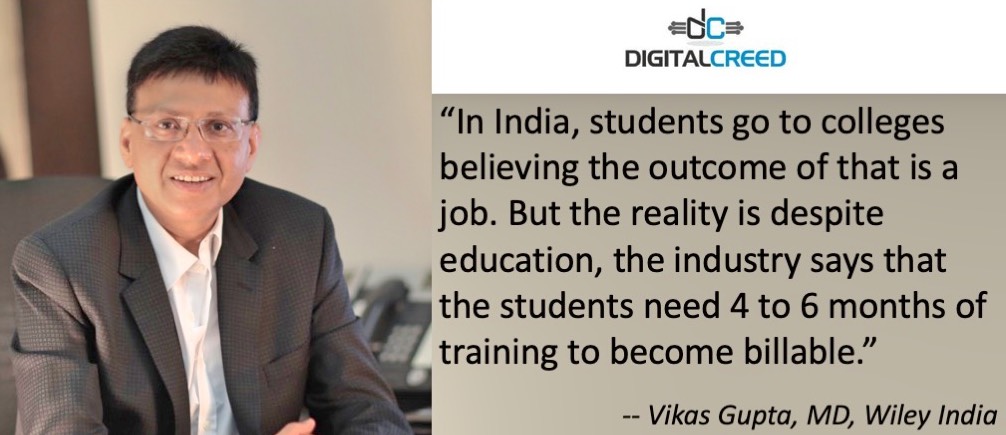 DC: How is Wiley trying to solve some of these challenges?
Vikas Gupta: Concepts are taught in the classroom. Students are taught to solve problems from a chapter. They learn all about data structures and pointers. But when they go out into the industry they are unable to solve real business problems. That is the difference between what has happened in the past and what we are trying to build. This is something we have created in WileyNXT — taking thousands of these business problems, filtering them in a way that they integrate with the curriculum, and then adding the context to the concepts that students learn in the classroom.
It encourages learning by doing it yourself, using any language of your choice, and at your pace. There may not be a single answer as everyone can have a different answer when they solve these problems. If one can solve complex problems with multiple outcomes — that is the kind of critical mindset we are going after. Through this initiative, we intend to retain the sanity of the classroom or the college and keep the degree intact while exposing the students to the industry and their business problems.
DC: What are the salient features of the WileyNXT platform?
Vikas Gupta: Some key salient features include:
Comprises numerous business case scenarios, varying in complexity across industries.
While using the program, it enables the students to use nine simulators simultaneously.
We do not teach languages but teach a full stack development using business cases. For instance, a student can learn Java in the classroom, but we teach it from the point of view of solving a business problem.
Trying to create a cross-functional approach and create cross-functional projects. Through our platform, we bring together students from multiple disciplines and colleges to solve business problems. So, it is necessary to create cross-functional projects instead of a single domain project. And the private universities and colleges are really open to this idea as the industry is looking for that too.
DC: What makes the WileyNXT platform different from similar education platforms out there?
Vikas Gupta: We have built a credentialing system that is not based on True/False answers. They are all simulation-based questions where there are multiple answers and outcomes. Students cannot copy.
The platform monitors one's performance very closely. It checks how much time one spends to solve a problem, the quality and accuracy of one's coding. In group projects, it checks the individual contribution of each person, and eventually checks the learnability quotient — how much time was spent on learning a new concept.
We match the job descriptions given to us by companies with the best-fit candidates along with a three-year track record of the candidates.
We have a four-year model and in year one, they get free courses along with free access to all year one curriculum (textbooks). Then the students need to go through our screening tests conducted throughout the year. Those who pass our test at the end of year one, are then taken into the paid model, which starts in year two, choosing the best from the batch.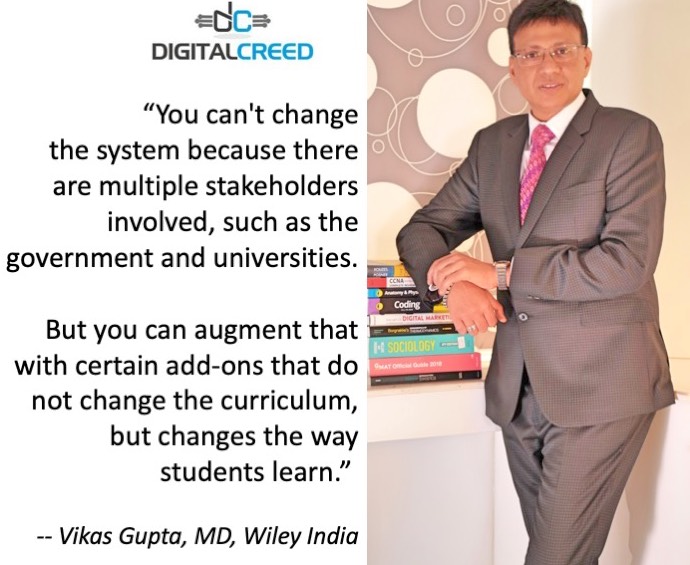 DC: What kind of partnerships has Wiley forged with government and other industry bodies such as NASSCOM?
Vikas Gupta: Multiple models have failed previously both at the government and NASSCOM's levels. Companies have created their own unique format for hiring candidates, basis the skill requirements that they have, or may have. But there has never been an agreement among these companies. So we are taking a different approach of working with these corporates to understand their requirements better. We ask the companies about the job descriptions and we would work towards their need. If they want us to share case studies, we can include that too.
On the other hand, we want to work with bodies like the National Skill Development Corporation (NSDC) to fund economically weak students and train them to make them job ready. And we can get the money back from the companies.
DC: You show interest for the Tier-2 colleges and students there? Why is that so?
Vikas Gupta: We believe anyone in Tier 1 colleges, who has multiple job offers is not interested in discussing matters beyond the curriculum. For instance, even the largest campus hiring company does not go beyond 250 campuses in a year. And we have 3,000 engineering colleges in India; if one only visits the top colleges then what about the other 2,700 colleges? We are building democracy in this.
The students in Tier-2 colleges are much more motivated as they may get only one job offer and would want to somehow make it work. They are hungry for knowledge and stick around longer comparatively too. So we target these colleges and work with their students.
---
DC: What is the Wiley Global Innovation Conclave all about? What are the key takeaways? 
Vikas Gupta: Wiley Global Innovation Conclave (WGIC) was all about bringing the industry, research and academia together and making the colleges understand that campus hiring is no longer the way to attract students.
Secondly, it is becoming evident that hiring is a continuous process that occurs throughout the year based on their needs. Companies will hire whenever they need talent, not just in one or two batches.
Thirdly, there could be a tectonic shift where companies would hire people only on contract in year one. People who excel could get a full-time job. Companies are realising that it is becoming expensive to hire, train and make students billable. And we are becoming less competitive globally.
So the biggest challenge is how do we change this mindset?
It is time that colleges need to understand that it is not only about demand. Now there will be competition among those who have 1 or 2 years experience — even jobless people will apply for the same jobs.
That is where the change is coming.
So, the event has made it clear that all three must work together — academia, research and industry and create a democratised way of finding a solution where all stakeholders' expectations have been taken into consideration.
---
Brian was hosted by Wiley India for the Wiley Global Innovation Conclave 2019, in Bengaluru.