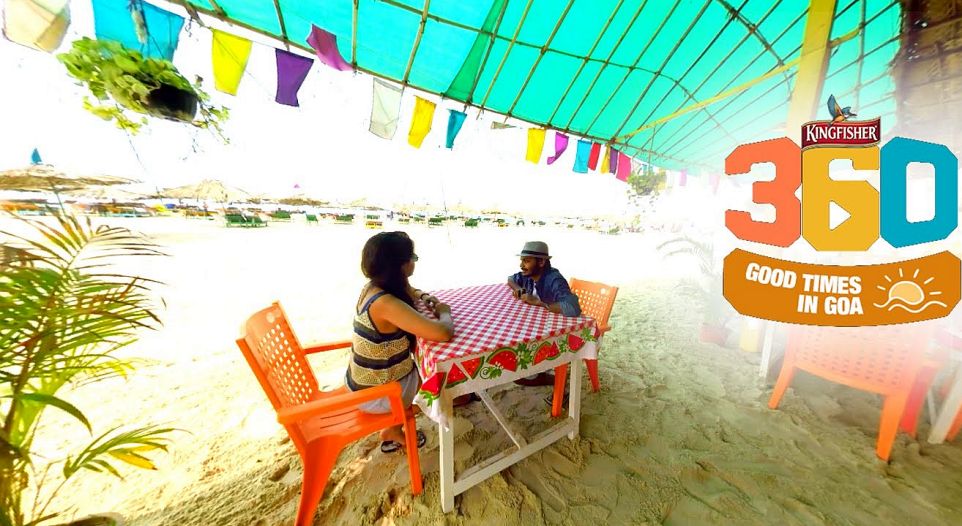 Kingfisher Premium is the flagship product of The United Breweries Group. Kingfisher also has the tagline 'The king of good times.' The lifestyle brand is known for being an early adopter of social media and other innovative offline and online channels that appeal to the youth. In fact, it was among the first brands on Instagram, Vine, Facebook, Twitter and YouTube. Kingfisher started using virtual reality for its activations 2 years ago, when people were just beginning to hear about VR.
In June 2016, Kingfisher launched its latest VR campaign 'KF 360 cities'. The idea was to give users a 360 degree tour of popular tourist destinations in India. And people usually associate an experience on a beach in Goa with Kingfisher beer!
With the larger goal of showcasing how Kingfisher is integral to having fun in the city, the videos walk users through the coolest and most popular parts of the country, showing them the best way to unwind in those cities with Kingfisher. The brand has already released Goa & Pondicherry as part of their 'KF 360 Cities' campaign and claims to have seen tremendous response across social platforms. KF 360 Cities will soon include other popular holiday destinations like Kerala, Rajasthan and Uttarakhand.
Samar Singh Sheikhawat, Senior Vice President – Marketing at United Breweries, said: "If you go on a holiday to any place in the country, your holiday is incomplete without a Kingfisher beer. While we show you all the great tourist spots in Goa, there are also shots of people on the beach enjoying their Kingfisher beer. So we want to show that a city is incomplete without Kingfisher, and at the same time we want to let you experience that city."
Targeting the youth, Kingfisher has created a riveting series of virtual tours that can transport the viewer into any of the given cities. From the beaches of Goa to the sand dunes of Rajasthan, adventure seekers can get a 360 view of the city by logging onto the Kingfisher pages on Facebook and YouTube.
"Virtual reality gives us the option to put the user into the center of the experience. And we want to be an early adopter of this immersive technology. We like to believe that VR is a revolutionary game changer in content marketing. This is an experience that money can't buy and it keeps the brand really cool," added Samar.
To experience KF 360 Cities you will need a VR headset such as Samsung Gear or Google cardboard. But you can also experience it without the headset, on your mobile phone or desktop. Point your phone browser to the 360 videos on Kingfisher's Facebook or YouTube pages, then tilt your phone to enjoy the 360 video experience. If you are visiting these social pages from your desktop, then drag the video in the direction of the arrows to move around. Of course, the experience is most immersive with a VR headset.
This is not the first time that Kingfisher has dabbled with VR for activations. Cricket lovers may recall that in 2015, Kingfisher and Candid Marketing developed a VR-based game with the objective to celebrate Kingfisher's association with the 7 IPL teams. Super Scorer is a virtual reality-based game designed to give cricket lovers an immersive 3D gaming experience, using Google cardboard and a motion sensor-enabled cricket bat. This unique activation got over 15,000 people to play the game. Candid Marketing executed Kingfisher's virtual reality-based activation ideas across 10 cities pan-India.
The other preceding campaigns like the Kingfisher Super Chasers VR Game, during the IPL season used VR gear to transport users into a virtual cricket stadium, giving them an immersive gaming experience. The game created a lot of fan frenzy during the Kingfisher on-ground activations across the country, with even cricketers trying their hand at the game.
Kingfisher also did an activation called Oculus Rift Beer Coaster at October Fest 2014. Beer drinkers experienced a virtual roller coaster ride and their heart beat triggered beer from the Good Times beer dispenser. People were strapped with pulse meters that were linked to a beer dispenser. When the roller coaster plunged in the VR environment their heartbeat would increase. The dispenser sensed it and as soon as one's heartbeat went above a threshold it dispensed a can of beer. A message flashed on the Oculus screen saying: "Keep calm and drink Kingfisher!" This was linked to social media and updates about people's experiences were also posted to Kingfisher's Facebook page. Almost 590,000 heartbeats were generated in 3 days.
————————————————————————————