TOP STORIES OF THE WEEK
10 things I learnt from The Computing Conference 2018
Here are some of the key announcements and personal observations made at The Computing Conference, Hangzhou, China.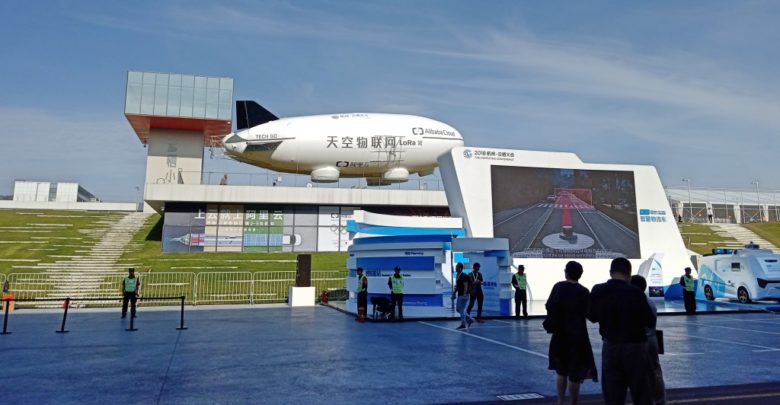 The Alibaba Group conducted its premier technology event, The Computing Conferencebetween 19 – 22 September in Hangzhou, the capital city of the Zhejiang province in Northeast China. The Computing Conferenceis Alibaba's annual technology event where it showcases an array of cutting-edge technologies from the company and its partners. The theme for the 9thedition of the conference was Empowering Digital China. There were many discussions on digital transformation, transforming business and cities, and helping small and medium businesses – even using technology to help wildlife and to better your swing technique in a game of golf!
Around 120,000 attendeesincluding company CEOs, entrepreneurs, developers and technology enthusiast across the world joined the four-day event in Hangzhou, Alibaba's global headquarters. Featuring 170 forumswith more than 1,500 speakers, a 30,000-square-meterexhibition area with booths from over 200 international firmsincluding Intel, SAP, Accenture, NVIDIA, as well as technology-empowered sports games and an outdoor music festival, the Conference brought attendees an unparalleled experience with the latest technology innovation.
In his book Alibaba The house that Jack Ma built, author Duncan Clark writes that Alibaba has strengths in three core areas that he calls 'The Iron Triangle' – the e-commerce edge, the Logistics edge, and the Finance edge. Once you read this report you will see that it has the potential to expand into other areas like hospitality, smart logistics and autonomous driving.
Here are some of the key announcements made at The Computing Conference as well as my interpretation of what these announcements mean, and could lead to in the near future.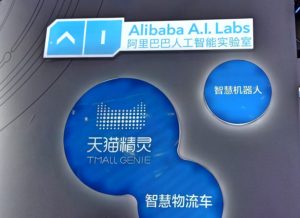 Alibaba is the new technology giant to watch
With strong roots in research (A.I. Labs), academia (DAMO Academy), and technology, Alibaba is all set to take on Google, Apple and Microsoft, especially in the areas of Artificial Intelligence (AI), IoT and Cloud. It has its own AI-enabled voice assisted technology (AliGenie), Amazon Echo-like smart speaker (Tmall Genie) an AI operating system (AliOS), and cloud (Ali Cloud). It will even manufacture its own AI processors next year (AliNPU). Fortune 100 companies like SAP, Intel, Siemens, Accenture, KPMG, Nvidia, Ford and Volvo are lining up to partner with Alibaba, and that's a key indicator of its technology prowess. There are thousands of scientists and engineers in Alibaba's ecosystem, and it has chosen to work with the community (through the Tianchi Platform)to solve challenges through technology. The company is always ready to help entrepreneurs in China and the rest of the world. It's also open to sharing its technology by collaborating with academic and research institutions.
Apart from this, Alibaba has created specific integrated solutions under the ET or Evolutionary Technologybrand, directed at sectors like aviation, urban planning, sports, healthcare etc. For instance, it has solutions like ET Aviation Brain, ET City Brain, ET Medical Brain, ET Industrial Brain etc.
All this makes Alibaba the company to watch on the global tech radar.
Alibaba lays out roadmap for quantum computing and AI chips
What was announced: Alibaba unveiled plans to develop disruptive technologies – including quantum computing and AI chips – over the next five years. The technologies are developed to support the firm's rapidly growing cloud and IoT businesses, as well as to explore new commercial applications in various industries — from logistics, materials to pharmaceuticals — that require greater computing power to achieve a technology breakthrough.
What it means: Alibaba knows that today's computing chips and technologies are inadequate to process the massive amounts of data that will be generated in the future, from e-commerce transactions, payments, logistics and other businesses that Alibaba identifies. It also needs specialised chips for artificial intelligence, IoT and cloud. So it set up the DAMO Academy, a global initiative, to lead technology and science research. Alibaba has also started designing its own chips. The Academy plans to launch its first self-developed AI inference chip — "AliNPU" — in the second half year of 2019, which has potential for use in autonomous driving, smart cities and smart logistics. And we can also expect a quantum processor from Alibaba soon. It's currently being designed at the DAMO Academy.
Read more:  https://bit.ly/2NUOTte
Alibaba announced a global mathematics competition
What was announced: Alibaba also announced "Alibaba Global Mathematics Competition", a global math competition to discover and nurture next-generation math geniuses and raise awareness about the importance of this critical subject. Leading mathematicians, including Yurii Nesterov, Professor at Catholic University of Louvain, Belgium; Frank Kelly, Professor at University of Cambridge; Gang Tian, Distinguished Professor at Peking University; Jianshu Li, Chair Professor at The Hong Kong University of Science and Technology; and Yitang Zhang, Professor at University of California, Santa Barbara will mentor select students from the competition. In addition, the Academy recognised nine excellent young science researchers with the "2018 DAMO Academy Young Fellow" award during the conference.
What it means: Alibaba is betting its chips on math and science by recognising and encouraging students. There aren't enough data scientists in the world and Alibaba wants to do something about it. So it plans to invest more than $15 billion over the next three years into a global research and development initiative called Alibaba DAMO Academy. At this conference, it recognised the 10 young data scientists through the 2018 DAMO Academy Young Fellow awards.
During his keynote Jack Ma, Chairman, Alibaba Group said, "Without math, you don't have science and without science, you don't have technology. We are glad to make our contribution towards science."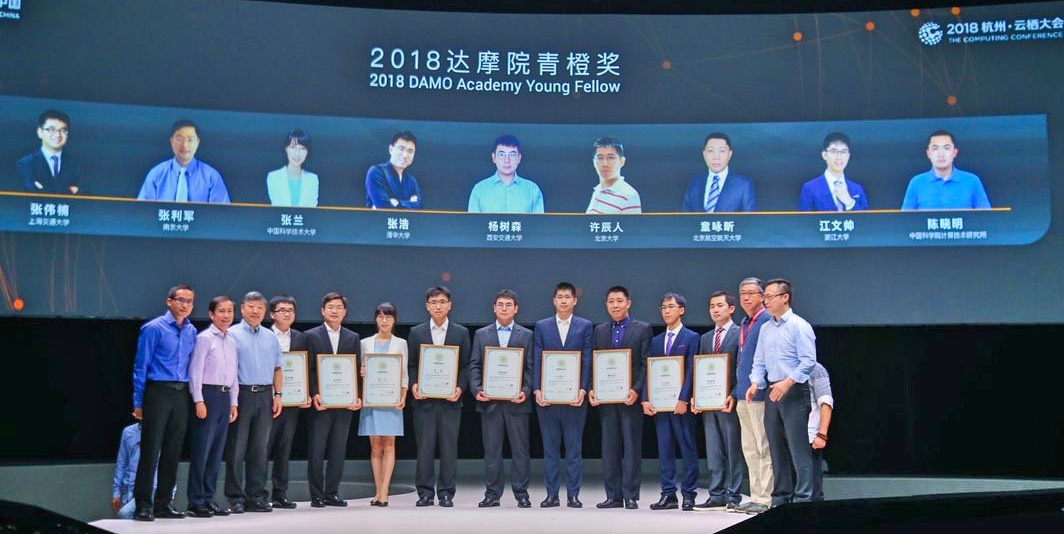 4. Alibaba launches service robots for the hospitality sector starting in October
What was announced: Alibaba A.I. Labs launched a service robot for the hospitality sector. From delivering meals to taking laundry to guests, the robot demonstrates what guests can expect at hotels in the future. Guests talk to the robot via voice commands, touch and hand gestures, and its responses are driven by AliGenie, the software that powers Alibaba A.I. Labs' smart speaker, Tmall Genie. After a trial at the hotel, Alibaba A.I. Labs will assess its suitability for other areas, including hospitals, restaurants and office services.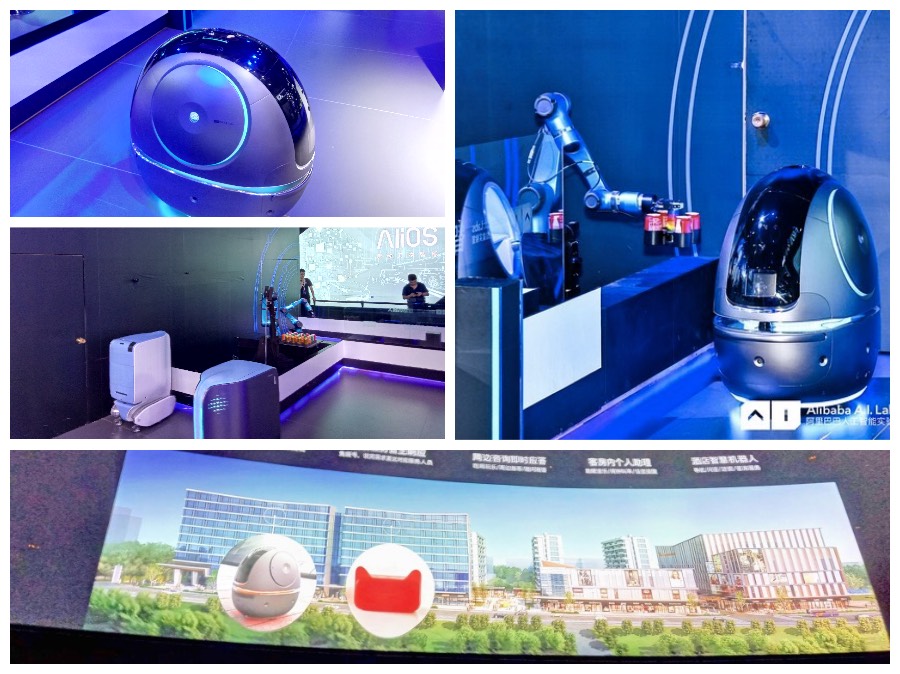 What it means:  The Tmall Genie is Alibaba's answer to Amazon Echo and Google Home. smart speakers. The AI technology powering Tmall Genie is AliGenie, the equivalent of Amazon Alexa, Microsoft Cortana, Samsung Bixby and Google Assistant. Through its A.I. Labs, Alibaba is trying to take this one step further by combining AI technologies with robotics and autonomous vehicles. The resulting products are Space Egg, Space Shuttle,  G Plus and an autonomous vehicle. Yes, Google and Apple are trying to do the same thing, but Alibaba is ahead of both. At The Computing Conference, I saw autonomous vehicles moving around the campus. And in the exhibition area I saw a robot called 'Space Egg' delivering canned drinks to visitors. It can deliver food or laundry and even recognise voice commands thanks to Alibaba's voice assistant.
Although Alibaba has announced it yet, there was talk about using Space Egg in other sectors like healthcare and logistics. In a hospital, for instance, a larger version of this robot named Space Shuttle could move between wards and deliver medicines to nurses. And in the Logistics industry, G Plus could deliver packages from warehouses to your doorstep. I also saw robots moving about in a mini warehouse set up in the exhibition area.
Read more:  https://bit.ly/2pmqTBp
Video:  https://www.youtube.com/watch?v=tAyN8MVA9IE&feature=youtu.be
Khalifa University and Alibaba Cloud Launch Joint Innovation Laboratory to Focus on Artificial Intelligence for Clean Energy 
What was announced: Khalifa University of Science and Technology, a research university dedicated to the advancement of learning through the discovery and application of knowledge, and Alibaba Cloud, the cloud computing arm of Alibaba Group, announced the launch of a Joint Innovation Laboratory of Artificial Intelligence for Clean Energy ("The Lab"), strengthening scientific cooperation between the two companies in the fields of energy and computer science.
Both parties intend to leverage The Lab as the innovation hub for clean energy solutions, utilizing artificial intelligence (AI), cloud computing and big data technologies to develop future energy technologies and energy-saving materials.
Read more: https://bit.ly/2xZWMnm
Alibaba Unveils Smart Mobility Partnership with Bosch, Volvo and Ford
What was announced: Alibaba announced a series of smart mobility initiatives in partnership with auto brands and technology service providers. These include partnering with Bosch on introducing Automated Valet Parking solutions in China; partnering with Volvo Cars to launch "car-to-home" AI services, through which users can monitor and control their smart-home devices from their car via Tmall Genie; and partnering with Ford for the new Internet car "Ford Kuga" following the strategic cooperation inked last December between Alibaba Group and Ford.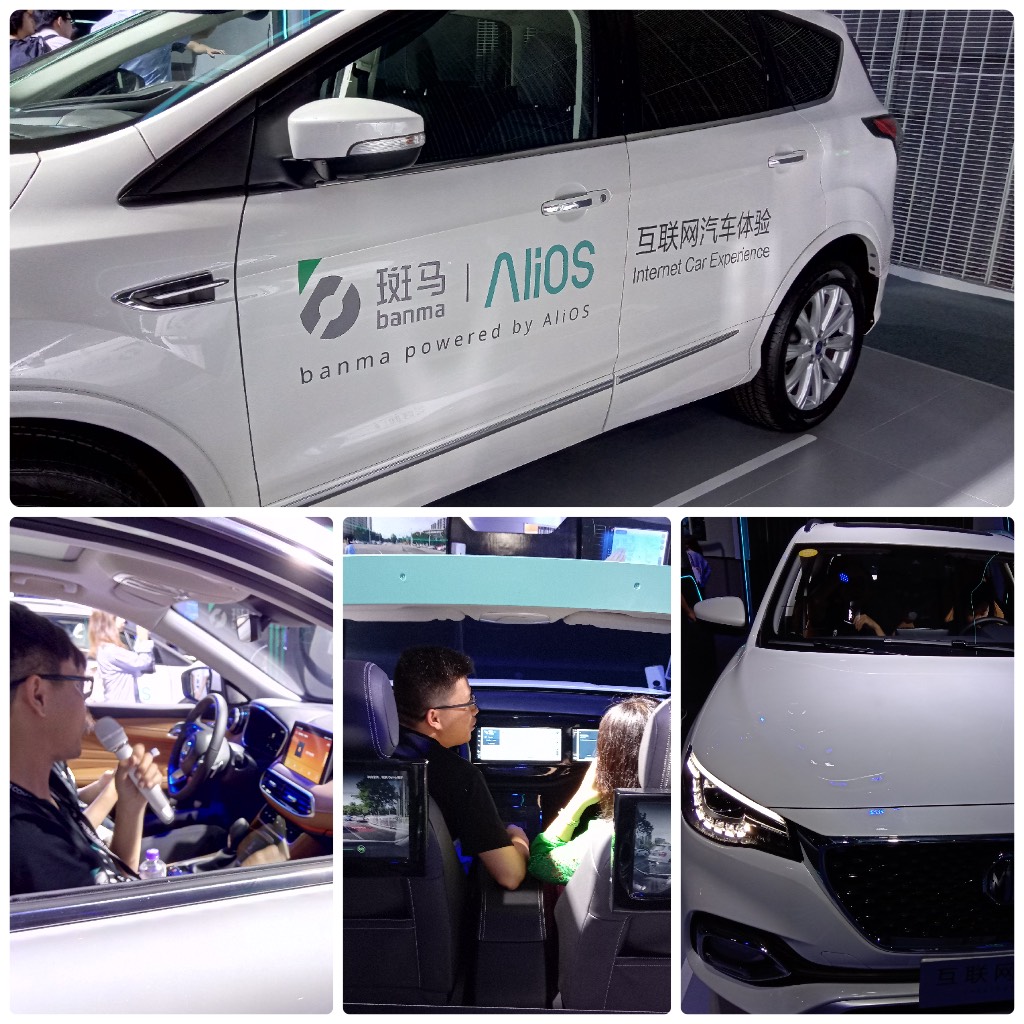 What it means:  At the heart of this technology is a Linux-based mobile operating system called AliOS. Developed by Alibaba Cloud, this OS can power smart devices like smart TVs and is now being used to power robots and cars.
I did see a demo of the Internet car at the exhibition and the guide there clarified this is voice-assisted technology for navigation, information and entertainment in the car. It can also record driver behaviour. This is nottechnology for autonomous vehicles.
The driver can give voice commands to control the windows, music volume, and air-conditioning in the car. There is also a touch screen that shows useful information such as maps and the location of gas stations.
Read more:  https://bit.ly/2OUJRdC
Alibaba Cloud to Work with Kenyan Ministry to Protect Wildlife
What was announced: Alibaba Cloud and the Ministry of Tourism and Wildlife of the Republic of Kenya agreed to explore a strategic collaboration to deploy Alibaba Cloud's technology to support the Kenya Wildlife Protection Project. Leveraging Alibaba Cloud's powerful computing, artificial intelligence (AI) and Internet of Things (IoT) capabilities, the project will work to protect the park's endangered elephants, rhinoceroses and lions.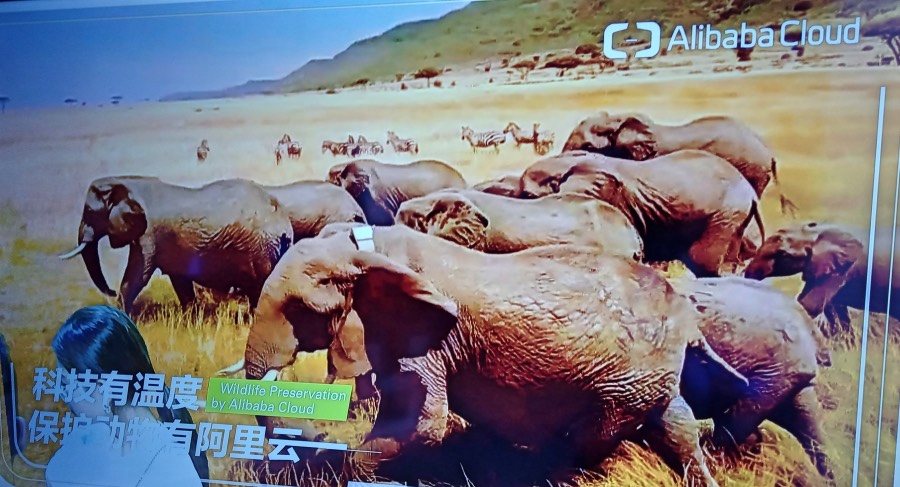 What it means:  Jack Ma adopted a female elephant on his visit to Kenya in 2017. The elephant had been attacked for stepping on the crop of local farmers. He chose the name 'Hangzhou' for the elephant and asked a team of scientists and vets to give the animal a GPS tracking collar to monitor its movement. GPS trackers were later fitted to other elephants. Scientists can now analyse data collected from the GPS device on the elephants, as this data is sent to the Alibaba Cloud. From the data, they can also keep track on the movement of these animals, and protect them from poachers.
It is important for governments to use technology like IoT, cloud and GPS to protect wildlife and their habitats. And Alibaba's initiative is indeed a noble one. It has shown one more useful application of cloud, AI and IoT technology.
But Jack Ma's interest in Africa goes beyond elephants and wildlife. He has also expressed a desire to help African entrepreneurs.
Read more: https://bit.ly/2DaMh6i
Video: https://www.youtube.com/watch?v=E4L5S0-2tJk
Alibaba Cloud and OBS Unveil Innovative Cloud Solutions for the Olympic games
What was announced: Olympic Broadcasting Services (OBS) and Alibaba Cloud announced the launch of OBS Cloud, an innovative broadcasting solution that operates entirely on the cloud, to help transform the media industry for the digital era. Set to be in place for Tokyo 2020, the OBS Cloud aims to offer all the necessary cloud components, in specialised configurations, that can support the extremely demanding content production and delivery workflows of the broadcasting of the Olympic games.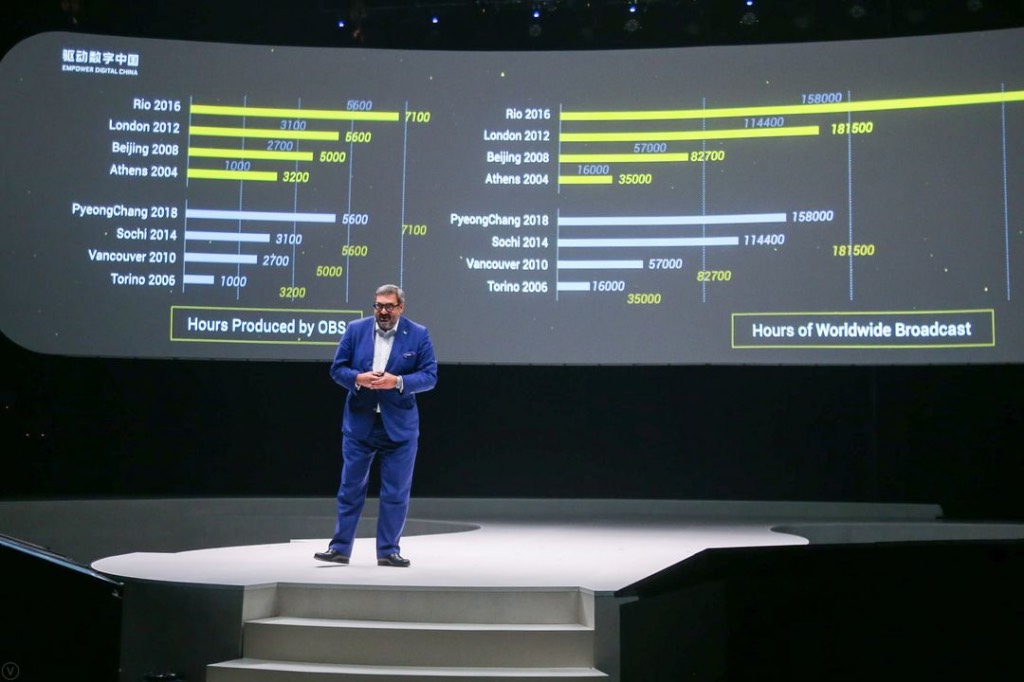 What it means:  Sporting events like the Olympic games are being streamed live and more users choose to watch these events over digital channels. According to Yiannis Exarchos, CEO of OBS, the hours of worldwide broadcast content grew 10-fold between the Athens 2004 and Rio 2016 Olympic events. He said the future of broadcasting is 'Smart Broadcasting' and it will rely heavily on new digital technologies and cloud. OBS is also partnering with Alibaba to create a bespoke broadcast tool.
Apart from broadcasting, technology is also being applied in other areas within sports, such as analysing results and to help sportspersons improve their technique and strategy. We saw this during the recent FIFA world cup, where the referee relied on video technology to make crucial decisions. The same technology is also coming to other sports like cricket.
In fact, there was a special area designated for sports technology during The Computing Conference. We got a demo of technology used in golf – with augmented reality, body sensors and pressure pads used to help a player improve his swing technique. We also saw a demo of a footballer practice his free kick, with an automated goalie swinging to block the shot. A special camera was used to track the orange soccer ball.
Read more: https://bit.ly/2NqTXWZ
Alibaba Cloud Launched ET City Brain 2.0
What was announced: Alibaba Cloud and the Hangzhou city government announced the launch ET City Brain 2.0, a cloud-powered and AI-driven urban traffic-management system that aims to boost the city's efficiency. In version 2.0, the system will optimize the city's firefighting efforts by providing crucial information to firefighters, such as water pressure, the number and position of fire hydrants in a given area, the location of gas pipes and other details they need to know.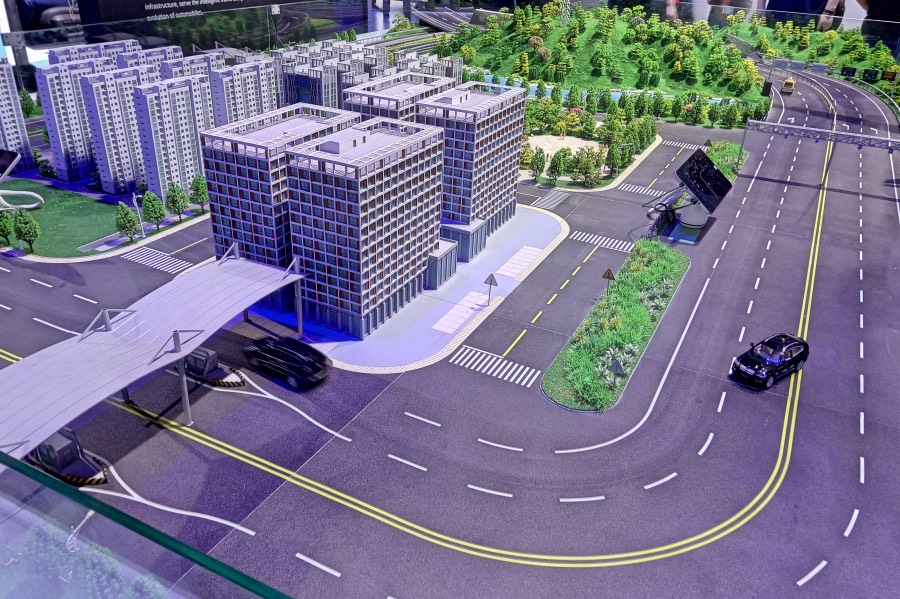 What it means:  ET City Brain is a solution for transforming cities. City Brain offers urban planners and city officials the tools to upgrade their city governance such as improving real-time traffic management and prediction, providing better city services and smart drainage system. It is a smart city solution that can address traffic management, sanitation & drainage, water management, gas distribution, fire-fighting and even crime control.
Hangzhou city officials from the municipal committee, traffic and firefighting departments spoke at this conference about operational efficiencies introduced by ET City Brain.
While Hangzhou has been the first city to be transformed by ET City Brain, Alibaba Cloud is also taking this solution to other world cities.
In January 2018, Alibaba Cloud announced the launch of its Malaysia City Brain initiative in collaboration with the Malaysia Digital Economy Corporation (MDEC), the country's digital economy development agency, and Dewan Bandaraya Kuala Lumpur (DBKL), the city council in the capital.
In August 2017, Alibaba partnered with Macau government to support Macau's transformation into a smart city by using cloud computing technologies, in order to bring benefits to both residents and tourists visiting the city.
And in India, Alibaba Cloud signed a Memorandum of Understanding (MoU) with the Andhra Pradesh Economic Development Board (APEDB). The MoU is aimed at leveraging Alibaba Cloud's ET City Brain solution for furthering the state's digital transformation journey.
Simon Hu, President, Alibaba Cloud said, "City Brain gives meaning to data. By using artificial intelligence and advanced algorithms, City Brain is able to analyse a large amount of data and turn them into actionable information in real-time speed."
At the exhibition, I witnessed ET City Brain in action through a large screen display and a miniature model of a city and its traffic management system. Sensors and cameras mounted on traffic lights, gantries, bridges and key intersections, capture and relay information on traffic movement and density – back to the AliCloud. This information can be analysed in real-time and shown visually on a large screen in the operations centre. Traffic officials can then control the traffic lights and direct traffic movements to ease congestion.
I think ET City Brain could also evolve to monitor situations during natural disasters. It could potentially be used to monitor electricity distribution, identifying areas where there is heavy consumption, and areas facing blackouts or irregular supply of electricity.
Read more: https://bit.ly/2OlsWDL
Alibaba and SAP deepen global partnership to accelerate intelligent enterprises in China
What was announced: Alibaba and SAP announced plans to offer SAP S/4HANA Cloud and SAP Cloud Platform on Alibaba Cloud's Infrastructure as a Service (IaaS) in China, to help customers transition to the cloud and build intelligent enterprises. As part of the agreement, SAP will continue to employ Alibaba Cloud's technology, and Alibaba will adopt SAP S/4HANA software to drive its own innovation and new business model.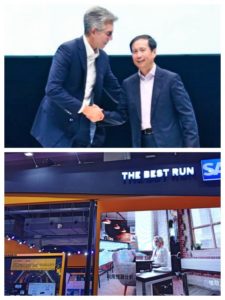 What it means:  This partnership will give SAP a firm foothold in the Asian markets, particularly China. There are millions of small and medium businesses on Alibaba Cloud, and they will now have access to SAP's software and services. SAP wants to increase its business in the SMB segment through its SAP Business One application.
For Alibaba, this is also a chance to take its cloud to other markets like Germany and the rest of Europe, with a strong partner like SAP.
And of course, there are synergies and joint marketing initiatives for SAP and Alibaba. It's a win-win deal.
Read more: https://bit.ly/2NO3fwh
Video and photo show from The Computing Conference
Other announcements
Alibaba Cloud and Intel launched Joint Edge Computing Platform
Intel and Alibaba Cloud launched a Joint Edge Computing Platform that allows enterprises to develop customizable device-to-cloud IoT solutions for different edge computing scenarios, including industrial manufacturing, smart building and smart community, among others. The Joint Edge Computing Platform is an open architecture that integrates Intel software, hardware and artificial intelligence (AI) technologies with Alibaba Cloud's latest IoT products.
KPMG and Alibaba Cloud to form global alliance to help advance digital transformation of businesses
KPMG International and Alibaba Cloud announced plans to form a global alliance to provide digital transformation to businesses of all sizes and across multiple industries initially in Asia-Pacific and Europe. The alliance will focus on digital transformation, "new retail", IT strategy consulting and cloud-based digital solutions.
Siemens and Alibaba Cloud jointly launch MindSphere in Chinese mainland
Siemens and Alibaba Cloud reached an agreement that defines the technological roadmap and implementation plan for MindSphere's launch in Chinese mainland. The general availability version of "MindSphere on Alibaba Cloud" will be available to Chinese customers by the end of the first quarter of 2019. This marks another solid step forward since the two companies signed the MoU in Berlin earlier this year.
Alibaba Cloud and MariaDB announce the launch of ApsaraDB RDS for MariaDB TX
Alibaba Cloud and MariaDB® Corporation, the company behind the world's fastest growing open source database, announced the general availability of ApsaraDB RDS for MariaDB TX. With this partnership, the two companies will now offer enterprises direct support for MariaDB database deployments in the Alibaba Cloud and provide access to MariaDB's most secure enterprise solution for transactional workloads.
Alibaba Cloud partners with VMware to accelerate digital transformation
Alibaba Cloud announced a partnership with VMware to deliver hybrid cloud solutions to help organizations with their digital transformation. Alibaba Cloud will provide enterprises with compelling solutions to meet their cloud computing needs including greater flexibility and data deployment options. Combining VMware's hybrid cloud software portfolio with Alibaba Cloud's scalable cloud infrastructure, enterprises will be able to extend their existing workloads from on-premises data centers to the cloud.
Alibaba Cloud and IHG ink partnership to lead digital transformation for hospitality industry
Alibaba Cloud and InterContinental Hotels Group (IHG) signed a Memorandum of Understanding to bolster the cooperation to provide better cloud solutions. As the first part of an ongoing effort, IHG will shift its core IT infrastructure to Alibaba Cloud in Greater China deploying business-critical systems built upon existing range of products and services to further enhance customer experience.
Also see: First impressions: Hangzhou and The Computing Conference 2018
Brian was hosted by Alibaba for The Computing Conference 2018 in Hangzhou, China.