For long, businesses have turned to best of breed products to manage its processes and data. SAP become synonymous with ERP and Salesforce became the standard for CRM. Oracle was the choice for RDBMS (relational database management system) and data warehousing. Microsoft offered the tools for business content creation (Office) and collaboration (Outlook, SharePoint). These applications handled most business functions, yet they could not fulfill some business needs. These apps were all built for on-premise, and that made scaling a challenge. They were not easy to customize for specific business needs, had complex interfaces, and presented costly license structures. Integrating with third-party applications required specialized hooks (APIs and connectors). Moreover, they were made by different companies, so integration became a nightmare. To do all this, system integrators, programmers and consultants had to be called in, and that meant extra cost.
According to Shailesh Kumar Davey, Co-founder & Engineering Head at  Zoho Corporation, business applications from SAP, Oracle, Microsoft etc can fulfill 80  – 90 percent of business needs. But they do not adequately address the last 10 percent, which is customization and developing apps for specific business processes. And this is what Zoho is trying to address  – it just launched the Zoho Developer programme that provides independent software vendors (ISVs) and application developers the tools and resources to create extensions and build custom applications. Further, all these applications and extensions can be presented on the Zoho Marketplace, for others to buy them. This concept is similar to buying apps for your phone from an app store.
Beginning with WebNMS for the telecom sector in 1996 (the company was named AdventNet until 2009) it introduced a business application every few years. Its first set of products —  Zoho Office, WebNMS and ManageEngine (enterprise IT management) — were quite popular with small and medium businesses. Today, its portfolio (available on Zoho.com) includes a full suite of business applications on a single cloud platform, for businesses of all sizes. And because they are on the cloud, it means quick and easy scaling for growing businesses. These products come from the same vendor so they are tightly integrated. Zoho also believes in simplicity, claiming its products have simple interfaces and are easy to use. Shorter learning curve and faster adoption. Check.
Commenting on Zoho's product development strategy, Shailesh said: "We call it the ladder, drill and punch strategy. We go to one market (ladder) and sell the first product. Then by virtue of selling the first one you go to the next market and introduce the next one. Once we gain a customer, we try to sell him a whole range of solutions. So we ladder one on top of the other.  We offer best in class products that are tightly integrated."
Is that strategy working? The growing numbers are proof of that. There are 20 million plus Zoho users in more than 100,000 businesses across 122 countries. And this number is growing exponentially as businesses abandon the aforementioned brands in favour of equivalent Zoho products.
These products are engineered and developed in Chennai, though Zoho has its headquarters in Pleasanton, California. The company has 4,000 employees and sales offices around the world.
Engineering is a core strength for Zoho with its engineers drilling deep into product research and offering all the functionality a business would require in a product – yet removing all the complexity of using it. Its R&D team has developed its own programming language (called Deluge) and platform, which it claims is the first to be made in India.  The platform caters to Zoho's 20 million users and developer ecosystem.
The Zoho developer ecosystem is growing, and how. There are 15,000 Deluge developers worldwide who have written 200 million lines of Deluge code for Zoho customers. And the number of third-party applications and extensions on the Zoho Marketplace is also growing. That's a sign that there is strong demand for integration of third-party applications with Zoho applications. Going forward, the Zoho Marketplace will offer many more (free) extensions for Zoho applications. It's like downloading a web browser such as Chrome or Firefox (core application) and then downloading extensions or add-ons for specific functionalities. This approach to customization extends the functionality of the product and makes it specific to your bespoke needs.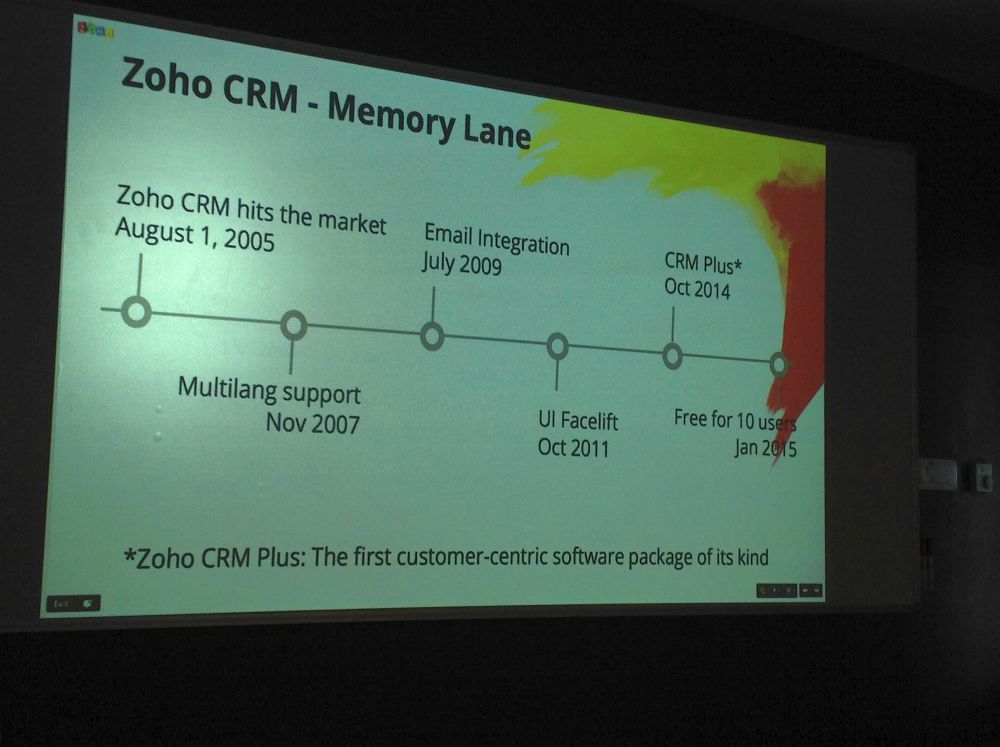 Zoho CRM
Zoho also launched its multichannel CRM product, called Zoho CRM. As we saw in a demo, the product intergrates well with email, social media, live chat, and phone communications. It lets sales personnel engage with their customers and prospects in real time, with SalesSignals. And with new features such as Timeline view, Page Layouts and Gamescope the sales team is sure to be motivated to use CRM and keep updating records on a daily basis.  It is a highly customizable CRM product.
Zoho CRM is being used by reputed customers such as Amazon India, Mercedes-Benz, and the Mahindra Group (among others). It was deemed the best CRM product of 2016 by G2 Crowd and has won many other accolades too.
Zoho SalesInbox
And then Zoho redefines email with a product called Zoho SalesInbox, an email client designed exclusively for sales personnel. Using customer data in Zoho CRM, Zoho SalesInbox automatically prioritizes customer conversations and provides the full context (history) of an email conversation with a prospect or existing customer.
We loved the way the two products are so tightly meshed and the drag-and-drop functionality for messages and records makes it so easy to use.
Salesforce.com could learn a thing or two here.
OS of business
Traditionally, an Operating System on a computer would manage the various aspects of operating the hardware and all the applications. In Zoho's case, it is offering a platform that can manage the various aspects of a business, through a full suite of business applications: sales & marketing, email & collaboration, business process, finance, books, HR, app creator, IT helpdesk and support. Within each category there are sub-categories of applications. And all this is presented on Zoho.com. All these applications address pretty much everything that a business might require. And that's why Zoho's suite has become the OS of business.
——————————————————————————————————–
Brian was hosted by Zoho Corporation in Chennai.