TRENDING
Vistara deploys SITA Aircom and network technology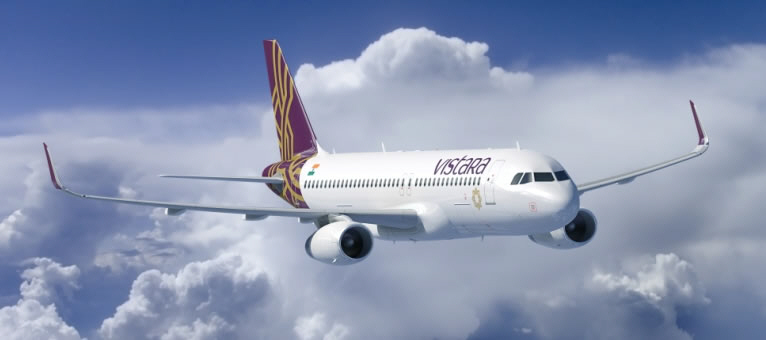 SITA and SITAONAIR complete implementation in 16 weeks
BANGALORE – 7 January 2016 – SITA and SITAONAIR have completed the joint implementation of aircraft communications, airline operations and network connectivity for Vistara, the joint venture between TATA Sons Ltd and Singapore Airlines Ltd. The successful deployment, completed within a short span of 16 weeks, efficiently supports Vistara's ambitious expansion plans.
Vistara started flying in January 2015 and already has 307 flights each week, across 12 destinations in India. The carrier has nine A320s in its fleet.
Phee Teik Yeoh, CEO, Vistara, said: "Indian aviation has an immense growth potential. This will be one of the world's largest aviation markets within the next five years and Vistara has a prominent role to play in that expansion. We are putting all the right tools in place to make sure we are best positioned to leverage the growth opportunity. The efficient communication and network technology that SITA and SITAONAIR have delivered are both essential for smooth operations and facilitating our expansion."
Vistara is SITAONAIR's first AIRCOM® FlightPlanner solution customer in India. This solution provides computerized flight plans and data such as inflight weather updates and airport information. The result is route planning that reduces operational costs, improves on-time performance, and facilitates safer and smoother flights by avoiding major weather events.
Maneesh Jaikrishna, Vice-President, India and Sub-Continent, SITA, said: "Our technology and networks are designed to be cost efficient, fully resilient, and easily deployable and scalable. Our wide experience of providing solutions for the air transport community means we have been perfectly positioned to meet the challenges Vistara gave us, of meeting tough deadlines and delivering excellent technology that will serve the airline well into the future."
The airline uses SITA's global IP network to connect its back offices, ticketing desks and check-in counters at airports across India with its passenger services system, based in Germany. The network handles both reservations and departure control services and it is specifically tailored to be scalable to support Vistara's future expansion in India. Vistara also uses SITA's Type B Messaging Service – the industry's largest message distribution service – for critical air transport industry operational messages.
SITAONAIR's AIRCOM® Datalink services, FlightMessenger and FlightTracker are other solutions used by Vistara to manage air-to-ground communications for the flight crew, airline operations and air traffic controllers, and to track their aircraft. SITAONAIR's VHF network, the largest in India, provides the connection between the aircraft and the ground.
———————————————————————————————
PRESS RELEASE