TRENDING
Tweet chat – Redefining the cloud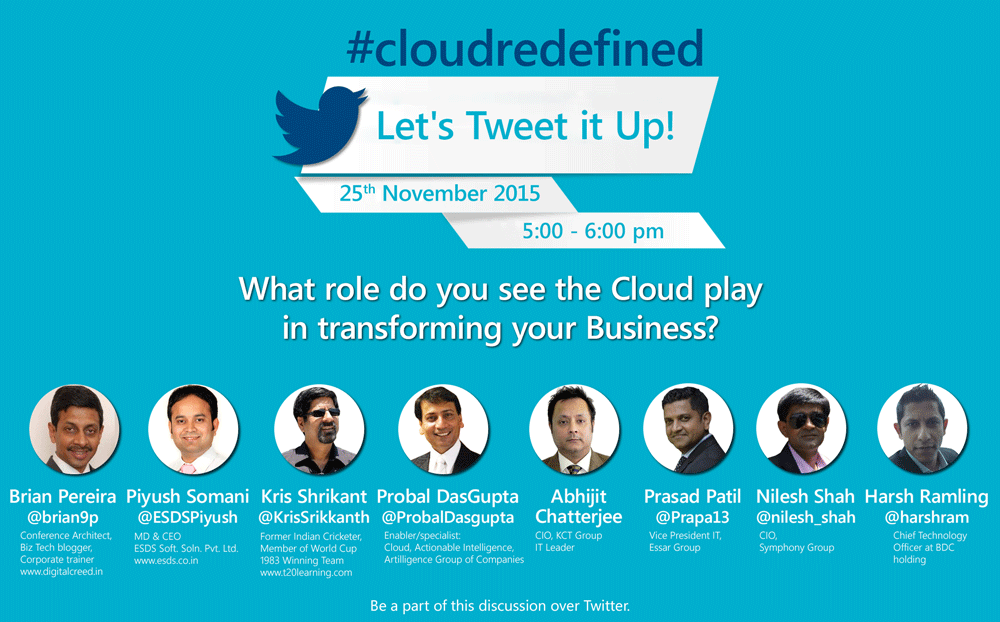 What role does the Cloud play in transforming your business?
Activity tag: #cloudredefined
Date: Nov 25, 2015
Time: 17:00 – 18:00 IST
Moderator: Brian Pereira, Editor-in-chief, Digital Creed
Panellists:
Piyush Somani, MD & CEO, ESDS – (@esdspiyush (354 followers) + (@esdsdatacenter (3546 followers))) 

Kris Shrikhant, Former Indian Cricketer  @KrisShrikanth
Probal DasGupta, Enables/specialist: Cloud Actionable Intelligence, Artillegence Group of Companies @ProbalDasGupta
Abhijit Chatterjee, CIO, KCT Group – IT Leader
Prasad Patil, VP-IT, Essar Group @Prapa13
Nilesh Shah, CIO, Symphony Group @nilesh_shah
Harsh Ramling, CTO at BDC Holding @harshram
Abstract: For organizations to foray on an ambitious growth path, they need to constantly evolve and adapt to changing business dynamics. Whether you are a startup looking to setup business or a large enterprise constantly looking to expand business avenues, technology can play a critical role in addressing these complexities. However it is impossible to make heavy investments in IT (hardware), especially when organizations don't know if the hardware (Servers & Storages) would be sufficient or become obsolete in the near future.
In this tweet chat we are going to learn about the need to need to transform the present Cloud model on pay-per-use to pay-per-consume.
You will discover the  ESDS eNlight Cloud (India's first Cloud Patented technology) and how it  will completely transform the way organizations buy or use compute.
———————————————————————