Over 1000 delegates comprising of Indian & Global CXOs, entrepreneurs, investors, thought leaders and policymakers attend TiE Mumbai 2016 on day 1. The entire entrepreneurial ecosystem is eager to experience the grander day 2 in store for them.
Eminent speakers include Ratan Tata – Chairman Emeritus, Tata Sons, Harsh Mariwala – Chairman, Marico Industries, Ronnie Screwvala – Founder,  Unilazer Ventures , Miten Mehta – Director, 63 Moons, Navroze Godrej – Director strategy and Innovation, Godrej & Boyce, Kunal Bahl – Founder, Snapdeal, Kunal Shah – Founder and Freecharge ms presented great insights
Over 50 + curated startups pitched some of the most brilliant ideas to a global panel of investors. They await with palpable excitement to be among the best five and win a sponsored visit to Tie Silicon Valley
TiECON Mumbai 2016 is also set to become India's first conclave to hold workshops on important aspects such as women entrepreneurship, social entrepreneurship, valuations and fund raising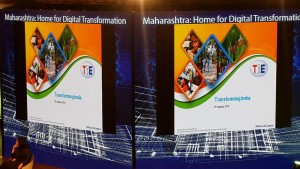 Mumbai, 6th Jan 2016: Day 1 of India's leading entrepreneurial conclave 'TiECON Mumbai 2016' was conducted successfully at Mumbai's NCPA today. Organized by TiE Mumbai, the conclave is the first-of-its-kind platform that has successfully managed to bring together exciting startups, renowned business leaders, investors, accelerators, and the media to deliberate on entrepreneurship in India and the way forward.
Based on the theme 'Transformation lead by Disruption', TiECON 2016 hosted interesting discussions and fireside chats between legendary entrepreneurs and the brightest stars of India's startups. Over 200 curated startups pitched their ideas to investors and the startups eagerly await the announcement of the top five, who will be sponsored to travel to TiE Silicon Valley. The sessions during the day covered a diverse range of topics such as digital transformation, vertical internet battlefield, on-demand healthcare and change in investment landscape. TiECON was the first conclave to hold workshops on women entrepreneurship, valuation and fund raising and it will also touch upon interesting topics such as IoT and social entrepreneurship tomorrow.
The 6-ft TiECON created to epitomize disruptive technology transformation (from floppy drive to the cloud) caught the interest of the attendees, who found it apt for a great photo opportunity. THE TiECON social presence across Twitter, Facebook, Linkedin and Instagram abuzz throughout the day via the handle @TiEMumbai. Day 2 has more in store and the entrepreneurial ecosystem in India is all set for an exciting day tomorrow.
Commenting on the summit, Pradeep Udhas, Global TiE Board Member & TiE Mumbai Board Member, said, "Over the last three decades, TiE's 13,000 members from 61 chapters across 18 countries have been focused on augmenting the global entrepreneurial ecosystem. We have been able to nurture wealth creation estimated at $200 billion globally. TiE Mumbai has put together the best in terms of sessions, panel discussions, speakers and workshops at TiECON 2016. Unique initiatives such as 'The Biggest Indian Startup Pitch' is commendable and in alignment with our vision of being the gateway to Silicon Valley. With 63 Moons sponsoring the top five most innovative startups to visit TiE Silicon Valley, together, we will take a very important step in empowering India's best startups to gain a global perspective and accelerate the success of their ventures."
Dhanpal Jhaveri, President of TiE Mumbai, added, "We are delighted that this global event has witnessed grand success in Mumbai and the delegates could benefit from disruptive ideas and success stories. TiECON Mumbai is this year's first big initiative for nurturing a robust entrepreneurial ecosystem in India and we plan to roll out several such initiatives throughout the year under the TiE Mumbai Chapter."
Commenting on the summit Navroze Godrej, Executive Director & Head of Innovation & Strategy, Godrej & Boyce, said"TiECON is a great platform for startup entrepreneurs and industry veterans to collaborate, brainstorm and network. It is our endeavour to encourage innovation and we are extremely delighted to be associated with an event of this stature. With this event, we are looking forward to partner with key start ups to offer our support and guidance to mentor these budding entrepreneurs for a successful future.
Founded in 1992 in the Silicon Valley, TiE currently has over 13,000 members across 18 countries. Worldwide, all chapters of TiE are driven by the common mission of fostering entrepreneurship through mentoring, networking, incubating and funding promising start-ups and ideas.
———————————————————————————————————————————-
PRESS RELEASE