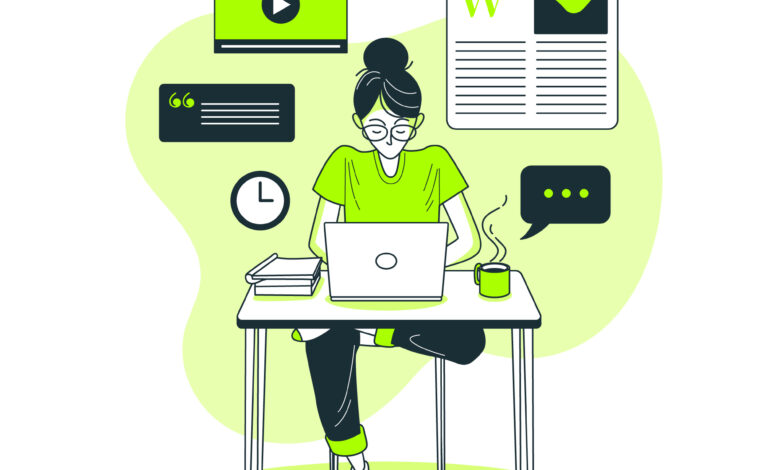 It's easy to get overwhelmed when we are looking for something specific on the internet. The plethora of blogs, vlogs, e-books, podcasts and social media channels can make us feel bogged down. Welcome to the age of information overload. In such moments we often yearn for some kind of "mega filter" that could send only specific information down the internet pipes to our browsers. Don't you wish you could meet like-minded people who create this content? People who share similar ideas or discuss similar topics of interest? As a content creator, I've always longed for this. Apart from creating and sharing content, I also wanted to connect and engage with my readers. And of course, monetize my content. So, I was delighted to discover Thinkly. I've been using this app for three weeks and have studied its features. It does have a few shortcomings and missing elements that I hope the developers will add in subsequent updates. But otherwise, it is easy to use and you can get started with your posts within minutes.
Thinkly is a new-age social media start-up. The platform aspires to be a knowledge network for thinkers, writers, journalists, academia, business leaders and consumers of great quality content. Its larger vision is a place where the world comes to think.
The platform is for aspiring as well as established journalists and it helps them build their own sustainable enterprise. As journalists and writers turn to entrepreneurship they could use this platform to support their quest in  starting their own venture. Entrepreneurial content creators want to focus on what they do best – creating content. They want to reduce the burden of administrative work and building the platform. At an early stage, budgets are restricted, since content creators have not yet monetised their content. Thinkly is offering a ready-made platform without the need to indulge in all that work – and at no expense. That's why all budding content entrepreneurs should experience Thinkly.
Thinkly is a no troll platform for thinkers to share blogs, vlogs and podcasts and connect with other like minded people having common interests.
Thinkly was built by co-founders, Vivek Saxena, Deepak Choithramani, and Navin Pai of Digicita – a venture studio that focuses on incubating path-breaking ideas. Previously, Vivek and Navin had launched India's first mobile wallet, Zipcash, in 2008 when mobile payments were unheard of. They exited it to OLA in 2015. Zipcash now powers OLA Money.
Thinkly has raised a bridge round of funding. Mumbai-based VC Equanimity Investments announces that it has invested an undisclosed amount of funding in Mumbai-based content economy focused start-up Thinkly in an early stage round.
Some of the feature writers who are on the Thinkly platform include:
Ruchi Khemka, Head – Corporate Social Responsibility – Deutsche Bank, India.
Sathyanarayan Iyer, Mindfullness coach with 2 decades of experience
Arjun Vaidya, D2C Founder & Angel | Forbes Asia 30 Under 30
Mr. R N Bhaska, a veteran journalist associated with The Free Press Journal
Thinkly has also partnered with The Free Press Journal to enable a new generation of digital savvy knowledge seekers to discover curated content from thought-provoking thinkers, writers, journalists, academicians, and subject-matter experts on the Thinkly App.
Other prolific writers like Mr. Ajit Ranade, Mr. P. N. Vijay, Mr. Bharat Jhunjhunwala, and Mr. Ali Chougule also share their perspectives and immense knowledge in the form of publications on the Thinkly app.
Also read:
Hands-on with Thinkly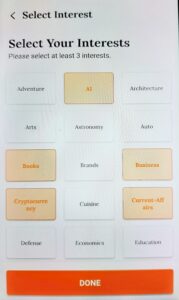 The app is available on both the Apple App Store and Google Play Store. During the installation it prompts you to select at least three interests. And there is an AI-powered engine behind this that will match your interests to both, users and content. So you only see the content that matches your interests. And you get to interact with others who share similar interests.
Next you need to set up your profile, and choose whether you want to be a publisher or just an individual who is posting articles. If you are not sure about posting as a Publication, you can always create a Publication later.
Keep your profile photo (or logo) ready on your phone, because you will be prompted to upload it. And write a crisp and well-thought through profile that explains who you are, what you do, and the topics you write on.
You can then start posting your stories or "Thinklies" as they are called. And be sure to read what others are posting, and support them by liking their posts, sharing, book marking or following them. Subscribe to publications. That's the community or social aspect of the platform. You'll find post that you follow in the My Feed tab.
If you do all this, others will reciprocate and read your posts and follow you. And you will be on your way to building a community. Then you can engage with your followers, and discuss topics.
Posting Thinklies
It's easy to post a new Thinkly if you are just writing it directly into the app. Just click the + icon to start a new Thinkly. You will be prompted to select whether it is a new Thinkly (post) a new publication or a new Video Thinkly.
Select your publication under which the Thinkly should appear. And then start writing away! Write a crisp title and then write the body of the post.
The interface is simple, with basic formatting options (bold, italics) and buttons for bullet or numbered lists. And that's a plus point of the app. There's also an option to insert images in the body text. However, you will not be able to add links or change fonts.
Posting my first Thinkly/post was a challenge as I had to cut and paste the content from this website (Digital Creed) to the Thinkly app window. There is no desktop interface for Thinkly yet. So, I had to open the Digital Creed post in my phone browser and then switch back and forth between this and the Thinkly app. I found this copy-paste and switching jugglery to be challenging, especially for the long-form content on Digital Creed.
Eventually, I understood that it is a mobile-first platform. Thinkly is meant to be used like a journal – as you pen your thoughts spontaneously and create new content. Something like writing a fresh blog post every time.
A new feature that I have yet to try out is Video Thinkly. The video should have already been posted on YouTube, and you should have the URL ready to post on Thinkly. So just enter the title and paste the YouTube URL.
Consuming Content
I don't use Thinkly only as a blog platform. I also like to consume content through this app. Under the All Thinklies tab, I see all the content that matches my pre-defined interests and I can choose which publications or people I want to follow. The content I follow appears under the My Feeds tab. So, this is the "mega filter" I spoke about earlier. I see only the content that interests me, and the "noise" is filtered out. This is what the news apps should evolve too. They should allow consumers to customize their feeds and see news based on their interests. The BBC news app (my favourite one for news) does that under the My News tab.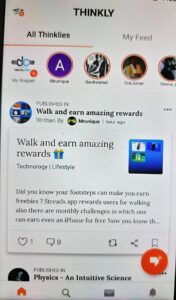 Conclusion
I like the Thinkly app because of its simplicity. It is also accurate in matching content, people, and publications to my interests. It is also a no troll platform and it protects journalists' post from trolling. Personally, I have restrained myself from posting many thoughts and ideas on social media platforms, for fear of trolling. But I can now post my thoughts without these apprehensions on  Thinkly. You can follow me on Thinkly and my handle is: @DigitalCreed
What I would like to see in future updates is the addition of links and a choice of fonts.
I would also like to understand more on the content monetization aspect. I did not see this in the interface. It would be helpful if the platform evolves to a content marketplace (like Upwork or Fiverr), where organizations can put up their content requirements and bids. Content creators should be able to bid for assignments and show their expertise. And there should also be a payment component (Paypal) to enable businesses to pay content creators for their work.
Also see: