A few years ago, a disabled person in India had very few job opportunities, regardless of academic credentials. That person found less acceptance in the corporate world. However, that is now changing and today, the disabled have more career options, thanks to technology. The Government is also doing its bit to create more opportunities. The Department of Disability Affairs, Government of India recently launched its Accessible India campaign for the disabled. The campaign aims to enable persons with disabilities to gain universal access, equal opportunity for development, independent living and participation in all aspects of life in an inclusive society.
Accessibility evangelist Shilpi Kapoor, who is the Managing Director and Founder of BarrierBreak Solutions, intentionally employs persons with disabilities. She believes technology can be the game changer for inclusion. Kapoor began her career teaching blind people how to use computers. She is an Ashoka Fellow and a recipient of "NCPEDP – Shell Helen Keller Award 2008". In fact, this self-taught lady had set up one of the first computer training institutes in India, specifically for the visually impaired. That was back in 1995.
"I found three gaps (in the system). One, people were not being hired because of their disability; they were hired mainly for telephone operator jobs back then. Two, I looked at India as a whole, and saw that I could not change the infrastructure. But I could change the online world, because the digital space is always changing.  So we decided to work on technology solutions. Thirdly, I looked at creating a sustainable business with a revenue stream from services and solutions," said Kapoor.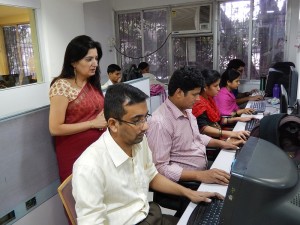 In its quest to be inclusive BarrierBreak has hired disabled people. In fact, 75 percent of its employees are disabled.
The mission statement on the BarrierBreak website says it is creating an inclusive society, a society where equal opportunity is provided, ease of access to employment, education, social life, and encouraging independent living for all.
SOLUTIONS FOR MASSES
It was also difficult for the disabled and the elderly to use their computers, the Internet or mobiles. A decade ago, the technology wasn't available in India and it was very costly to import solutions. And there was not too much on offer, anyway. Today, we have a plethora of solutions that include assistive technology for those suffering from low vision, hearing loss, mobility and learning impairment.
But the cost of these solutions – screen readers & magnifiers, desktop magnifiers, learning tools, book readers, Braille displayers, optical aids, special keyboards, assistive listening devices, low vision aids – remains prohibitively high. And most of these devices are not manufactured in India.
But BarrierBreak has found a way to make these devices available here. It imports these devices and does value addition to localise the product for the Indian market. These devices are then sold to communities, where they can be accessed by individuals at affordable rates.
BarrierBreak Solutions Pvt. Ltd. (formerly known as Net Systems Informatics (India) Pvt. Ltd.) is a for profit social enterprise with a sustainable business model. In fact, it now enjoy five years of profitability. A team of 80 people in India creates products and services (like accessibility testing) for 12 countries.
The company was initially self-funded, and was later funded by Aavishkaar, a micro venture fund. Aavishkaar is a social venture VC. However, BarrierBreak is self-funded once again.
"For us the biggest thing is about making a sustainable business out of this," said Kapoor. "We have been profitable for 5 years."
The company adopts international standards like Web Content Accessibility Guidelines from W3C (World Wide Web Consortium).
It also works on policy in India and helped draft the National Policy on Electronic Universal Accessibility for Department of IT.
"Policy is very critical because we believe the first organizations that will start implementing accessibility policies will be the government," said Kapoor.
The government's Accessible India campaign for the disabled might just be the trigger towards creating more awareness and adoption of accessibility standards in the digital world. In fact it has set an objective of making 50 percent of all government websites accessible to people with disabilities.
"While these websites have an accessibility statement, we need to see that this is actually implemented," said Kapoor.
ROLE OF TECHNOLOGY
India has more than 20 million people with physical or learning disabilities. Many of them are below the poverty line. And institutions like BarrierBreak make a big difference in empowering the disabled, using technology.
BarrierBreak believes that technology can be a game changer in its mission. So it negotiates with international manufacturers for special rates, imports the products, localises these and then sells these to schools, libraries and hospitals. These products are also sold to individuals. And that's how this technology is accessible to the masses.
For instance, it has a screen reader and a magnifier called SuperNova. BarrierBreak tweaked the functioning of SuperNova so that it works on the Hindi version of Windows. The next version will support 12 other Indian languages.
"A solution like a hand held magnifier is not available in the Indian market. So when we bring this here and localise it, we can see the impact it makes on someone's life," said Kapoor.
Standard solutions like hearing aids, that are available in the market for years, have their limitations. But an amplification device filters out ambient sounds and amplifies voice – so a person will hear so much better.
BarrierBreak wants to tap the education sector in India.
"Today many drop out of schools because of their disability. Technology is becoming a very integral part of the education system. So can it also be used for inclusion?" asks Kapoor.
This is now happening in a very limited way in educational institutions. Only a few institutions have accessibility friendly labs and facilities for disabled persons. Examples are Shri Ram College in New Delhi and St. Xavier's College, Mumbai.
—————————————————————————————————————————-
More discussions on this topic will occur at the TechShare India 2016 conference in New Delhi, 3 – 4th March 2016. BarrierBreak is the organiser of this international conference. See: http://techshare.barrierbreak.com/