TRENDING
Switzerland is partner country for CeBIT 2016 in Hannover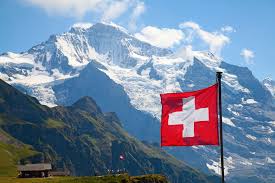 25 years ago, the World Wide Web was ushered into existence at CERN in Switzerland, when Tim Berners-Lee published the world's first webpage. And after all this time, Switzerland is still a pioneer of digitalization, making it the obvious choice for Partner Country at CeBIT 2016.
Hannover, Zurich. Switzerland's upcoming stint as the Partner Country at CeBIT in March 2016 represents a natural alliance between two international frontrunners in digital innovation. Switzerland is a world champion in terms of digitalization strategy development and implementation, and CeBIT is the top global trade show for digital innovation and digital leadership.
"With its cutting-edge research into the issues and challenges of the digital economy and its excellent track record of implementing digitalization in user industries, Switzerland is a leading international driver of digital innovation," said Oliver Frese, Deutsche Messe's Managing Board member in charge of CeBIT, on Tuesday in Zurich. "And next year's CeBIT, with its unwavering focus on digital business and digital innovation, is the perfect platform for presenting the Swiss IT industry's outstanding expertise and quality solutions to an international audience," he added.
Switzerland's Partner Country showcase at CeBIT 2016, which runs from 14 to 18 March, will include established market players alongside innovative startups and universities. The country's "home base" will be the central Swiss Pavilion in Hall 6, with various other Swiss contributions on display throughout the CeBIT showgrounds, under their respective display categories.
The many highlights of the Partner Country showcase include the CeBIT Switzerland Summit, which will be held on the opening day of CeBIT. The purpose of the Summit is to facilitate discussion on key ICT trends in Switzerland and Germany and strengthen Swiss-German cooperation in the digital industries. Its participants will include senior members of government and representatives of innovative IT companies from both countries. Among those who have already confirmed their participation are Germany's Federal Minister of Education and Research, Johanna Wanka, the President of ICTswitzerland, Ruedi Noser, and the President of the German Federal Association for Information Technology, Telecommunications and New Media (BITKOM), Thorsten Dirks.
The opening day of CeBIT 2016 will draw to a formal yet convivial close with the new "CeBIT Welcome Night" in halls 8 and 9, with some 2,000 VIP guests in attendance. On this occasion, Germany's Vice Chancellor Sigmar Gabriel will formally welcome the President of Switzerland, and the featured keynote speaker from the digital industry will be Nick Hayek, CEO of Switzerland's Swatch Group. The following morning (Tuesday), the Swiss President and Germany's Chancellor, Angela Merkel, will embark on a joint tour of CeBIT.
CeBIT 2016 will provide an integrated perspective on the digitalization of enterprises, public-sector administration and society as a whole. As part of this, it will explore the technological drivers and enablers of digitalization, such as the Internet of Things, business intelligence solutions, marketing and sales applications, and ERP (enterprise resource planning) and ECM (enterprise content management) solutions.
The digital transformation of business and society will also feature strongly at the CeBIT Global Conferences, which next year will muster more than 200 speakers. From CeBIT Monday through Thursday, top international speakers will share their ideas and strategies for the digital future in a mix of keynotes and other presentation formats structured around the main themes of d!conomy, The Internet of Everything, Security & Privacy, and Disruptive Technologies. The CeBIT Global Conferences will get off to a strong start on the Monday morning with a conference on the European Commission's Digital Single Market Strategy. The high-profile participants confirmed for this event include EU Commissioner Günther Oettinger. Day five of the CeBIT Global Conferences is given over to Rock the Blog, a global forum by, for and about blogging professionals.
Perhaps nowhere at CeBIT 2016 will digital innovation, disruptive thinking and visionary ideas for new business models be more strongly evident than at the "Research & Innovation" display area in Hall 6 and, more especially, the SCALE11 startup showcase in Hall 11. SCALE11 is CeBIT's platform for young tech enterprises and will feature some 250 startups from all around the globe.
Other must-see CeBIT highlights include [email protected], with its focus on tomorrow's high-power datacenters. Likewise not to be missed is the Communications & Networks topic cluster and, of course, the immediately adjacent IoT SOLUTIONS showcase. IoT SOLUTIONS is a new platform for the cross-industry and cross-technology ecosystem that makes the Internet of Things possible.
Meanwhile, the Business Security topic cluster will, as its name suggests, explore the latest security-related solutions and challenges in business IT. As always, answers to all the burning questions to do with digitalization of public sector administration will be there for the discovery at the Public Sector Parc showcase. And resellers and buyers can count on Planet Reseller and the Global Sourcing Area to provide them with valuable input. There will also be plenty on offer for small and medium enterprises, thanks to the SME Campus showcase, which will be back with an expanded lineup.
—————————-
PRESS RELEASE