TRENDING
Startups and investors coalesce at SURGE conference in Bengaluru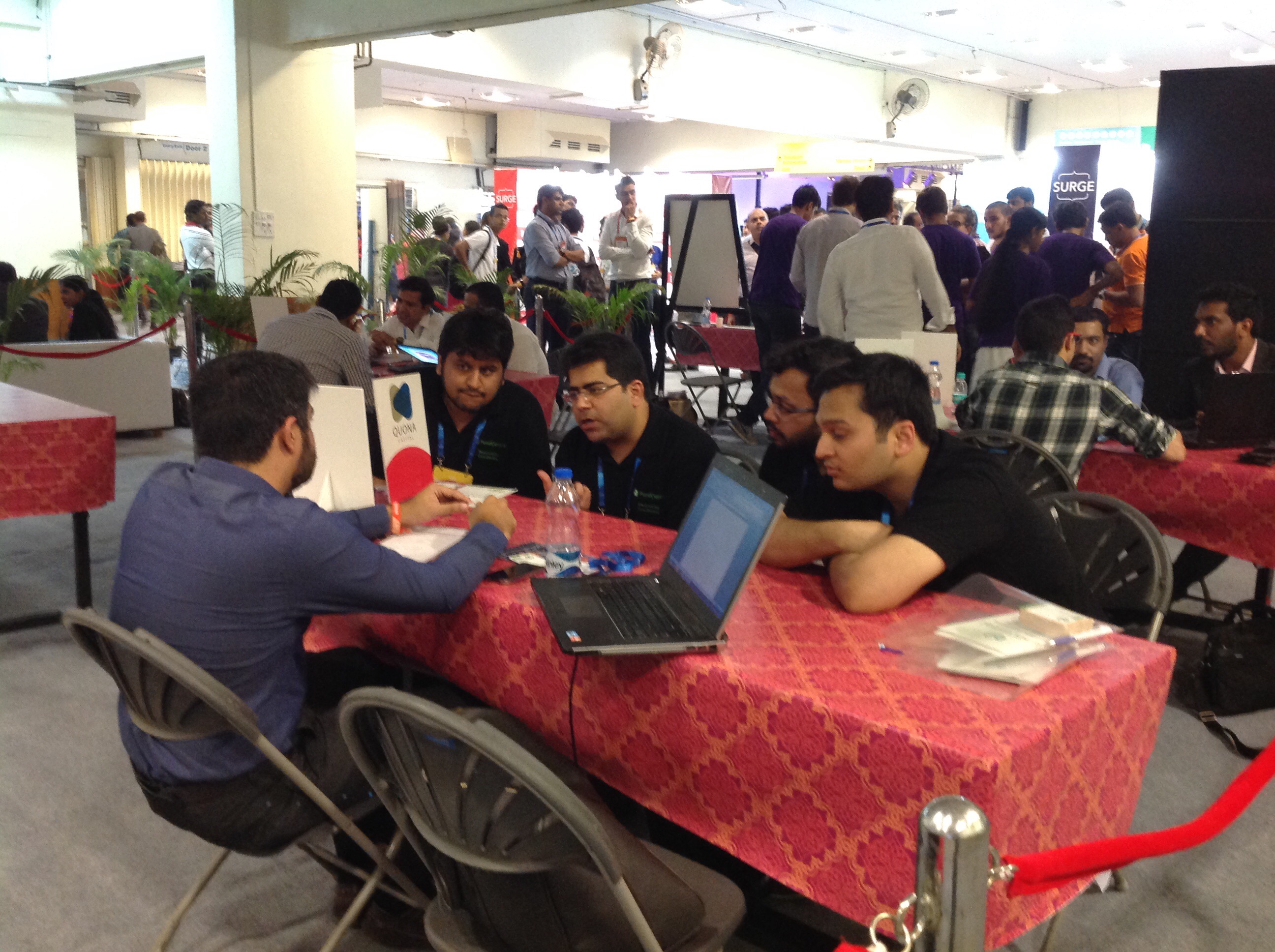 — Brian Pereira
Bengaluru, 24 Feb, 2016: The first day of SURGE Conference was well attended and the conference rooms were packed to the gills with standing room only. We also saw a lot of activity in the two crowded expo halls where startups were presenting their innovations on long tables. The  investor lounge was a beehive of activity too, with investors, mentors and startups engaged in intense conversations.
 Paddy Cosgrave Founder and CEO of SURGE and Web Summit opened the event on the first day saying that many startups and entrepreneurs are moving from Silicon Valley to Bengaluru. And new startups were establishing their base in India. So that was the perfect setting and introduction for the first edition of SURGE Conference in India, which received an overwhelming response.
SURGE comes to India from Dublin, Ireland. The parent show is known as Web Summit and it is attended by 42,000 visitors from 130 countries around the world.
The event is also well timed and is being conducted a few days after the Government of India's Startup India and Make in India events in the country.
We met Mike Harvey, Head of Strategic Communications, Web Summit at the end of the  day.
"This is our first event in India and we are trying to support the tech ecosystem. We bring together investors, startups, general attendees and media — who are all interested in innovation and disruption — and we bring them together in one place," said Mike.
In the weeks ahead of the event we received many messages from the energetic SURGE team, with details about speakers, topics, exhibitors and startups. We also used the SURGE app to communicate with attendees and speakers, and to set up meetings in advance. So it is obvious that the operations team has been hard at work preparing for this event.
"We use data science and engineering behind the scenes to find the most influential speakers, to organise the office hours, and the mentor hours where we bring speakers, investors and startups together in a speed dating scenario. And we power the event app so that you can find recommended speakers and investors. We use data science to offer an amazing experience," said Mike.
At the event we noticed visitors enjoying themselves, notwithstanding the heat and the jostling. The air-conditioning could not keep up with the huge crowd, which was unexpected.
"People usually go to a conference to listen to speakers. But they say they have an amazing experience because of the connections they have made at the event. So we try to engineer those connections as best as we can. But attendees also have to do some work on their own to make those connections fly. So we are trying to create an amazing offline experience, using technology," said Mike.
Back in Dublin the event organiser has an unusually large engineering and data science team. They spend a lot of time evaluating who are the most important people in tech, and how people are connected on social networks. They look at what tracks and what stories and what verticals are most influential right now.
"We are targeting the tech ecosystem and we want the greatest startups in India to come to our event. We have 430 startups and more than 200 investors; more than 250 media and an audience of 5,103 from 72 countries in our first year in India. More than 1,000 people registered a week before the event," informed Mike.
We see that  audience interests centres around tech innovation and startups. The startups on the stands are also bouncing off ideas among themselves and learning from each other. And of course, making connections with all the investors and other startups. A special lounge has been set up for investors to meet startups.
We also saw many  journalists and bloggers at the event. A separate press event held yesterday had a room full of journalists. Editors from leading magazines and dailies are also moderating panels.
So will SURGE now be an annual event?
"We will be back in Bangalore next year and the event will be held next February. And we hope it will be more successful next year," informed Mike.
And before we parted, I asked Mike how Indian audiences compared to those in the West.
"We were blown away by the excitement and the anticipation of this event. We thought it would be a much smaller event, being the first year. Audience behaviour is similar – people dive in and go to the startup booths, they come to listen to the big named speakers, they wander around and take some time out too."
SURGE uses technology and algorithms to track audience movements at its events, though we did not see too much of that at SURGE. Our lanyard and wrist band was colour coded but did not have an RFID chip or radio transmitter.
"We track where people go at our events to see how we can design them better. At our past events (in Dublin) we used GoPro cams attached to the ceiling to do that. We found some interesting ways to track audience movement using algorithms," informed Mike.
And that's a fine example of a technology conference using technology and analytics to improve content, the quality of speakers, and to improve offline experiences.
———————————————————————————————————————