Capture the entire 3600 space with a single shot
Mumbai, November 20, 2015: Ricoh India Ltd., a market leader in Printing & Document solutions and IT services today announced the launch of its RICOH THETA S, the newest model in the RICOH THETA series of spherical cameras that capture 360-degree scenes surrounding the user. The launched model features extra-high resolution, fully spherical photos and videos in one simple shot, a live preview function and even greater compatibility with social media platforms.
RICOH THETA S, a lightweight portability camera is enabled to capture high-resolution spherical images of up to nearly 14 megapixels. The model provides better quality images due to an enlarged image sensor and fast F2.0 lenses which allow more light through Ricoh's proprietary ultra-small twin-lens folded-optical system The spherical images can be uploaded  to theta360.com and shared via various social media platforms such as Facebook™, Twitter™ and Tumblr, and posted to Google Maps™, Google+™ and YouTube™360°Channel.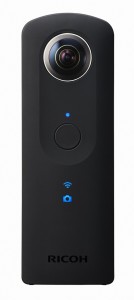 RICOH THETA S can record spherical video in full HD (1920 x 1080*1 pixels at 30fps), maximum recording time of 25 mins. The usability has been improved with an elegant but practical sure-grip black rubber coating and handy face-mounted LED mode indicator. The internal memory of the launched model has been increased to 8GB. Experience the excitement of capturing images that exceed the concept of "photographing".
Speaking on the occasion, Manoj Kumar, Managing Director & CEO of Ricoh India Limited said, "Ricoh pioneered the spherical camera market and today we are delighted to offer users increased value and richer 360-degree experiences with our new RICOH THETA S. The improved camera is four times faster with enhanced image quality. Industries like real estate, architecture, events, travel & leisure will be benefited through this innovative solution which capture's photographer 3600 ".  
"At Ricoh we continuously strive to provide innovative solutions to address specific needs of the customers based on their vertical applications. It is this focus that has helped us grow at a rate of over 50% CAGR for last four years", he added.
RICOH THETA S was launched at the Ricoh 360 degree experience held at ITC Grand Maratha, Mumbai, where the complete range of Ricoh product & solutions such as Printing, Document Management, IT Services and Communication systems were displayed.
The RICOH THETA S will go on sale at a base price of Rs.39995 from the month of December 2015. The application program interface (API) for RICOH THETA S is based on Google-supported Open Spherical Camera API for compatibility with Google's services.
About Ricoh
Ricoh is a global technology company specializing in office imaging equipment, production print solutions, document management systems and IT services. Headquartered in Tokyo, Ricoh Group operates in about 200 countries and regions. In the financial year ending March 2015, Ricoh Group had worldwide sales of 2,231 billion yen (approx. 18.5 billion USD).
The majority of the company's revenue comes from products, solutions and services that improve the interaction between people and information. Ricoh also produces award-winning digital cameras and specialized industrial products. It is known for the quality of its technology, the exceptional standard of its customer service and sustainability initiatives.
Under its corporate tagline, imagine. change. Ricoh helps companies transform the way they work and harness the collective imagination of their employees.
————————————————–
PRESS RELEASE