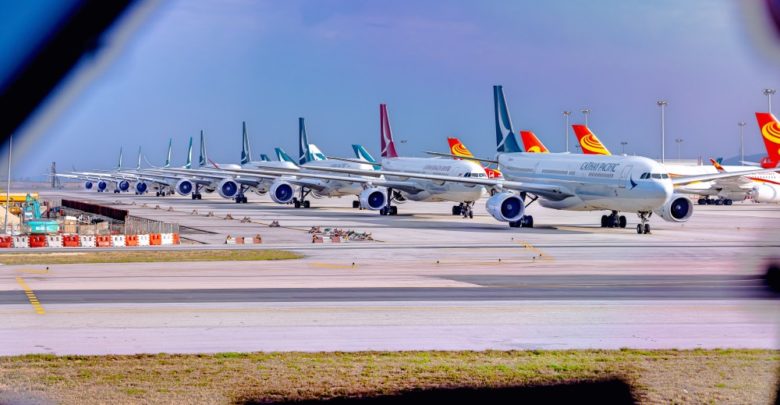 With nations curbing inbound flights and global travelers avoiding unnecessary travel, the skies are emptier than ever. That also means a large number of aircraft are parked on airport tarmacs and runways. According to industry researcher Cirium, more than 16,000 passenger jets are grounded worldwide. Airliners and aircraft leasing companies are worried about this because they know that the condition of their aircraft, parked for prolonged periods, could deteriorate the health of the aircraft — and result in costly maintenance fees. And parking charges at airports will also impact the financials of airliners. Indian airports charge $1,000 a day to park aircraft.
Aircraft will not be able to take to the skies immediately when the global pandemic dies down. That's because they need to be certified for airworthiness by the aviation authorities in various countries. In the U.S., that would be the FAA, and in India, it is the DGCA. That certification would require maintenance checks, which would cost money.
Parking an aircraft is not the same as parking a car. A plane is a delicate piece of machinery. It is an amalgamation of electronic sensors, hydraulic systems, anti-ice systems, batteries, braking systems, air-conditioning, control surfaces, engines, landing gear, various aircraft systems, cockpit and cabin interiors etc. The forces of nature — dust, humidity, saltwater corrosion, and even insects can damage an aircraft.
So what happens to an aircraft that is parked for prolonged periods?
The types of damage
The biggest form of damage is metal corrosion. If aircraft are parked near the sea or in humid environments, their metal parts start corroding. This leads to cracks in the wings, the airframe, bolts, engine fan blades, undercarriage, and control surfaces (flaps, stabilizers, ailerons etc). There could be corrosion within fuel tanks and in the undercarriage/landing gear too.
Insects and wildlife can also be a threat. Birds can create nests in opening and outlets such as in the engines, within the landing gear, or under the wings. Tiny insects and rodents can also enter the aircraft — rodents can eat the wiring and fabrics in the cabin.
And then there's dust. Aircraft parked in desserts have to be shielded from sandstorms, which could damage the engines and delicate control surfaces. That is why maintenance engineers put protective cowling coverings on engine intakes and exhausts.
Harsh sunlight entering the cockpit windows can damage the delicate instrumentation. So engineers shield the cockpit windows with anti-sunlight masks. Some pilots cover the windshields within the cabin with newspapers before leaving the aircraft.
Idle aircraft parked on the tarmac for long periods can also damage the braking mechanism in the wheels. Wheels have to be kept in position with wooden wheel chocks. You see ground engineers doing this whenever an aircraft comes to a halt, and its engines are switched off.
Batteries also need to be maintained every fortnight or they can wear off and get spoilt.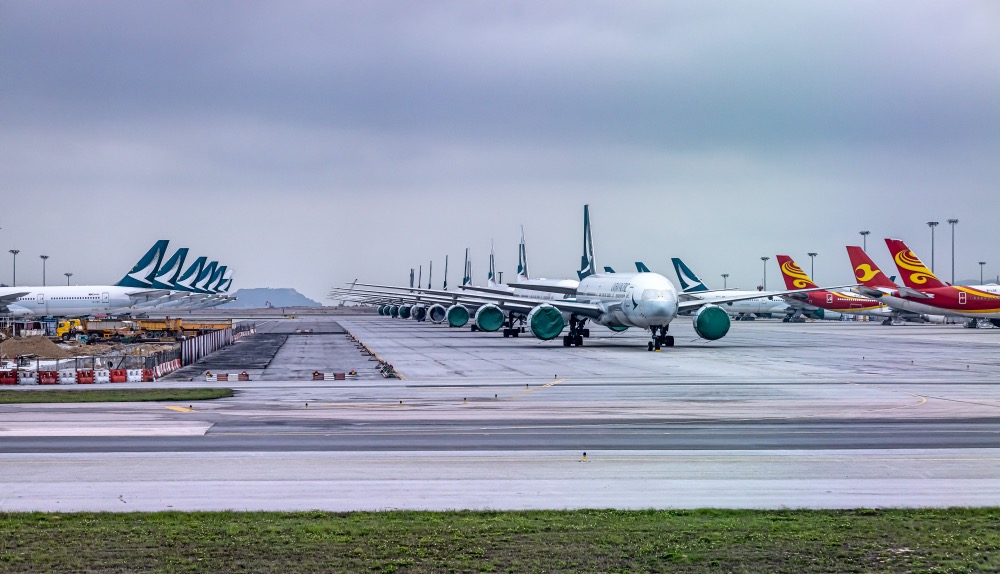 Physical fitness for aircraft
Airliners are already doing as much as they can to keep their grounded aircraft fit.
Etihad Airways currently has around 80% of its entire fleet grounded, with only a handful of jets being used to operate special repatriation flights and cargo operations. Some 100 aircraft are parked up after the UAE suspended passenger flights in and out of the country late last month amid the Covid-19 crisis. Etihad Airways said its engineers are working around the clock, maintaining its grounded fleet, a process that includes running engines and powering up aircraft, checking flight controls, and covering sensors and engines to protect inner workings from sand and dust. About 200 staff per shift clean plane cabins in hangars, from replacing seat covers to shampooing carpets, according to a video on the airline's official Twitter account.
Qantas Airways said its planes need to have their wheels rotated — by being towed on the tarmac or jacked into the air to be spun — every one to two weeks, while hydraulic fluid is put on the landing gear to protect against rust. Giant silica moisture absorption sachets are also put inside engines to keep them dry, while all external holes on the fuselage are covered to block insects and nesting birds.
Finnair engineers attend to aircraft batteries every 14 days at it its Helsinki hub. This work includes reconnecting aircraft batteries every 14 days, the airline said on its website. One a month, a more extensive check is carried out that involves removing protective covers, starting engines and inspecting air-conditioning and anti-ice systems.
Even under normal operating conditions, aircraft have to go for detailed inspections or 'checks ' every few months. There are various levels of checks: A check, B check, C check, 3C check, or D check. The entire fuselage and every component of the aircraft is checked for corrosion, wear and tear, and metal fatigue. In the most intensive checks (D checks), the aircraft is almost taken apart — engines are overhauled, landing gear and engines are removed — even seats and carpeting are removed.
Conclusion
We can best hope that the lockdown is eased off and that air travel resumes soon. Parking fleets of aircraft for prolonged periods will take its toll both on the aircraft and the financials of aircraft owners. Heavy maintenance charges and huge parking bills can severely impact the P&L of airlines, which anyway has little or no revenue coming in these days.
MORE AVIATION STORIES