An enterprise-grade blockchain solution enables businesses to deliver business results, drive innovation, reduce risk, complexity and increase efficiency and accelerate time to market.  Blockchain is one of today's most disruptive emerging technologies. In fact, 10% of the Global GDP will be stored in blockchain technology by 2027 and about $176 billion business value-add of blockchain is expected by 2025.
The Banking and Financial Services industry has been first off the blocks in the adoption of blockchain technology. But other sectors such as government, manufacturing, pharma, real estate, education, oil and gas, and telcos are beginning to move beyond the proof of concept stage towards actual business applications.
We spoke to Vaibhav Gawde, Head-Sales Consulting, Oracle India for an update on how blockchain is being adopted across industries. Vaibhav also told us how Oracle is enabling enterprises like Indian Oil to create their own customised blockchain networks and to invite ecosystem partners to participate.
He mentions that this can only work if the blockchain network is self-driving, self-securing and self-repairing. And that's what Autonomous technology is enabling. Oracle's new Blockchain Cloud Service is based on autonomous technology, which makes a blockchain network more secure, reliable and highly available.
DC:  Can you give us a quick update on where you stand in the Cloud services market?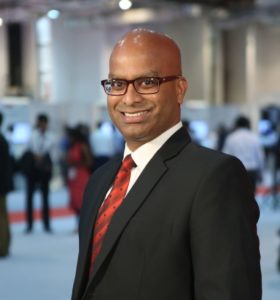 Vaibhav Gawde: I lead the solution engineering team for Oracle India primarily supporting the cloud platform business and have been covering all metros as a market for cloud platform. Under cloud platform we support all four tiers: Infrastructure as a Service (IaaS), Platform as a Service (PaaS), Software as a Service (SaaS) and Data as a Service (DaaS), and obviously, we cover all on-premise as well as hybrid and cloud offerings.
The focus areas for Oracle are finance, telco and manufacturing in the enterprise stream. But we also see a lot of traction in the small and medium segment in our cloud business. There are many customers who aspire to be digital disruptors or are new in cloud and they are adopting our various cloud services in the platform or services range.
DC: In terms of blockchain, we are seeing a lot of traction mainly in the BFSI sector. But you also have customers like Indian Oil, Arab Jordan Investment Bank, CargoSmart, Certified Origins,  Intelipost, MTO, Neurosoft, Nigeria Customs, Sofbang, Solar Site Design and TradeFin among others. Which are the other sectors within the country where you are seeing interest in blockchain?  What are the potential applications for using blockchain in other industries?
Vaibhav Gawde: We launched Oracle Blockchain Cloud Services in July 2018, but it was available (earlier) as a beta for 6 – 8 months, to various customers to do the proof of concept (PoC) and evaluation. Some of those (evaluations) are still in progress. As you rightly mentioned, initially there was a lot of traction in the FSI sector, so various banks in the private and public sector were interested.
The FSI companies want to do thorough and intensive testing.  They want to see the enterprise scale and high availability aspects. At the same time, we spoke about these services in various other segments.
You mentioned about Indian Oil, which is one of the cases we are talking about. Blockchain compounds a trust in a way we provide for a distributed ledger in the smart contract. It can fundamentally transform any industry, not just FSI; it does the business of making transactions.
Businesses want to be secure, transparent, efficient and also cost effective. We believe that it changes the way transactions are happening in the industry.
Indian Oil told us about the problem they were facing with their dealers. Every dealer needs to give them a bank guarantee. They also spoke about the issues concerning distribution of oil to various outlets. We started working on some of the cases, and immediately what clicked with them was the bank guarantee case — they believed that this was one of the issues that could be immediately resolved.
You must have also seen the press announcements about Niti Aayog working with us and Apollo Hospitals, to build a prototype around blockchain. This is primarily around the cycle of the drug — right from manufacturing to receiving, to the end user.
We are also working in multiple other segments, for instance, land records with some governments.
There is interest from parties who are doing transaction reconciliation, and those who are providing switching services for various transactions. Other parties who have shown interest are those who store the shared document, and store some kind of record —  which are actually put by multiple parties.
We are doing a PoC with a pharma company, and they want to be the key player for sharing research content in a secure manner.
Another use case for blockchain is education — storing student certificates, which can be accessed by banks, employer and other institutions. It will be available in one place and can be accessed by all parties in a more secure manner.
So initially, we started and connected with the FSI segment first. But eventually, it has been adopted by various other industries. There are other sectors like manufacturing and we are talking to various large manufacturing companies where they want to use this for their inventory management from factory to various outlets, or within the factory from one process to another process.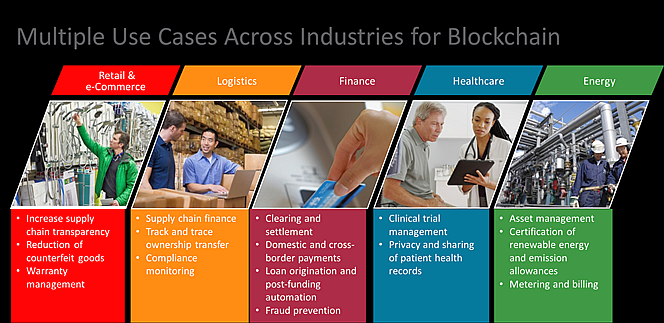 DC: What is Oracle offering by way of Blockchain solutions? What are the key differentiators?
Vaibhav Gawde: There are two key things here. Blockchain is a technology based on hyperledger fabric and there are various offerings available in the market in bits and pieces. So what we are offering is blockchain as a service. It is an offering where the end users can create their own platform and they can decide who will be participating in it. So we are not making the concoction and giving it to the end user; we are allowing you to create your own service.
We have earlier spoken about examples in various industries. If you are a consumer of that service then you can build that and ask various entities to participate in that.
Enterprise customers are more interested in that because it is primarily targeted to large enterprise customers for two reasons: one is that they can build on their own. Let's say a bank, they can build a blockchain platform and ask the other parties to participate in it. This is based on open technologies so that anybody who is using the same hyperledger fabric standards can participate in this. They want the cooperating details within the services.
Second thing is they wanted the high availability and reliability of the platform. There is high availability and reliability in our service offerings. The ledger is continuously getting backed up; the ledger will store the transactions, although these are distributed in nature. The transactions are at multiple places, but the entire ledger is getting backed up continuously. We are giving the assurance of transaction availability. These are cloud services and we offer multi data centre DR (disaster recovery) across the availability domains. So services will be always available and that provides high uptime.
The next one that is unique to us is the Autonomous Recovery Agent.
DC: Tell us more about the Oracle Autonomous Recovery Agent.
Vaibhav Gawde: Oracle announced this at its last OpenWorld event. The autonomous offering is the first so far in the market. Let's take an analogy of a driverless car.  The autonomous platform from Oracle is self-driving, self-securing and self-repairing. It means that when the service is available to you it can be configured in a most efficient manner to serve you in an automatic manner.
Once the service is available, when it comes to us, it is about securing that — security issues and patches — so those will be automatically and continuously applied. So the service coming to you will be self-secure.
The third is about the repair in terms of availability and performance. If the load is increasing randomly, the service automatically tunes itself to perform with the same kind of agility. If anything is going down it will automatically switch over to the available component and make it available to you. So services are always self-driving, self-securing and self-repairing. Anything which comes under it, it's called an autonomous service and Oracle has started offering few autonomous services, blockchain being one of those services.
DC: Can you in a nutshell summarise the USPs of your Blockchain services?
Vaibhav Gawde: I will mention three or four. One is enterprise-grade in terms of scale and availability. So when I say scalable, the platform itself is based on the autonomous platform, so it can scale as your requirement grows. If an enterprise customer wants to start small and grow, it can scale as the company grows. It can also scale when workloads peak.
The second requirement of enterprises is security and availability. It is a highly secure platform because all (the latest) patches are continuously applied.
It is also a highly available architecture and the DR at the backend provides multiple availability domains.
The second feature I want to highlight is about the platform. We are offering it as Platform as a Service so that enterprise can build their own customised blockchain platform and applications, and make others participate in that. We provide the entire framework on which customers can customise and build as per their requirement. And it is all plug and play.
The third feature is integration, which is built in. Our blockchain cloud service is integrated with our SaaS offering and third-party applications, and also our entire PaaS offerings. If the customer is using any other SaaS application from us or third-party application who have the open APIs we have plug and play integration with them. Companies in industries like manufacturing, healthcare or pharma already have some other applications running for their core workloads. This can integrate with those existing applications.
---
Blockchain in Pharma use case
A blockchain based drug supply chain will have all the required entities like the manufacturer, distributors, pharmacists and patients on a trusted network powered by Blockchain.
A visible supply chain, which includes all stakeholders like suppliers, vendors, distributors and partners is created
The technology helps document critical details like location, quality, price and other relevant data, which is made visible to all concerned entities while greatly reducing the possibility of record tampering.
When a product moves through the supply chain passing through various hands, each transaction would be documented, recording a permanent history of the product. Right from the point of manufacture to sale, this system powered by blockchain, will have a digital record of every change of hand.
It enables to radically diminish time delays, increased costs, and human error that plague transactions today. The supply chain is made transparent, secure, decentralized and verifiable besides plugging loopholes in the supply of authentic medicines and trimming costs involved in detecting faulty areas.
Every time a product changes hands, the transaction could be documented, creating a permanent history of a product, from manufacture to sale in the system powered by blockchain.
This could dramatically reduce time delays, added costs, and human error that plague transactions today.
Source: Oracle India
---
Source: Oracle India