Dubai, February 12, 2019: The Middle East edition of Oracle OpenWorld concluded here in Dubai with Oracle sending out critical messages about its commitment to helping customers get on to the cloud. Oracle predicts that 80% of all enterprises (and mission-critical workloads) will move to the cloud by 2025. However, many companies have yet to move to the cloud. Oracle, which has traditionally been a database company, thinks Autonomous technology (and the features of its Autonomous Database) could help accelerate this migration and make customers more confident about the cloud. Oracle Autonomous Database is a 'self-driving, self-securing and self-repairing' database. Steve Daheb, SVP, Oracle Cloud, Oracle Corp. informs us that Oracle Autonomous Database can be used in a private or public cloud or even behind the customer's firewall, on-premise through Oracle Cloud at Customer.  Already, early adopters such as Federal Bank and Codeinks have benefited from Oracle Autonomous Database, and they have been quoted in this story.
"We see companies transition to the cloud faster than we had anticipated," said Daheb. "For example, 100 percent of apps will soon become AI-based solutions or 50% of data will be managed autonomously."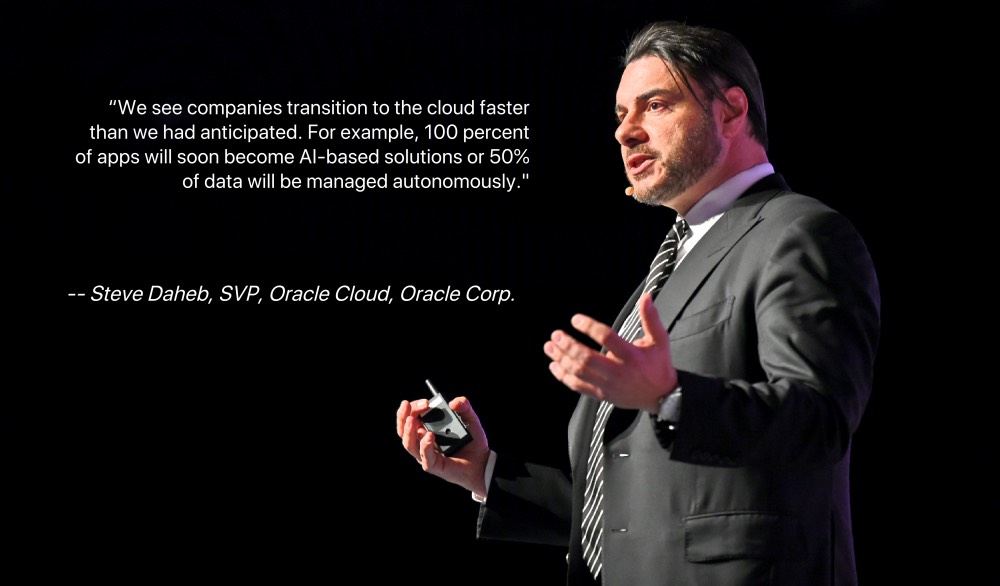 According to the 2018 IDG Cloud Computing Survey, 73% of organizations have at least one application or a portion of their computing infrastructure already in the cloud and 17% plan to do so within the next 12 months. The survey was released in August 2018. However, going by some industry estimates, 85% of business data is still, and many businesses aren't ready to put mission-critical workloads on the public cloud yet.
Oracle wants to help companies move to the cloud by providing multiple options through its Cloud at Customer initiative, which delivers Oracle Cloud services in a customer's data center. These services are fully managed by Oracle, enabling them to take advantage of the agility, innovation and subscription-based pricing of Oracle Cloud — while meeting data-residency requirements.
With Cloud at Customer, Oracle is also addressing data residency and data localisation mandates that are essential in regulated industries such as Banking, Insurance, Telecom, and Healthcare. Data localization and data privacy laws forbid companies from storing consumer data on servers outside their borders. These laws are present in countries within the EU and UAE, and will soon be a law in India.
Organizations are hesitant to migrate workloads to public clouds because they seek clarity from cloud service providers about data residency. The other reason for slow adoption is that there are many legacy applications and business processes must be transformed for the cloud.
However, there is also pressure to embrace emerging technology and to save costs on IT. So that's what Oracle is trying to provide through its autonomous technology, which is second generation cloud architecture. It brings security and performance to cloud-native apps and also integrates these with native apps.
The autonomous database is designed to provision, tune, patch, update, and secure itself without human intervention. With the first generation cloud, all these administrative tasks are done by skilled, in-house IT staff. Oracle says that, with autonomous technology, database administrators will now spend 80% less time on these tasks, and can use more time for innovation.
Oracle has also embedded IoT, machine learning, AI and Blockchain into its SaaS applications — to enable customers to embrace these emerging technologies faster.
It's a well-known fact that Oracle has been lagging behind Amazon, Microsoft, IBM, and Google when it comes to cloud. However, autonomous technology and a hybrid approach could take them further ahead in the race.
"We would love to lead with cloud first, but first and foremost, it's the customers need. Amazon comes in, but they don't have a solution for hybrid like we do," said Daheb.
How customers have benefitted
Oracle claims autonomous functionality has helped most early adopters realize the business benefits instantly. These benefits include faster transaction processing, more accurate sales forecasts and enhanced customer experiences; it's also helped them strengthen their organization's security fabric to help intuitively thwart cyber-threats and data thefts. Organizations using Oracle Autonomous Database come from diverse industries such as banking, consulting, digital commerce, IT and professional services, and unconventional sectors like footwear and spices.
VIDEO CREDIT: Oracle
"Performing ATM Analytics on Oracle Autonomous Data Warehouse, we uploaded only aggregate data pertaining to ATM performance metrics, in line with our compliance guidelines around data privacy and security. In just under four weeks, we had an intuitive, user-friendly solution with full drill-down and roll-up capabilities. This empowered our senior leaders with actionable intelligence for faster decision making. We're now looking to enhancing the scope with social media content for better sentiment analysis and a more holistic understanding of our customers", said Shalini Warrier, COO, Federal Bank.
VIDEO CREDIT: Oracle
With more than 1,200 branches and 1,600 ATMs across the country, Federal Bank had multiple systems in place for monitoring branch details, network analysis, ATM availability etc. With Oracle Autonomous Data Warehouse Cloud bundled with Oracle Analytics cloud service, the bank was able to gain a unified, single view of ATM availability, branch operations, and network availability. This empowered them to make better business decisions and personalize services better for their end consumers. For instance, they're now able to figure out which ATM has more walk-ins, why customers in a particular locality use a competitor's ATM though there's an ATM by their home bank nearby etc, and are able to make more strategic business decisions
Beyond large enterprises, SMBs, and born-in-the-cloud startups are optimizing their resources, boosting their competitive edge and crafting hyper-personalized consumer engagement strategies with Oracle Autonomous Database. Codeinks, a Bangalore based e-commerce software product company, is one such startup.
"Our customers are demanding faster, deeper, more accurate insights from us, but most database technologies aren't fast enough to handle such heavy duty analytics workloads for real-time reporting. We used Oracle Autonomous Data Warehouse out of the box, and we realized an average performance improvement in the range of 30% – 50% for our defined scenarios. We were able to quickly create dashboards in near-real time to capture the results of what-if analysis around a range of factors including session data looking at user interactions in a particular timeframe or around particular tasks", said Manish Verma, Cofounder & CEO, Codeinks.
With Oracle Autonomous Database, CIOs are empowered to drive their organizations out of maintenance mode and accelerate innovation. Oracle is offering its customers the option of using the same database in the cloud, on-premise or with Cloud @ Customer, easing the transition of existing, mission-critical applications.
"In the last 12 months, our customers have rewired their organizational DNA to transform into a digital-first, data-driven business. They are freeing up resources to focus more on innovation. To put their data capital to better use and strengthen their core competencies, we're helping them upgrade to the technology of tomorrow, today. Autonomous software will be the next big growth lever for businesses", said Shailender Kumar, Regional Managing Director, Oracle India.
---
Oracle hosted Brian in Dubai for Oracle OpenWorld Middle East 2019