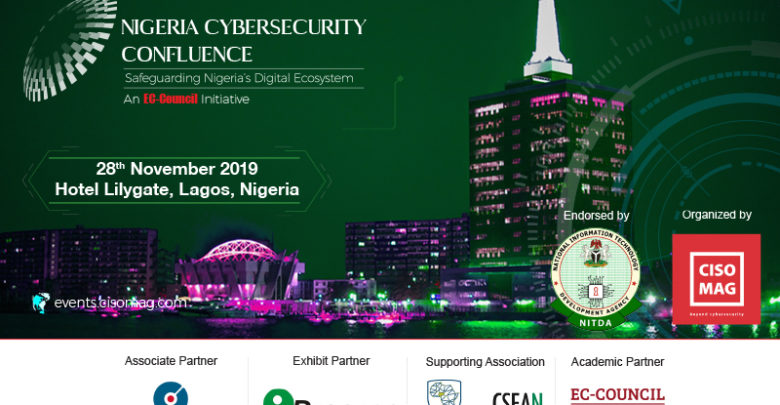 Nigeria is one among the few countries in the MENA region that is marching ahead in the space of ICT and is set to draw comparisons to its European counterparts with respect to technological innovations. Several initiatives taken by the Government and the Ministry of Communications Technology validate the fact that Nigeria will soon see a larger share of the Global Digital Economy. The rise of Nigerian technology startups reverberates across the world. It is also an established fact that the nation is among the countries that are geared toward closing the technological divide between Africa and Europe.
Addressing this trend, EC-Council's CISO MAG is set to host the Nigeria Cyber Security Confluence on November 28, 2019, at Hotel Lilygate in Lagos, Nigeria. The prestigious event is endorsed by the National Information Technology Development Agency (NITDA).
While there have been several advancements in the space of innovation, Nigeria was also plagued by several high-profile privacy and cybersecurity breaches within and outside the nation. The companies based out of Nigeria were also not immune to the spree of cyber-attacks and data breaches that marred the world. And like the rest of the world, which continues to be beleaguered by the lack of a cybersecurity talent pool, Nigeria is also facing a similar predicament. Today, information technology leaders are pressed with the herculean task of being constantly vigilant to secure critical business data. It has now become imperative for organizations to devise and implement the right cybersecurity framework to address the key security challenges in an ever-evolving digital business landscape.
The Nigeria Cyber Security Confluence will harness some of the best minds of Nigeria to deliver realistic insights on how to redefine security frameworks and efficiently mitigate risks while evaluating business strategy and security.
The confluence will set the stage for over 25 information security experts from across the region to share their views on some burning issues within today's digital business ecosystem.
The event would be graced by Prasanna Kumar Burri, Group Chief Information Officer, Dangote Group; Dr. Dimie Wariowei, Ag. Director of Cyber Security Department, NITDA; Ogunkoya Taiwo Olufemi, Head of IT (Lagos), Central Bank of Nigeria; Bharat Soni, Chief Information Security Officer, Guaranty Trust Bank; Daniel Adaramola, Chief Information Security, Officer (CISO), Unity Bank Plc; and Steve Isitua Obiago, Group Head – Information Technology, Chicason Group among several other esteemed guests.
The confluence would also witness a slew of panel discussions, technical rounds and Keynotes. The event is sponsored by Cyfirma (Associate Partner), eProcess Consulting (Exhibit Partner), ISSAN and CSEAN (Supporting Association) and EC-Council University (Academic Partner).
The Confluence will pave the way for attendees to attain a refreshing perspective on the latest technological advancements within the gambit of cybersecurity through a series of focused discourses and interactive discussions.
Register now ? http://bit.ly/2PD3JFp