Bangalore, January 16, 2019- M12, the corporate venture fund of Microsoft today announced its first investment in India, kicking off its investment in the growing Indian startup ecosystem. Rashmi Gopinath, partner at M12, will be leading M12's investments in India as Director. M12 (formerly Microsoft Ventures) will be investing in Innovaccer, a startup working to solve data interoperability challenges in healthcare and helping health systems enhance their clinical and financial outcomes with a data-first approach.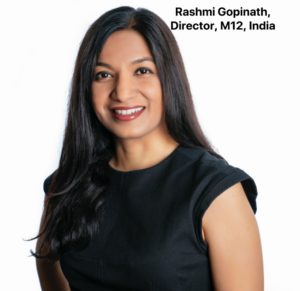 "Investment in India is getting to a really large scale and we are seeing a lot of unicorns born in this country," said Gopinath. "Eight out of 250 unicorns globally came from India, which is third behind only the US and China in terms of investments, and in terms of startups getting to scale. So it is definitely an important market that has emerged in the last four years. We saw about $4 billion of funding go towards enterprise B2B startups. In 2018, there was a 30 per cent uptake that was invested over 2017."
The M12 funding is a series B extension round. It may be recalled that Innovaccer raised a Series B round of $25 million (approx Rs 168 crore) from Westbridge Capital and Lightspeed Ventures, last year.
Innovaccer is a healthcare SaaS startup providing data aggregation and analytics services to healthcare institutions. It solves a major challenge in the industry where data such as EMR (patient records), financial data, operational and administrative data are stored in silos, making analytics and data insights a challenge. Innovaccer solves this challenge by providing a data repository, analytics and machine learning models. In doing so, it is introducing efficiency in healthcare operations, reduce costs, and makes it easier to get insight from data.
Leveraging machine learning and healthcare-related contextual expertise, Innovaccer enables its users to consolidate financial, claims, patient, and operational data together to provide a comprehensive patient 360-view for better decision-making, care coordination, and reporting.
Abhinav Shashank, CEO Innovaccer, said, "Our unique value proposition is a holistic healthcare data platform that offers data aggregation and key analytics to help healthcare systems and insurance providers to align with value-based care models and realize significant cost savings and operational efficiency. We are excited to work with M12 and Microsoft in order to leverage their best-in-class technical, industry, and go-to-market expertise to help address needs for healthcare organizations across the world."
Innovaccer has offices in both India and the United States, offering a comprehensive Healthcare Data Platform and intelligent care application modules for over 10,000 healthcare providers across 500 practice locations.
M12 is comprised of experienced VCs and Microsoft veterans—with team members on the ground in North America, Europe and Israel. Globally, M12 has invested in 73 startups in areas ranging from cybersecurity and artificial intelligence to business SaaS and industrial drones. While the investment team functions like a traditional VC firm, the portfolio development and venture engagement groups strengthen the lines of communication between Microsoft and many of the innovation communities around the world. It has access to, and knowledge of, Microsoft's strategic assets, enabling it to value add in excess of the contributed capital.
As the corporate venture arm for Microsoft, M12 (formerly Microsoft Ventures) invests in enterprise software companies in the Series A through C funding stage with a focus on big data & analytics, business SaaS, cloud infrastructure, machine learning & artificial intelligence, productivity and security. As part of its value-add to portfolio companies, M12 offers unique access to strategic go-to-market resources and relationships globally. The Company has offices in New York, San Francisco, Seattle, London and Tel Aviv.
"We are looking for companies with very strong fundamentals from a business execution standpoint. (We look for) a strong founding team, deep subject matter expertise; they are growing to scale, while at the same time keeping an eye on their operations and execution — and being cash efficient," said Gopinath. "We are investing in companies that are addressing global markets or markets in specific regions. We want companies to compete effectively on a global scale and we go beyond just providing capital needs. But we do not invest in competitive companies for which we already made an investment in that space."
The Indian startup ecosystem is seeing more companies with expertise in artificial intelligence, robotics, AR/VR, and blockchain. These companies are capable of competing on a global scale. The growing startup ecosystem and talent pool in India is attracting global and local VCs.
"Our India investment thesis is very similar to our global thesis. We will continue to invest in enterprise B2B companies. We will focus on Series-A through C stage companies — check size will be $2 – $10 million. And we have built strong relationships with all of the top investors here," added Gopinath.