BIZ NEWS
NETWORKING & INTERNET
SMART HOME
TECH NEWS
TRENDING
Wi-Fi Network Down Again? Here's a Solution to Fix Your Networking Blues
Networking issues and the shoddy response from service providers are slowing down millions of Small and Medium Businesses in India. Linksys Cloud Manager offers remote network management, simplified networking configuration, and can fix network problems in a jiffy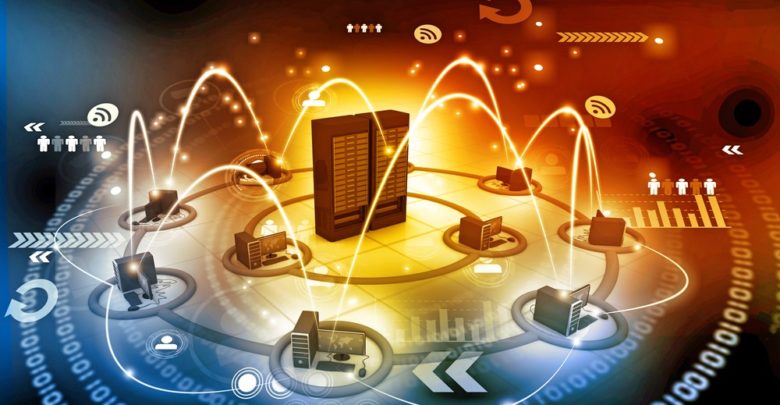 UPDATED: Small and Medium Businesses are the driving force behind India's GDP growth, that's rated the highest in the world. There are millions of SMBs in India who provide employment and contribute to the nation's growth. These SMBs are highly dependent on the Internet and connectivity infrastructure. However, the shortage of skilled manpower, the complexity of network management, and the high cost of maintaining networks pose a significant challenge. Linksys, a pioneer in wireless networking technologies, now has a solution.  Linksys has been manufacturing access points, routers, switches, VPN & VLAN solutions since its inception in 1988. The Linksys Cloud Manager service simplifies networking management and troubleshooting as these administrative tasks can be performed over the cloud from any location in the world, using a laptop, tablet, or mobile phone. The service is targeted at the SME and SOHO segment.
"The SMBs and the Networking industry have been growing exponentially year over year. There is no better time than now for us to enhance our portfolio in India. Our high-performance products and Cloud Management software solutions not only help small business to be efficient but also cost-effective," said Kartik Bakshi, Country Manager, Linksys India.
How Linksys Cloud Manager Helps
Linksys Cloud Manager is a cloud-hosted Wi-Fi Management Platform purpose-built for small business environments that reduces costs and increases operational efficiencies. The solution offers centralised visibility, management and control of a wireless network without the cost and complexity of traditional hardware controllers, overlay software, or annual hosting fees.
Linksys Cloud Manager enables IT administrators, and other authorised users to remotely monitor, manage, and troubleshoot single or distributed wireless networks in real-time via a single dashboard and sign-on. This plug-n-play platform helps provide secure remote access to Linksys Business Wireless-AC Access Points, built with enterprise-grade, high-performance hardware.
"We observed that one of the biggest issues with customers or ISPs (Internet Service Providers) is fixing network issues. For instance, if a customer is in Pune and the service provider is in another city, then it would not be possible to send a technician to Pune to fix the customer's Internet connection. However, using a remote management service, the ISP can have people sitting anywhere in the world, who can log in and diagnose network issues. The main thing was to offer a solution to SMBs, wherein networking problems can be resolved from anywhere," said Bakshi.
Linksys is following a trend in the industry. Connectivity service providers use a remote management software called TR-069 (Technical Report 069) for diagnosing and resolving router issues. Linksys is bringing the same concept to access points through its Cloud Manager solution.
VIDEO CREDIT: Linksys
Cloud Manager Demo
As Linksys product specialists led us through the demo of Cloud Manager, we observed several unique features.
The interface is clean and uncluttered, with configuration, monitoring, and management features neatly tucked into tabs. This makes it easy to find a particular feature, and there is a short learning curve for getting familiar with the interface.
The interface is available through a website as well as a mobile app. It has a responsive design, so the same features are also shown on the mobile app. That means the network manager could diagnose and resolve a network issue, or configure an access point from any location in the world. Push notifications can be sent to the administrator's phone to alert the administrator about networking issues such as failure of access points or unusual bandwidth consumption by a client.
What's more, the solution offers multi-site cloud Wi-Fi management. This makes it ideal for managing networks at branch offices or different campuses, for instance.
There's Zero Touch Provisioning as well, which means the administrator does not need to be onsite to provision an access point. An electrician can plug in the cables and switch on the access point; the access point will then sense the network and automatically connect to it. The administrator can now configure it from a remote location via Cloud Manager.
There are parental controls so that the administrator can block certain domains. This is a useful feature for home users or if the organisation wants to dissuade its employees from using social media or certain websites.
Firmware and security updates are automatically pushed to the access points. We were informed that the security on these access points would be automatically upgraded to the WPA3 standard once it becomes available. The access points now support the WPA2 Enterprise standard.
The bandwidth steering feature lets administrators prioritise bandwidth for specific applications and devices. Less bandwidth can be allotted for tasks like checking email, for instance. Specific users/devices can be allocated higher bandwidth. For example, video producers may need more bandwidth.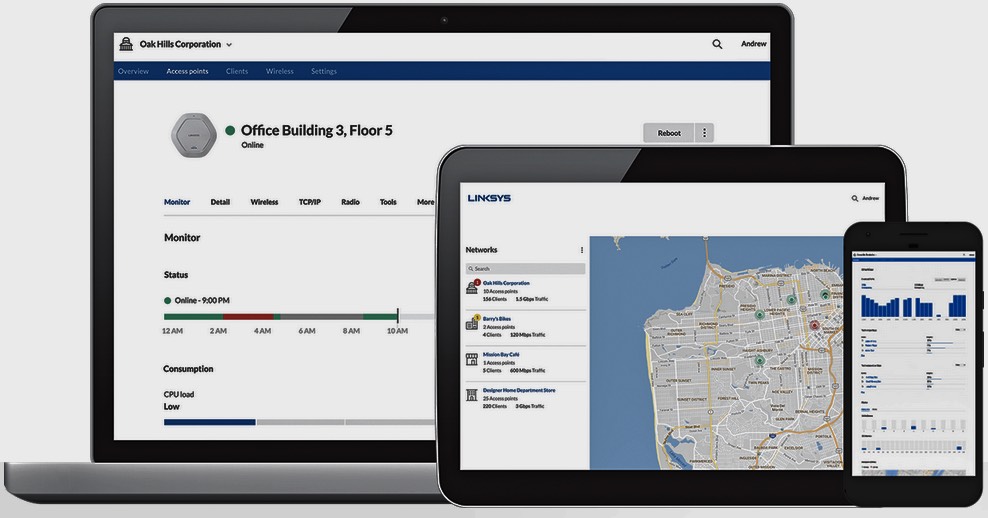 Cloud Manager Features
Through the interface we could observe:
Network channel usage by access points
The clients using the most bandwidth
CPU and memory usage per device
Usage of the top three access points
Location of access points
The load on access points
Uplink and downlink consumption of bandwidth
Total bandwidth consumption
Historical data of bandwidth consumption (up to 7 days)
The administrator can take control of the network from a remote location and perform the following actions:
Block/allow clients
Manage network settings (SSID name, security options)
Configure WEP, WPA, and SSID with a splash page
Set client isolations and maximum clients per network
Set bandwidth limits, band steering, and VLAN tags per network
Set Syslog for network
Configure device TCP/IP settings and radio settings (channel, width, TX power)
Upgrade device firmware
Reduce or increase the transmission power of the signal (from access points)
"While investigating the needs of SMBs, we quickly realised they had the needs of larger companies, but the market lacked an affordable and easy-to-use cloud management system," said Anthony Pham, senior product manager, Linksys. "Linksys Cloud Manager meets an underserved gap for true, business-grade cloud SMB networking at a price point that no other vendor can match."
Availability
Linksys Cloud Manager is pre-installed on select Linksys Business Wireless-AC Access Points, including LAPAC1200C, LAPAC1750C, and LAPAC2600C.
Cloud Manager comes with a free five-year license, and there are no maintenance fees during this period. After the five-year period, Linksys will be offering an option to purchase a license to extend cloud services.
More About Linksys 
Linksys, once owned by Cisco, became a part of Foxconn Interconnect Technology (FIT) in 2018 when it merged with Belkin International to create a global consumer electronics leader. Today, this Group leads in connecting people with technologies at home, at work and on the go within the accessories ("Connected Things" – Belkin brand) and the smart home ("Connected Home" – Linksys, Wemo and Phyn brands) markets.