TRENDING
LinkedIn appoints Akshay Kothari as Country Manager for India
Former CEO and Co-founder of Pulse will also lead product initiatives in India
India –January 5, 2016: LinkedIn, the world's largest professional network with more than 400 million members globally, today announced the appointment of Akshay Kothari as Country Manager for India, effective immediately. Akshay will report to Olivier Legrand, LinkedIn's Managing Director for the Asia Pacific (APAC) region, and join the company's APAC senior management team.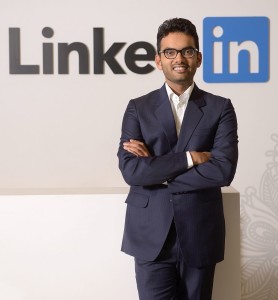 Akshay joined LinkedIn in 2013 when Pulse, the company he co-founded and was CEO of for almost 3 years, was acquired by LinkedIn. Since then, based out of LinkedIn's global headquarters in Mountain View, California, he successfully led several major product and content initiatives, including making Pulse one of the fastest-growing consumer product on LinkedIn, and boosting the number of members publishing on LinkedIn from 1,000 to nearly 2 million in the last two years.
"My journey with LinkedIn started when Pulse became part of the LinkedIn family almost three years ago. I'm excited to have this opportunity to work with our teams across India, from sales to product and engineering. This new role also brings me back 'full-circle' to India, a high-growth market where there are opportunities abound to create even more value for our members and clients. Ultimately, my dream is for LinkedIn to play an even more significant role in helping to transform professionals and businesses in India, and showcase their success to the rest of the world," Akshay said. Please click here to read more about Akshay's thoughts on his new role.
India has the second largest base of LinkedIn members globally, after the USA. Over the past 6 years, the member base in India saw a ten-fold increase (which translates to a compound annual growth rate of 46%) to more than 33 million, including influencers like Prime Minister Narendra Modi and top executives such as Kiran Mazumdar-Shaw Chairman & Managing Director, Biocon, Swati Piramal Vice Chairman, Piramal Enterprises Limited, Ronnie Screwvala Founder UTV group, Unilazer Ventures and Swades Foundation and Nandan Nilkeni, Former Chairman, Unique Identification Authority of India. LinkedIn's diverse client base including Tata Consultancy Services, Biocon, Reliance, Flipkart, Wipro, Aditya Birla Group and Larsen & Toubro, are served by employees based in Mumbai, Gurgaon and Bangalore. In November 2015, LinkedIn launched LinkedIn Placement, its first 'made in India, for India' product, which makes easier for graduating students across India to find their first job and for placement officers and recruiters to manage campus placement initiatives.
Olivier commented, "India continues to be a strategic market for LinkedIn. While we have come a long way over the past 6 years in the country, we still have a long runway of opportunities to deliver even more compelling experiences and value for our members and clients. Akshay's successful track record as an entrepreneur, leader and product executive will be a boost to our efforts, as he leads our team to the next stage of growth in India."
An Indian national, Akshay has lived and worked in the USA for the past 12 years, primarily in California. He holds a Master of Science degree from Stanford University, and a Bachelor of Science degree from Purdue University. Akshay also serves on the Advisory Board of Electrical and Computer Engineering department at Purdue University.
———————————————————————————————————————————–
PRESS RELEASE