TRENDING
KPIT joins hands with Massachusetts Institute of Technology (MIT) to discuss Innovation for Emerging India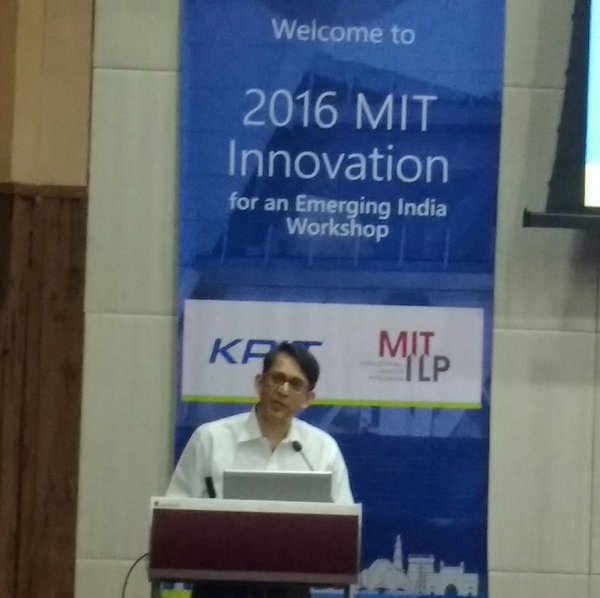 The company hosts MIT's prestigious Industrial Liaison Program to promote exchange of ideas and research findings in the manufacturing, technology, and clean energy sectors
Pune, March 21, 2016: KPIT Technologies (BSE: 532400; NSE: KPIT), a global technology company specializing in IT consulting and product engineering, today hosted the prestigious Industrial Liaison Program with Massachusetts Institute of Technology (MIT), '2016 MIT Innovation for an Emerging India Workshop', at the KPIT campus in Pune. With talks by eminent research scientists and academician from MIT, as well as leaders from the manufacturing and technology industries, the workshop delved into the development and application of cutting-edge innovations in India and around the world.
The MIT Industrial Liaison Program 2016 discussed innovations in diverse fields such as harnessing the Internet of Things (IoT) for health and wellness; transforming "data-driven" Artificial Intelligence through machine learning; solar energy and digitizing fabrication for manufacturing amongst several groundbreaking domains. The sessions also focused on how big data can be utilized to improve operations and processes in businesses, resulting in business growth and better lives.
Ravi Pandit, Co-founder, Chairman & Group CEO at KPIT Technologies was the keynote speaker at this event.
 The speakers included:
Richard Fletcher, Research Scientist, MIT Development Through Dialogue, Design and Dissemination
Neil Gershenfeld, Director, Center for Bits and Atoms, MIT Center for Bits and Atoms
Bruno Gutierres, Airbus BizLab Director
Hasit Kaji, Vice President, Special Initiatives at Tata Consultancy Services
Una-May O'Reilly, Principal Research Scientist, Leader, Evolutionary Design and Optimization Group, Director, The Alfa Group: Any Scale Learning for All, MIT Computer Science and Artificial Intelligence Laboratory
Frank van Mierlo, CEO, 1366 Technologies
The workshop also included a panel discussion on starting and running a tech company in India, with panelists such as Varun Aggarwal, Co-Founder & CTO, Aspiring Minds; Katie Taylor, Tata Center Fellow and Founder, Khethworks; Hemant Khemka MD, Stesalit Systems Ltd.; Pradeep Nakhate, Head of India, EyeNetra.
About KPIT Technologies Ltd.
KPIT (BSE:532400, NSE: KPIT) is a global technology company specializing in providing IT Consulting and Product Engineering solutions and services to Automotive, Manufacturing, Energy & Utilities and Life Sciences companies. Together with its customers and partners, it creates and delivers technologies to enable creating a cleaner, greener, and more intelligent world that is sustainable and efficient.
——————————————————————————————————————————————-
PRESS RELEASE