TOP STORIES OF THE WEEK
How India's Game-Changers are Leveraging Technology for Resilience and Growth
Here are examples of companies and industries that embraced digital technologies and are on their way to become drivers of India's economic revival.
Business leaders and economists are talking about the recovery of the Indian economy, even as a third wave of the pandemic looms large. The visible green shoots are the growth of the Sensex (crossing the 56K mark for the first time recently), the Purchase Managers' Index (PMI), which rose to a three-month high of 55.3 in July (services PMI for July 2021 was 45.4, up from 41.2 in June 2021), and the optimistic projections from the World Bank (projecting growth of 6.5 per cent by 2023), and other indices such as Nomura India Business Resumption Index (NIBRI). Nomura says business in India has now exceeded pre-pandemic levels, indicating a swift recovery from the second wave.
To boost business growth and encourage small and medium businesses, India's spirited Finance Minister, Ms. Nirmala Sitharaman and the Department of Financial Services made many policy changes this year. The Finance Ministry's focus has been financial Inclusion and ease of doing business in India. All this is attracting a herd of FIIs (Foreign Institutional Investors) to India – and driving the indices at Indian stock exchanges. In the midst of all this, we see a trend: Certain industries are investing in, and harnessing disruptive technologies like Blockchain, artificial intelligence, machine language, augmented reality, mobile & apps, big data analytics, IoT, marketing tech, edge cloud, hybrid cloud, etc. to improve customer experiences and customer engagement. They have shown resilience and transformed their business models in these challenging times. These are the industries and companies that will be at the forefront of India's economic success. They will be the drivers for the Indian economy – the new Indian Game-changers, if you may.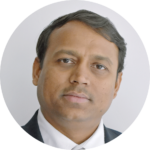 "Despite the downturn of businesses and the economy, some industries critically appraised their operations, and have considerable resilience and realignment in their businesses to meet changing customer needs," says Dr. Arun Singh, Chief Economist-Dun & Bradstreet. "These game-changers arrange from a variety of sectors like healthcare and pharmaceutical, banking, manufacturing, and retail and e-commerce. Progressive technologies like the modern cloud, AI/ML, VR/AR, and big data analytics—are at the heart of this transformation."
Adapting for Survival
There is optimism in the air even as lockdowns ease, shops reopen, the hustle and bustle returns to the streets, and people get back to work. Cars are back on the roads, restaurants and malls are reopening, and trains are ferrying people once again. But the past few months have been unprecedented and challenging. And we adapted and survived, like how. Many did not make it, of course, and had to shut shop.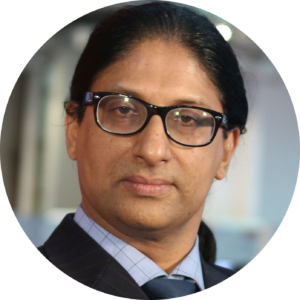 "If you take the shock away, the economy has an opportunity to be able to bounce back, grow and really start contributing to every other sector. It looks positive going forward, while there's an overhang of a possible third wave. In the last 16 months, people and companies have figured out how to work in a very different environment and how to succeed. I think the opportunity will just present itself in a much more accelerated growth," says Prasad Rai, Vice President, Global Strategic Clients Group, Oracle India.
Dr. Singh echoes Rai's optimism when he says, "There is a sea of opportunity for India, as it is expected to be the fourth largest private wealth market globally by 2028."
It has been proven repeatedly that, when the world is impacted by unexpected events such as war, natural disasters and epidemics, people find ways to harness technology and spring back. That's the survival code for humans. The pandemic has demonstrated that once again. Imagine if there was no internet, for instance. How would we continue to work from our homes? Telephones and fax machines? Perhaps. But that would not have the same momentum as we saw in the past 18 months.
While the way we work and do business changed drastically during the lockdown, it is the technology that has come to the fore and kept businesses afloat. Organizations had to find new ways to work with their customers, suppliers, partners, and employees. Supply chains were completely disrupted; transactions become digitalized and paperless; traditional business processes had to be overhauled and re-engineered. "Clearly there's one thing at the heart of the transformation of these game-changing sectors— technology," says Dr. Singh.
Rai says there were two key reasons why these industries survived. One, they produced a product or a service that was more relevant during the pandemic. Two, they managed to leverage technology to help move their business forward.
"The CXOs realized technology is going to make a great difference and will be integral in being able to deliver services efficiently, cost-effectively, and to reach out to customers in the remotest parts of the country," says Rai.
Let us see how these industries and businesses are embracing disruptive technologies to bounce back and grow again.
Game-changers in Healthcare
During the pandemic months, pharma & healthcare industries surged forward, driven by voracious demand for vaccines, medicines, patient care, medical facilities, and oxygen cylinders. The need to deliver prompt, affordable, accessible remote care to (elderly and chronic) patients became an urgent necessity for saving lives.  Healthcare providers had to leverage technologies to do this at scale, especially when the health infrastructure of the country was overburdened. This accelerated digital transformation in healthcare, driven by necessity.
Aster DM Healthcare wanted to deliver healthcare to its customers with a strong technology backbone. During the pandemic, they also wanted to ensure that their employees were safe.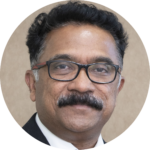 "The Pandemic has acted as a catalyst to increase the adoption of technology in healthcare. While tech had gained momentum in pre-Covid times, the industry now has a clear case to speed up adoption," says Veneeth Purushotaman, Group CIO, Aster DM Healthcare Limited.
Aster DM is working on automating current systems and is developing a platform that can monitor the expansion of viruses in real-time, without any geographical challenges. It is also working on-site less and e-health based clinical trials for multiple platforms, which can shorten the reach for a therapeutic solution in any crisis.
To support innovation and deploy research projects, it has implemented IoT driv. Aster DM is also using AI-based mental wellness – medical-grade chatbots to aid people suffering from anxiety and the stress of getting ill. The firm has support from platforms such as Wysa, which has helped their research team in developing a virtual platform for patients to cure trauma and every other form of mental illness in this situation.
The deployment of Oracle Fusion Cloud Human Capital Management (HCM) helped Aster bring together all its HR policies and processes onto a single platform, thereby ensuring uniformity across its verticals and geographies. Both its patients and internal staff have benefitted from this cloud platform.
According to Purushotaman, India's overburdened health infrastructure was put to the ultimate test during the second wave of the pandemic. Connectivity has also been a challenge, though it has improved in recent times. The solution to these challenges is telehealth and remote healthcare, and this will be driven by high-speed connectivity through satellite links in the future.
"During the pandemic, we have seen that necessity is the mother of invention. I am confident that we will find ways to address these challenges as well as increasing cell phone penetration, increasing the availability of inverters, and see more digitalization efforts taking place in healthcare," says Purushotaman.
Game-changer in Pharmaceuticals 
In the pharmaceutical industry, the supply chain is highly dependent on changing regulatory requirements. So, the industry is cautious about making radical changes in the supply chain. But the pandemic forced the industry to transform supply chains.
The pharmaceutical industry had to transform the supply chain during the pandemic to deliver products at scale, not just for domestic consumption, but also to India's international allies. An example of a company that used technology to transform its supply chain is Aurobindo Pharma, India's second-largest pharmaceutical company, with revenues of over $2 billion.
One of its biggest challenges is the efficient planning and delivery of pharmaceuticals, formulations, and products to the market at scale. Aurobindo faced this challenge even before the pandemic. During the pandemic, the cost of the supply chain escalated and aggravated the challenge. They were looking for solutions to optimize the supply chain with cost rationalization so that products could be delivered in a timely manner.
To meet this requirement Aurobindo opted for the Oracle Transportation Management (OTM) solution. The OTM on cloud solution helps Aurobindo to design or plan how they stack up against their products and their formulations in the trucks, to plan the shortest routes or the journey for the quickest deliveries.
Eventually, Aurobindo integrated their ERP, OTM on cloud, and Logistics Service providers systems. This move helped them address most of their operational challenges successfully. It led them to achieve operational excellence and cost optimization, that too with a lean team. And they've automated around 80 per cent of manual processes related to export operations, which have helped in reducing the FTEs by 30 per cent. 
Game-changers in Banking and Financial Services
Digital banking and payments are now a way of life for Indian citizens, and we saw growth in UPI transactions soar by 103 per cent in 2020. Banks are rolling out innovative digital services to deliver value and to drive customer engagement. And to do this, the banks are investing heavily in digital infrastructure.
SBI Card, the largest standalone credit card company in India, has deployed technology primarily in two areas: human capital management and CX or customer experience. Even before the pandemic, SBI Card was seeking the most intelligent, personal, adaptable, and complete solutions that can help the workforce thrive. They wanted to transform their operations and the entire HR framework, to take the employee experience to the next level.
SBI has a large workforce and makes extensive use of human resources. They wanted to transform their HR ecosystem and deliver at scale. The cloud was a natural choice. SBI Card implemented Oracle Cloud HCM & Oracle Cloud ERP solution that helps them with everything from hiring to retiring. And all this can be done on one platform with speed, security, scalability, and stability, for effective management of HR – thereby enhancing the employee experience.
When hiring at scale, manually sifting through CVs can be a time-consuming and laborious task. SBI Card uses the Oracle HCM module with built-in artificial intelligence to automatically sift through as many CVs as its wants to find the right one for a particular job role.
During the pandemic, it saw thousands of its employees working from various locations and their residences. That posed a massive challenge as various operational tasks had to be done in a distributed environment. That put a tremendous strain on the HR team and the management. This was resolved using Oracle's HCM cloud solution.
SBI Card also faced a challenge with its credit card business. It has millions of customers and keeping track of customer transactions was a humongous task. To resolve this, they deployed a combination of Oracle's on-premise CRM solution and cloud-based CX solutions. This gives them daily insights about their customers' spending habits, the overall number of transactions, and how many have been declined. Statistics and reports generated by the system help them identify the problems so that they can be quickly resolved.
The solution helps SBI Card to connect, activate, and leverage data from multiple sources to define customer segments and improve customer engagement.
In addition, they can roll out campaigns at scale to a very large number of their customers in a very scientific and targeted manner, so that their campaigns are effective, targeting the right people, and done rapidly. With Oracle Responsys, they were able to send 200 million targeted messages (SMS and emails that are offer related) to their customers. This enables SBI Card to bring their products to market much faster, to take advantage of events and to convert them into marketing events.
Kotak-Mahindra Bank is the third-largest Indian private sector bank by market capitalization, with 1,600 branches and 2,519 ATMs (as of February 2021). With most of its 50,000 plus employees working from home during the pandemic, the bank faced the challenge of adapting its business.
Kotak identified three core areas to streamline:
Reduce manual overhead involved during performance review processes
Better user experience for its systems
Gain deeper insight into how to attract and retain talent
To achieve this Kotak embarked on its HR transformation journey, implementing Oracle Fusion Cloud HCM suite of products. This includes core human resources, onboarding, benefits, absence management, workforce directory, workforce health and safety, recruiting, compensation and learning.
Using Oracle Fusion Cloud HCM, the bank automated its recruitment process, significantly reducing manual intervention. Oracle Workforce Health and Safety ensured that branch workers all over the country were safe.
The Oracle HCM solution also established paperless communications.  And it helped to cut down on all the manual processes, which is no easy feat to manage with a workforce of 50,000 plus employees. This shift made a positive impact on the environment and led to substantial savings for the bank.
Game-changer in Insurance
The insurance industry also had to transform its processes when the pandemic set in. With employees from insurance companies working from home due to lockdowns and restricted travel, it was impossible to meet prospects and customers. The demand for insurance products, particularly health and life increased. Many insurance companies had to set up dedicated support via call centers to handle queries specific to COVID-19. Premiums were increasingly being paid via digital payment methods. Onboarding new customers (and KYC) had to be done through paperless processes. To address all this at scale called for changes in business processes. Optimization and process efficiencies were crucial, and this is where cloud solutions helped.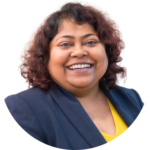 "The pandemic has made individuals more aware about the importance of insurance making it more of a pull product. In these unprecedented times, customers have seamlessly adopted digital enablers, as an integral part of their routine. Further, government initiatives, combined with increased digitization and technological advancements in the financial space are driving the insurance sector to accelerate the pace of digital transformation. New and emerging technologies are empowering insurance companies to personalize their product and service offerings for their customers across the value chain," says Anjana Rao, Chief Strategy Officer, IndiaFirst Life Insurance Ltd.
A major challenge for IndiaFirst Life Insurance, one of India's youngest and fastest-growing life insurance companies, was to work with multiple aggregators in a short timeframe. This was a crucial requirement for its business. It was looking for a central engine that could identify the rules and integrate with any aggregator quickly within a span of three or four days. This was achieved by implementing Oracle Service Cloud. For instance, IndiaFirst Life uses the Oracle Policy Automation Cloud Service to automate incentive calculations for field sales and to carry out complex calculations each time a customer avails of the Systematic Partial Withdrawal option.
Oracle Policy Automation Cloud Service introduced many efficiencies. For instance, a process that earlier took seven days to complete can now be completed in just two days. The time taken to integrate with aggregators was drastically reduced from three weeks to three days. There were other operational changes that resulted in cost-benefit for IndiaFirst Life Insurance.
Oracle Cloud helped in identifying the rules and to integrate with the company's aggregators. It also reduced the time to launch and implement a new product.
These cost and time efficiencies introduced thorough technology implementation saved costs, thereby improving bottom lines for IndiaFirst Life Insurance.
This is just one example from the Insurance industry. Other insurance companies in India that embraced technology during the pandemic have also demonstrated resilience.
Game-changer in Manufacturing
The manufacturing industry was once a highly labor-intensive industry. But with the introduction of more automated and autonomous systems, the dependence on labor reduced. The automobiles industry is a profound example, with its automated assembly plants. Digital technologies like IIoT (Industrial Internet of Things), AI/ML and cloud analytics takes this a step further, and into the fourth industrial revolution. Manufacturing companies that harness these disruptive technologies will be the game-changers who contribute to India's economic growth.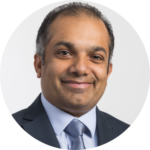 "Manufacturing segment needs to be a torchbearer for India's economic revival. However, to compete on a global scale, we need to bring higher efficiencies in the manufacturing process and the way we do business. I think digital technology is going to play a key role in this transformation. At Apollo Tyres, we are already witnessing the increased pace of digitalization, along with technology adoption including AI and Internet of Things (IoT). This is expediting the transformation and bringing in higher productivity for employees, and enabling us to create better customer experiences," says Hizmy Hassen, Chief Digital Officer, Apollo Tyres Ltd.
Apollo Tyres is one of the leading tyre manufacturers in the world. It did not have proper visibility into its supply chain for demand, until orders were placed. In the case of inter-regional supply, there was a large lead time built for the ordering cycle.
They implemented Oracle Transport Management and the solution has improved visibility into the supply chain. Now, they can plan ahead for shipments.
With the implementation of the new end-to-end supply chain solution, the ordering cycle has become near real-time between two regions. The transparency and a common set of business rules also significantly reduce admin efforts in all parts of the supply chain.
Game-changers in E-commerce and Retail
The lockdowns and curbs on travel imposed by state governments meant consumers had to order goods and services from home. The industry witnessed a steep increase in digital transactions and payments. This gave a boost to e-commerce and omnichannel retail, which embraced digital transformation like never before. According to a report, COVID-19 and E-Commerce: A Global Review, by UNCTAD and eTrade for all partners, e-commerce's share of global retail trade increased from 14 per cent in 2019 to about 17 per cent in 2020. And 3 per cent growth within a year is considered enormous on a global scale. Thus, the pandemic years were a turning point for the e-commerce and retail industries.  The Indian e-commerce market is expected to reach $200 billion by 2026, up from $38.5 billion in 2017.
The number of smartphone users in India and the surge in digital payments is driving e-commerce and digital retail. The pandemic months have witnessed a change in consumer behavior and shopping trends, driven by better digital experiences offered by e-commerce and retail companies. And India clearly has the numbers with increased smartphone penetration and a younger, tech-savvy population. That means the retail and e-commerce industries have huge growth potential in the years ahead. E-commerce and retail companies are preparing for this growth through investments in cloud, analytics, big data, machine learning and other technologies. The main agenda is to deliver superlative consumer experiences through the adoption of digital technologies.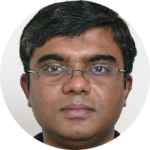 "The significance of e-commerce has grown dramatically in the last couple of years completely changing the dynamics of the sector," says Bharath Reddy, Vice President IT – Flipkart Group. "During the pandemic-induced lockdowns, the e-commerce industry acted as a bridge to ease the supply constraints and ensure India had essentials delivered. As the 'Digital India' campaign remains the Indian government's top priority, and the Indian economy gradually shifts towards a completely digitized economy, the prospect for growth of the industry is huge."
Infiniti Retail, a subsidiary of the Tata Group, runs Cromā which is an Indian retail chain for consumer electronics and durables. The company wanted to streamline its HR processes, including employee experience, and wanted a fitment for existing processes and requirements with a robust solution. So, it deployed the Oracle HCM solution.
With the Oracle HCM solution, they were able to ensure smooth and efficient employee interaction despite remote working conditions. It helped a large part of the company's workforce to leverage its digital learning systems. The average learn time increased from seven minutes to 22 minutes during this time.
Since the solution is cloud-based, it is easily accessible to all their employees. This has resulted in significant adoption of all Infiniti Retail's HR processes.
---
RELATED STORY
MeitY Empanelment Opens Oracle Cloud Benefits to India's Public Sector
Conclusion
If you've read this far in the story, you have a good idea about what companies are doing to transform employee and customer experiences. Supply chains had to be transformed for efficient deliveries. HCM solutions on the cloud, have made a big impact on the way organizations manage their HR processes and deliver better services and experiences to employees who work from home.
Solutions were deployed to streamline processes, reduce time to market, for cost optimization, and to deliver at scale (SBI Card). Marketing tech also helps in understanding customer behavior and to improve targeting, thereby improving sales.
The Indian companies mentioned in this article are just a few examples, and there are numerous others. But these are the ones who showed resilience and who were quick to transform their processes, business models, and supply chains.
These are truly the game-changers who will be at the forefront of India's economic revival – projected to become a $1 trillion economy by 2025. If this target is achieved, India will become the fifth-largest economy in the world, overtaking the U.K.
---
Notes:
The companies mentioned in this story are all customers of Oracle India.
Our deep gratitude to the Oracle India communications team for their help in facilitating industry inputs and research material for this story.