3D printing has been around since 1986 when Stereolithography was first invented. Since then, the technology has evolved a lot. However, the technology has largely been in the domain of experts, and many people didn't have access to 3D printers. The reason is that there's a lot of complexity attached to the 3D printer as well as the pre- and post-processing of the part. That complexity creates the need for expertise and specialisation. It also creates the need for facilities where the printers are kept away from users.
RIZE is a 3D printer manufacturer with an ambitious goal: to make industrial 3D printing inclusive, sustainable and scalable. Founded in 2014, the Boston-based company has developed its proprietary Augmented Deposition technology, designed to enable the production of high-quality, digitally augmented 3D-printed parts.
In an e-mail interview with DIGITAL CREED, Varun Gadhok, Sales Director, Asia Pacific, RIZE Inc outlines the company's vision and explains how Augmented Deposition Technology can solve problems encountered in 3D printing.
Edited excerpts from the interview:
DC: How is RIZE different from the other 3D printing companies?
VG: RIZE has focused on not just finding new ways to create a part, but also on the user experience. We set ourselves the goal of simplifying the user experience to make it easy and safe, and thereby allow any user to use industrial 3D printing.
We believe that, with that kind of an approach, 3D printing can become a tool used by different stakeholders in the organisation.
We won the IDC Award last year as one of four top innovators. This year, we won the Frost & Sullivan Award for zero emissions best practices. People are beginning to appreciate the value of what 3D printing technology can do if it's made easy and safe.
DC: RIZE has developed its proprietary Augmented Deposition Technology. Could you explain what the technology is and the value it brings to the market?
VG: We developed Augmented Deposition Technology to solve three key problems in the industry.
The first and biggest problem we wanted to solve was around pre- and post-processing. Up to 80% of the time and cost of the 3D printing effort lies not in the actual printing of the part, but in preparing the part for printing, and then getting it ready for usage.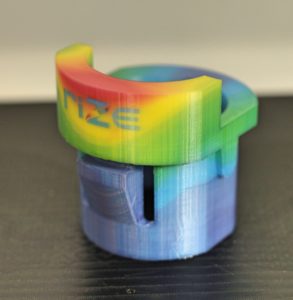 Support removal is one part of this process. Another part is ensuring that the object is properly printed so that it doesn't fail. 3D printing is a process where the material is deposited layer by layer to create the part (additive manufacturing). This approach, however, creates some weaknesses around certain dimensions in the part. We wanted to solve that problem as well.
The second problem we wanted to solve was to make 3D printers totally safe for usage anywhere and by anyone. This means that the material shouldn't emit any fumes when printed.
Finally, we wanted to solve the issue of authenticity in 3D printing. When you 3D print a part, it's very hard to determine whether or not it's an authentic part, because anyone can take a model and print it.
To be able to solve these problems, we looked at all the existing technologies and saw that the only way forward was to create a hybrid process. We took Fused Filament Fabrication technology and hybridised it with an ink jetting technology.
The result is an innovative and patented technology called Augmented Deposition.
DC: Can you explain how exactly Augmented Deposition technology works?
VG: With Augmented Deposition, the extrusion technology creates the part by depositing melted polymers. The jetting technology deposits the inks. Augmented Deposition uses two types of inks, release and marking, each with its own function.
The function of a release ink is to create a thin layer separating the part and the support structure. This allows users to easily remove the supports like a Velcro strip. A marking ink enables you to put text and images into the part. Thanks to the marking ink, you can authenticate the part by putting brand information, revision numbers and QR codes inside the part.
Our technology enables users to link their parts to a digital platform (via the QR code) and create a digital thread between the part and all the digital information that is there.
You can also leverage things like augmented and virtual reality. With QR codes, you can see not only the part but also all the related information. For example, you can see how the part has to be assembled or what components are related to that part.
Our idea is to make a 3D printer like a platform, in a similar way to a smartphone that allows you to add as many apps as you like. We want people to simply be able to put materials on our current platform.
DC: What industries or verticals can benefit the most from your technology? What are the various application areas?
VG: First, let me address the three different application areas of the Augmented Deposition technology.
The first area is in prototyping. Currently, prototyping is where 3D printing has the biggest impact. 3D-printed prototypes provide a haptic experience and allow you to see what a part feels and looks like before deciding on further design iterations.
3D-printed prototypes are also a great way to communicate ideas and designs to different stakeholders. By being able to hold the part in their hands, designers, engineers and stakeholders can more accurately and quickly evaluate the part, compared to 2D drawings or 3D models.
To add value to this application, we're moving the machine next to the engineer, enabling him to get the prototypes done much quicker. Typically, engineers have to wait anywhere between a day to two weeks to get the part in their hands. Now they can get it in a matter of hours — and they can do it right next to them.
The second area is in manufacturing, which includes the design of custom tools like jigs and fixtures.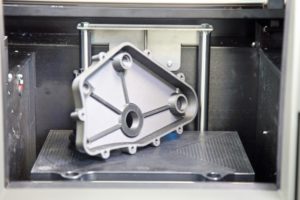 The third area where 3D printing is being increasingly used is in service parts. When you need to repair something but you don't have an immediate spare for it, or you don't have enough spares, then you can use 3D printing to produce replacement components.
From an industry perspective, our 3D printers are being used in the Automotive sector extensively, both by OEMs and in the supply chain, in all three areas that I just mentioned.
Our machines are being used in Life Sciences, mainly for preclinical development activities, for example to 3D print custom equipment to test a drug formulation. Within Life Sciences, our 3D printers have also been used in the Pharmaceutical sector as well as in the Medical Device sector, where they're using it for prototyping applications.
The Defence industry is another user of our technology. We have a recent case study by the U.S. Army which is using it to produce custom parts that are required on the field when they have breakdowns. So they're 3D printing replacement parts.
To sum up, it's a very broad cross-section of industries, and because our technology is universally usable, we see a lot of different customers and different industries adopting it.
DC: What spurred the decision for RIZE to move into the desktop 3D printing space?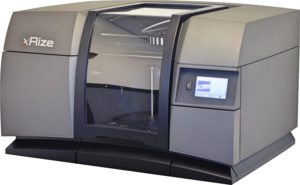 VG: We saw the need for an industrial desktop 3D printing solution. There are a lot of desktop machines available today. But for us, a desktop machine has to be industrial-grade, simple, safe and portable. That's when you will really put it on your desktop.
That's why we introduced our first 3D printer, RIZE ONE™, in 2016. Our machine weighs only 60 kg, which means people can pick it up and take it around. You can put it on a desk. It's large enough to produce industrial parts, yet it has a small footprint.
One very important aspect of 3D printing technology is emissions. Most extrusion-based 3D printers emit volatile organic compounds (VOCs) and ultrafine particles (UFPs), which are hazardous to health.
People didn't know much about this till recently. Georgia Tech, a leading engineering school in the U.S., published a very detailed paper on how 3D printers emit as many as 200 different types of VOCs.
We consciously looked at how to select the materials with a zero VOC characteristic. As a result, our machines have zero emissions, so you don't need to worry about ventilation. They're totally safe for usage, for food and skin contact.
These requirements became an essential part of our desktop story. When we entered desktop 3D printing, we didn't want to keep anything which could hurt a person in any fashion, whether by emissions or any other contaminants.
To enter the industrial space, our 3D printers also had to produce parts which were strong enough to be used in end-use applications. So that's where the industrial side of our solution came about.
DC: What does RIZE's future product roadmap look like? Are you looking to continue developing desktop 3D printers?
VG: Currently, we have two 3D printers in our portfolio. One is a monochrome machine and the second one, XRIZE™, is a full-colour machine.
We will continue to look at putting new materials on the machine. When we started, we had one material, called RIZIUM™ ONE, and two inks, release and marking. Then we brought in a black material called RIZIUM™ Black.
Our next material coming this year is called RIZIUM™ Carbon. It's a strong carbon composite material for high-strength applications. It's even used to replace metal parts in industries like aerospace and automotive.
Furthermore, we intend to bring out another material sometime this year called RIZIUM™ ENDURA.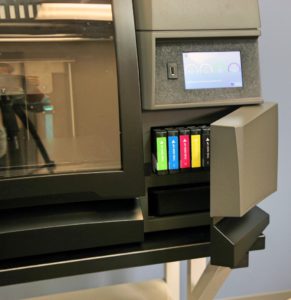 We recently introduced a full-colour 3D printer and it's becoming a significant breakthrough in this area. There are full-colour 3D printers on the market today, but they are very expensive and very difficult to create. The parts they produce are not very functional and are used mainly for visual applications.
Unlike these machines, our printer is able to create not only full-colour, but also functional 3D-printed parts.
Our full-colour machine is increasingly being used in consumer applications, architecture, engineering, construction and education. The latter is a very big sector right now for us in terms of focus.
Our idea is to make a 3D printer like a platform, in a similar way to a smartphone that allows you to add as many apps as you like. We want people to simply be able to put materials on our current platform.
Related Story
Gartner Says Worldwide Shipments of 3D Printers to Grow 108 Percent in 2016