Forms alliances with key industry players to tap $1.5 bn opportunity in Indian IoT market
The demand for IoT services and solutions is increasing. A report by research and strategy consultancy Zinnov Zones, says India has about 43 per cent or $1.5 bn of the global $3.5 bn IoT market. Experts predict the IoT market in India will grow from $1.5 bn today to more than $9 bn by 2020. With 2.7 bn connected devices and growing, Indian enterprises and consumers are embracing IoT at a rampant pace. That presents a huge opportunity for solutions providers. But as Mukesh Ambani recently said, no single provider can offer the whole stack, and the way forward is industry alliances. IBM has long identified the opportunity in the IoT space, and it believes the way to tap this market is through alliances with partners around the world. In India, it recently announced IoT partnerships with Kone, KPIT, Avanijal Agri Automation, Tech Mahindra, Acculi Labs, Arrow Electronics, and Reliance Group's UNLIMIT.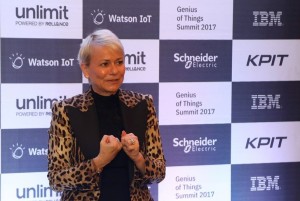 At the recent Genius of Things (GoT) Summit in Mumbai, Harriet Green, General Manager, Watson IoT, Customer Engagement and Education, IBM said, "Over the course of the last 20 years IBM has created this infrastructure which has enabled us to be in a great position to take advantage of the Internet of Things. We have digitised the physical world and are now collecting and connecting vast quantities of data. What was missing was the ability to integrate all of this data into a phenomenal platform and to ensure that we were able to bring all of these pieces together to have the most powerful IoT capability".
Four Critical Elements
Green said there are four key critical elements that differentiate IBM from other players in the IoT space: a cloud-based capability with IBM's own cloud platform; the applications that enable it to record and track — to work together through software; its experience in helping clients with digital transformation; the Watson platform that was designed for analyzing data.
IBM is dead serious about IoT and has invested heavily into research and development. It set up its global IoT headquarters in Munich. According to Green, the IoT HQ is a global movement and enables an ecosystem that brings together government, startups, and other clients.
IBM has global customers such as Nestle, Walmart, GM, Unilever, Exxon Mobile, Mastercard, Visa and the London Underground. Six global distributors are working with IBM on Blockchain to help monitor and track the security and the safety of their global supply chains — to improve efficiency, operations and to reduce waste. These are all examples of various things coming together on the IBM Watson IoT Platform: IoT, Blockchain, the cloud and big data.
In fact, IDC MarketScape recently positioned the IBM Watson IoT Platform as a leader in the IDC MarketScape: Worldwide IoT Platforms (Software Vendors) 2017 Vendor Assessment.
Collaborating for Success
Collaborating with partners, IBM will provide its Watson IoT platform to collect and connect data, including sensor data, from devices, and provide use-case specific dashboards. Partners will have access to the IBM Watson IoT Platform capabilities via the IBM Cloud.
"In today's hyper connected era, business must be able to make sense of the massive amounts of data being generated to create a safer world, improve consumer experiences and deliver excellence in service. The key to this is Cognitive IoT," said Karan Bajwa, Managing Director, IBM India/South Asia. "With an unparalleled, growing global ecosystem of over 6,000 clients, 1,400 partners and 750 IoT patents, IBM is uniquely positioned to lead the IoT revolution across industries and help companies in India plug into critical new revenue streams."
IBM is expanding the IOT Ecosystem in India with new clients including:
Kone to Elevate Future with IBM IoT
Through a multiyear agreement with IBM, KONE will tap into the IBM IoT Cloud Platform to connect, remotely monitor and optimize the management of millions of elevators, escalators, doors and turnstiles in buildings and cities worldwide. The system will analyze vast amounts of data from sensors embedded in equipment. As a result, rather than calling a service engineer, KONE will be able to predict and resolve selected technical issues remotely by running tests and making commands over the cloud, allowing it to identify and predict issues and minimize downtime. KONE also plans to leverage a vast developer ecosystem via Application Programming Interfaces (API's) that will allow developers to make a smoother, safer and more personalized flow of people in some of the world's busiest cities and buildings including India.
KPIT Helps Customers Revamp Their Engineering Processes Using IBM IoT Continuous Engineering
KPIT is a global technology company specializing in product engineering and IT solutions to automotive, transportation, manufacturing and energy and utilities industries. Using IBM's IoT Continuous Engineering, KPIT is more efficiently delivering high-quality designs and developing smart, connected products while helping system engineers and software developers meet key requirements, establish traceability and quickly respond to last minute changes—all while controlling development costs and meeting compliance needs.
Avanijal Agri Automation Facilitates Precision Agriculture for Farmers with IBM IoT platform 
Avanijal Agri Automation Pvt. Ltd. provides innovative technology solutions that meet the challenges farmer's face today. The company's Irrigation Automation System solution provides farmers with precision irrigation and fertigation capabilities that deliver better yield and saving on key resources such water, electricity, labour and fertilizers. Avanijal is leveraging IBM's IoT platform on IBM Cloud to collect and log irrigation data from various sensors on the field for agronomical analysis which helps further enhance the yield on a continuous basis.
Acculi Labs Brings AI-based, Affordable HealthTech and InsureTech platform to Rural India
Acculi Labs Pvt. Ltd has devised a scalable rural healthcare solution called Lyfas that allows for the early detection of disease, efficient transport to a hospital in emergency and ongoing monitoring after treatment. Acculi Labs is leveraging IBM's IoT platform on IBM Cloud which helps them build and scale Lyfas. Lyfas captures a biosignal that is then diagnosed with cloud based AI, which is hosted on IBM Cloud. The solution also leverages IBM Watson IoT gateway and Apache spark streaming analytics. The IBM Watson IoT also helps Acculi Labs smooth the flow of data from the edge device to cloud for further analysis and prognostics.
Arrow Electronics
Arrow Electronics has integrated IBM's IoT platform and IBM Cloud services into its ideation-to-production capabilities and services. As a result, Arrow is giving customers and prospects across Asia Pacific, including India, access to an expanded spectrum of ecosystem offerings that can help them realize the full potential of IoT innovations. Arrow will offer customers in India the IBM IoT platform via IBM Cloud as well as access to more than 160 industry-leading cloud services such as artificial intelligence (AI), Blockchain, advanced data analytics and cyber security.
Tech Mahindra
Delivering Connected Experiences is Tech Mahindra's core philosophy. Tech Mahindra is harnessing IBM IOT technology for designing experiences through orchestration of systems, sensors, devices, platforms, external data, back-end systems, analytics engine and much more. The company is also co-creating solutions with IBM Watson for Industry 4.0, Manufacturing, Healthcare, Automotive, Financial Services and Agriculture. Tech Mahindra is also one of the key partners for IBM Watson Munich Center. In this center IBM will provide access to a number of Watson-based services to Tech Mahindra for precision farming and help build new algorithms specific to an Indian context. Experts from IBM and Tech Mahindra will work together to develop new voice interfaces and cognitive solutions for Mahindra & Mahindra vehicles and others.
Reliance Group's UNLIMIT
UNLIMIT, a business venture of Reliance Group and IBM just announced a strategic collaboration that brings together UNLIMIT's industry specific Internet of Things (IoT) solutions with IBM IoT capabilities to unlock new value for businesses in India.
IBM and UNLIMIT will co-create IoT solutions for specific industry verticals including automotive, insurance, utilities, and industrial automation. For example, insurance companies will be able to reduce cost of damage to goods from tampering through real-time tracking of cargo via an 'asset tracking solution.'
UNLIMIT and IBM are also developing IoT solutions for implementation across Reliance Group companies addressing key segments such as – User Based Insurance (Reliance General Insurance), Asset & Vehicle Tracking (Reliance Commercial Finance), Tower Monitoring (Reliance Communications) and Transformer Maintenance (BSES & Reliance Energy). Through this collaboration, UNLIMIT will have access to IBM's global ecosystem of partners.