GOQii, the smart-tech-enabled preventive healthcare platform, made a slew of announcements during its annual event #ReimagineHealth in Mumbai. Given the state of 'Sickcare' infrastructure in India, GOQii strongly believes that preventive healthcare is the only long-term solution to transform Healthcare. GOQii is working on its vision of 'The Internet of Health' by making preventive healthcare accessible under the GOQii Ecosystem. "LevelUp Your Health" is the mantra GOQii is adapting to help people take ownership of their health and become a better version of themselves.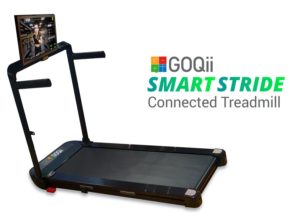 Vishal Gondal, Founder & CEO of GOQii announced the launch of its product 'GOQii Smart Stride – Connected Treadmill' in India. The first-of-its-kind smart treadmill that immerses the user with GOQii Play – live and on-demand workouts, at the comfort of one's home. Health enthusiasts can indulge in activities such as walking, running and other forms of cardio, under the supervision of live celebrity coaches. With Real Time ClassSync: Coaches can remotely control the speed of all treadmills to ensure that users are getting the same intensity of Workouts during the class.
The GOQii Smart Tread – Connected treadmill base model will be priced from Rs.25,000/- and comes with a 12-month GOQii Coach and Care team subscription.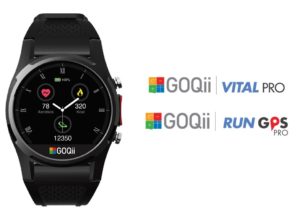 The company also launched the 'GOQii Smartwatch'. The smartwatches are trendy and will be available in different colours to suit the preferences of health-conscious customers. GOQii VitalPro version will be powered with ECG Monitor and GOQii RunGPS Pro version will be powered with ECG Monitor and GPS. Pricing of the smartwatches will be starting at Rs.6999/- and will be available by March 2020 and comes with a 3-month GOQii Coach and Care team subscription.
GOQii also announces the launch of GOQii Smart Scale which can measure BMI, Body Mineral Content, Muscle Mass, Body Fat, Body Water percentage, BMR, Visceral Fat level and Skeletal Muscle with a 3-month GOQii Subscription. GOQii Balance Smart weighing scales will be available from Jan 2020 with prices starting at Rs. 3999/-
At the event, Vishal Gondal announced a partnership with Bajaj Allianz General Insurance to take Health Insurance to the masses codenamed 'Ayushman India'. GOQii & Bajaj Allianz General Insurance will be offering GOQii users a Universal Healthcare Cover of Rs 5 lakhs with benefits based on preventive health matrices. The service is expected to launch in the 1st half of 2020.
"Aayushman Bharat is providing health coverage to India's bottom of the pyramid. Our aim is to provide Health cover to the middle and lower-income segments who can adapt healthy lifestyle & enjoy health insurance benefits. The goal is to cover 100 Million Indians under the plan over the next few years" said, Vishal Gondal, Founder & CEO, GOQii. 
"We are in line with PM Modi's vision of Fit India and are happy to partner with GOQii to provide revolutionary health insurance coverage with benefits focused on preventive health care," said Tapan Singhel, CEO, Bajaj Allianz General Insurance.
GOQii, the smart-tech-enabled Preventive Healthcare company and Visa, the global leader in
payments technology today announced a strategic collaboration to develop innovative health and wellness-focused payment solutions for the Indian market. The collaboration is in line with Prime Minister Shri Narendra Modi's vision of Fit India Movement to promote fitness and help Indians get healthy.
GOQii and Visa will work together to design products to make life simpler for its vast consumer base in India. The association will also look at exploring possibilities around digital payments and come up with innovations in contactless payments in India.
"We are extremely happy to partner with Visa. The collaboration brings together Health & Wellness products to make life simpler & healthier for our respective users," said Vishal Gondal, Founder & CEO, GOQii.
"Lifestyle diseases are a growing cause for concern in modern societies. World over and in particular in India, citizens are increasingly adopting an active lifestyle to help maintain a fit body and mind. GOQii and Visa will join hands to develop intuitive health and wellness-focused payment solutions that help more Indians easily transition into an active lifestyle. Visa has previously also partnered with global health & fitness platforms and we hope to bring in our learnings to the Indian market in this collaboration with GOQii.", said TR Ramachandran, Group Country Manager, India & South Asia.
GOQii has proudly partnered with PM Modi's Fit India Movement, to encourage India to stay fit and healthy by promoting physical activities and sports in their everyday lives. As a 'Fit India Partner', GOQii will support the Fit India Movement with the objective of fostering a culture of fitness among the citizens across the country. GOQii will work closely with the Ministry of Youth Affairs and Sports to promote fitness by organizing fitness programs and activities involving citizens across the country.
Speaking on the Fit India Partnership, Shri R.S. Julaniya, Secretary (Sports), spearheading the Fit India Movement said "We are happy that digital fitness platforms like GOQii are coming forward to propagate the importance of fitness. Creating awareness and engaging people to think about inculcating fitness into their daily routine is the first step towards a fitter nation. As a digital platform that appeals to the younger generation, GOQii will have an important role in creating that awareness."
With India Health Quiz lead by Bollywood star, Akshay Kumar, the GOQii brand has reached the masses. To take its offering across a wider segment, GOQii is also investing into offline retail. Over the next 12 months, GOQii's slew of products & services will be available across 10,000 plus stores in partnership with Compuage Infocom Ltd, one of India's leading volume technology products distributor. Currently, GOQii is available across online platforms Amazon, Flipkart and offline via Croma.
As part of its initiative to focus on helping millions of Indians manage their Diabetes, GOQii has also announced the India Diabetes Challenge 2020 to encourage people to adopt healthier lifestyle choices and manage their diabetes with the help of GOQii Digital Therapeutics solutions. Users who successfully reduce their HbA1c during the period of the challenge will be eligible to earn Gold by Paytm. Metropolis Healthcare Ltd. will be the official diagnostics partner for the challenge and Bajaj Allianz General Insurance is the Health Insurance Partner.
"India is the Diabetes Capital of the world and Indians have an obsession for Gold. As the old adage goes 'Health is Wealth', there was no better way to encourage people to convert their 'Sugar into Gold' than by making positive lifestyle changes. This unique gamification approach to combat diabetes was possible with Paytm digital gold platform and other healthcare partners involved with us in this first-of-its-kind initiative," said, Vishal Gondal, Founder & CEO, GOQii. 
About GOQii                             
Founded in 2014 by serial entrepreneur Vishal Gondal, GOQii is empowering consumers globally to lead healthier and better lives. GOQii's smart-tech-enabled healthcare platform brings together the entire preventive healthcare ecosystem. It's Smart Health Ecosystem integrates tools for real-time personalized coaching, an explosive high-growth Health e-commerce store, scheduling health check-ups, a health locker, and a unique 'GOQii Cash' program where healthy behaviour is rewarded with cash discounts and insurance discounts based on health management data. Given the state of 'Sickcare' delivery infrastructure in India, the company strongly believes that preventive healthcare is the only viable, long-term, mass-market solution. GOQii counts marquee investors like Mitsui, NEA, Megadelta, DSG Consumer Partners, Galaxy Digital, Denlow Investment Trust, Edelweiss, Cheetah Mobile, GWC, Mr Ratan Tata, and Mr Vijay Shekhar Sharma.