TOP STORIES OF THE WEEK
IBM CEO: We are at the beginning of Chapter Two, which is an era of Enterprise Innovation
Ginni Rometty speaks about the three dimensions of Chapter Two for AI and Cloud, and what businesses need to do next to leverage these technologies. Trust is also an important factor in Chapter Two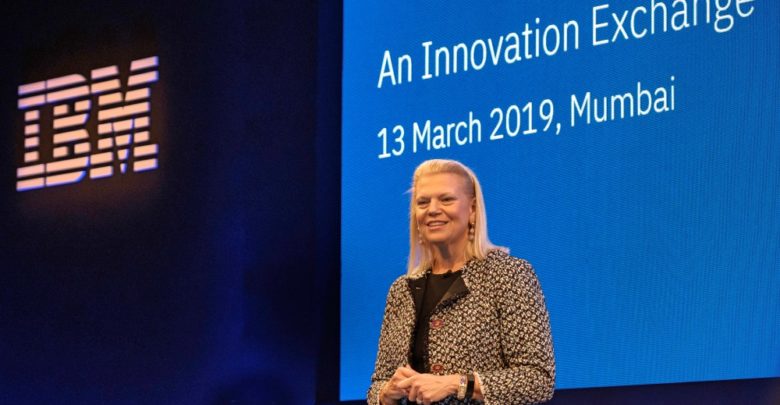 Ginni Rometty, Chairman, President and Chief Executive Officer, IBM was in India last week and spoke at The Think Leadership forum, an IBM Innovation Exchange, in Mumbai on March 13. The agenda focused on 'Reinventing Business with Next-generation Technologies' as companies of every size, in every industry, are in the midst of a decades-long journey towards digital reinvention. IBM CEO Rometty spoke about the next chapter of digital reinvention and its three dimensions.
"We are now at the beginning of Chapter Two which is an era of Enterprise Innovation. Chapter one was about digitising the front-end customer applications, or doing new things on the cloud, with CRM and other business applications. There is a good amount of AI work, but I would call it experimentation. On the infrastructure front, many are using the cloud for simple workloads," said Rometty.
She said Chapter Two is about three dimensions:
Digital and AI now start to scale.
Cloud goes from Public to Hybrid.
Trust (responsible stewardship).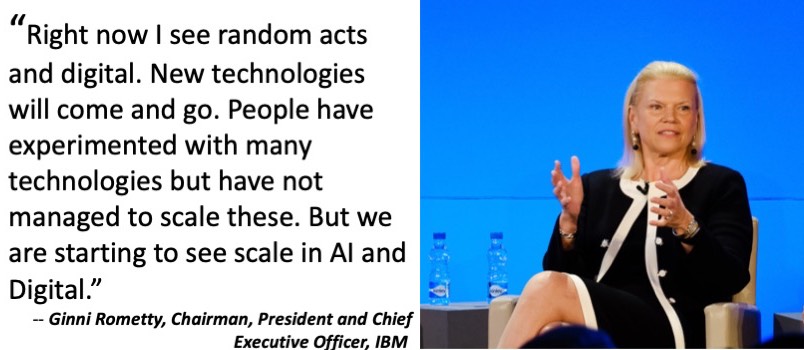 Digital and AI
Rometty said just about everyone wants to be an AI and data company today, but few have managed to scale. IBM has done over 20,000 engagements with customers for AI, and is starting to see scale in areas like customer service, HR, knowledge worker, and prediction. IBM has an impressive roster of customers that include: BNP Paribas, American Airlines, Honda, Future Group, ICICI Bank, Vodafone India, Hindustan Coca-Cola Beverages and some of the leading insurance companies. Rometty said 50% of all mobile calls made from India are managed by IBM. All the inter-bank transactions across the country are managed by IBM. Some of these customers gave testimonials at this event.
"We are starting to see scale in AI and Digital. There are five lessons here. The first two lessons are about the approach people take. It's an outside-in approach. If I am going to change how a company works outside-in, that will force me to build new services. The second lesson learned is about transformation through the workflow, and through the data — to modernise the core systems. The third lesson is to connect it with the business platform," said Rometty.
She reminded an audience of CXOs present at the event that their business should be fuelled by data.
"It should be data infusing those workloads, and making people's jobs easier. You also need a platform to manage the lifecycle of AI just like you manage the lifecycle of applications," she said.
Rometty told the audience that the fifth lesson learned is there is no AI without IA (Information Architecture).
"We spend 80% of the time just trying to organise data and get it sorted (in preparation for AI)," she said.
IBM Research is focussed on three big areas in AI: The first is core AI, which is about doing AI with less data. In the industry, this approach is known as 'transfer learning' or 'one-shot learning.' The second AI focus area is conversational AI, specifically, debates on complex topics. The example here is IBM Project Debater. The third area is scaling AI.
"Our researchers are also working with trusted AI and the work we are doing has to do with fairness, explainability, lineage — this is another reason people can't scale AI," said Rometty.
Cloud goes Hybrid
When enterprises first heard about the Cloud, there was a lot of hesitation to put core workloads on public clouds. There were concerns about security in multi-tenant environments. Chapter One, an era of experimentation and dipping one's toes in the water, was about moving simple workloads to the cloud. It was more about customer-facing applications.
Rometty believes Chapter Two is about modernised core workloads on the cloud, by industry verticals. But the challenge here is the complexity involved in managing multiple clouds. IBM studies show that enterprises can typically have 5 to 15 clouds. The other challenge is the existing IT landscape.
"You have to make some decisions around client issues, security, and localisation issues. We have studied this and we believe that the destination for the cloud is hybrid," said Rometty. "You will probably have lots of private clouds of your own, in addition to multiple public clouds. We think (the ratio will be) 60:40 – 60% will be private and traditional; 40% will be public clouds."
 Security and Trust
 Rometty also spoke about Trust and Responsible Stewardship.
"This next chapter of digital reinvention will be enterprise-driven. Underpinning it all is the growing importance of trust, both in technologies and in their impact on the world," she said. "It's got common security, and common management."
Finally, she encouraged the use of open technologies and the way to develop "build once, deploy anywhere" applications.
"We also believe that it will be imperative to use open technologies. A lot of this has got to do with skills. If you build something once, then you can decide where to deploy it — whether on public or private — and therefore build on open technologies. I mean containers and Kubernetes," said Rometty. "The key thing is co-creation and internally, we created the IBM Garage for that. We have IBM Garages in India and all over the world, and we do them with clients."
Getting to Scale
While there were many proof of concepts and business use cases in the past, IBM is finally beginning to see its customers scale up their digital transformations.
"We have done 55 live digital transformations — a lot of them on customer experience, but we are starting to see the emergence of platform plays. We see this especially in financial services and agri," said Karan Bajwa, Managing Director, IBM India/South Asia. "We have seen  IoT scale plays onto FMCG. The first one took us about 8 – 9 months, the second took 3. We have a scale blockchain platform ready for prime time. There are many use cases out there in financial services, trade financing, supply chain, telecom, but we are now ready with a scale platform ready for prime time."
He also claimed "the largest hybrid cloud win" with a customer moving mission-critical workloads to the hybrid cloud.
"We are getting fast to scale with hundreds of millions of users. It is now getting past a workload conversation — it is getting to be a journey to the cloud," said Bajwa.
---
---
 Think Leadership
IBM conducted the Think Leadership event for the third time in the past 12 months. Speakers at The Think Leadership included several industry thought leaders including Madhivanan Balakrishnan, Chief Technology and Digital Officer, ICICI Bank; Vishant Vora, Chief Technology Officer, Vodafone Idea Limited; Vineet Gautam, CEO, Bestseller India and Ravishankar Mantha, Founder/ CEO, AgRisk Data Analytics who have collaborated with IBM to drive digital transformation across their organisations. The event also witnessed engaging conversations on Women in Technology and the importance of building an equal opportunity workforce, an imperative for driving progress and change in India.
Amongst key technologies demoed at the Expo Zone was the IBM Project Debater, the first AI system that can debate humans on complex topics. The goal of Project Debator is to help people build persuasive arguments and make well-informed decisions.