One of India's largest private sector banks is in a quandary. Its business is being threatened by a group of Fintech companies. But haven't we heard that before? Let's look deeper into this situation. Its management is fully aware of the importance of embracing digital transformation and the need to innovate – but they do not know 'how' to do this or where to start. Its employees are domain experts with years of experience in the banking industry – but they do not understand technology. And the management is hesitant to invest in training for mid-level managers (or below) — because it knows that they will be replaced by automation in a few years. It is a Catch-22 situation. Then they heard about Digital BLUR and experiential learning.
There are numerous organisations across industries who face a similar situation. As we enter the Digital Age, organisations are trying to define strategies that address the disruptive strategies thrown their way.
Digital BLUR framework
Digital BLUR is a unique framework to help organisations like the one we just described, prepare for this transformation. This framework is conceptualized by KNOLSKAPE Solutions Pvt. Ltd., a Singapore-based firm that creates experiential solutions that transform organisations into a modern workforce. Digital BLUR is designed to help organisations navigate the disruption. It explains how crucial lines that have traditionally defined businesses are blurring away in the digital world. The acronym stands for:
B – Boundaryless Organisations
L – Limitless Digitization
U – Unbounded Innovation
R – Relentless Iteration
Watch the Video to learn more about Digital BLUR.
Rajiv Jayaraman, CEO and Founder, KNOLSKAPE says there are 'Digital Fault Lines' in organisations. "They see a need for technology and a coding culture, but they are so consumed by their internal dynamics."
He has just written a book on this titled 'Clearing the Digital BLUR'. The book will be launched shortly. There is also a Webinar series on this here.
"In the book, I write about four fault lines that I see, especially for a large organisation. There is a structural fault line. The thought is, even if I want to embrace digital, where does this sit? Is it inside a business or in a CoE (Centre of Excellence)? Who's going to take care of my data?"
Elaborating on the other three 'fault lines', he said the second one is Information.
"Without data, the digital story does not take off. There are turf wars (internally). They ask: 'Why do I give this person all the data? Once he has all the data, he is going to become more powerful than me.' There are internal dynamics that comes in the way of transformation," said Jayaraman.
The third fault line he has identified is Decision. Jayaraman feels Digital does not take off without decentralization for faster decision making and agility. "There is a sense that everything needs to be centralised, especially in a regulated environment. They are thinking about the risk of decentralisation. Why would they give data to all these front-line folks?"
The fourth fault line is Incentives. "There is a lack of motivation to embrace digital in the long-term as people are not getting incentivised."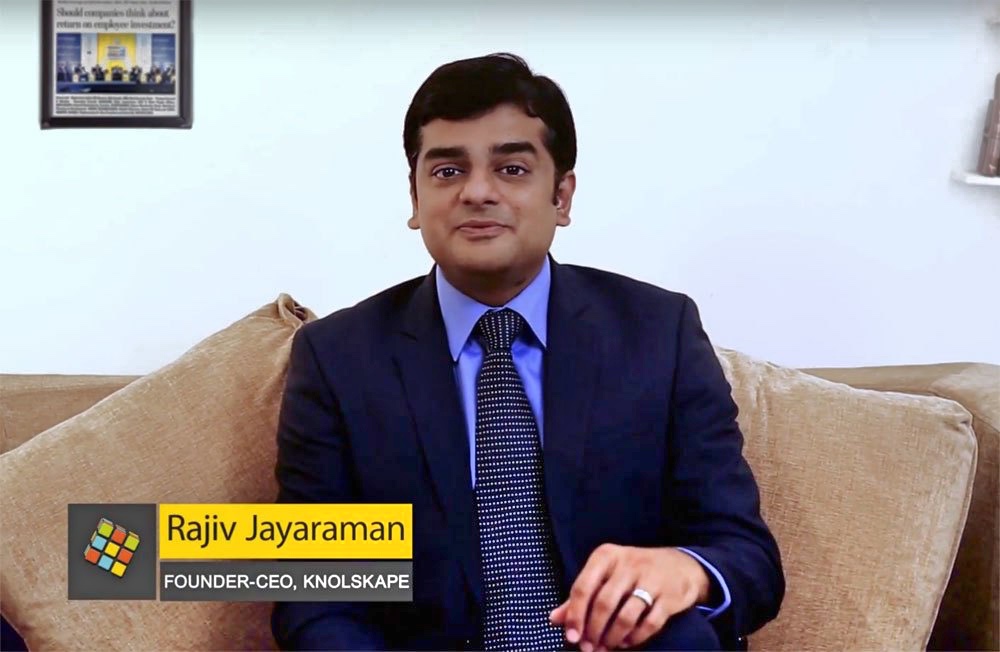 Case Study
The 'large private bank' (that we mentioned at the beginning of our story) heard about Digital BLUR and called in KNOLSKAPE. This is one of India's largest private sector banks. Headquartered in Mumbai, the organisation has a strong network of branches across the globe and a workforce of over 40,000 employees. The Bank offers a variety of financial services and banking products, for both retail and corporate, through diverse channels.
"We are helping them think through what should change in their execution model. They started with the Execution Layer because in this case, the senior leadership has bought into digital, and they already have a roadmap — they have a live playbook etc. They are finding a lot of challenges in the mid-layer," said Jayaraman.
The Bank (who Jayaraman did not name) is unsure if it should train its employees who may not be around after two years.
"This is not progressive thinking. They are not progressive about skill building. Yes, the employee is aware that automation is coming in and is unsure about being future ready. They are confused and wonder what they should be learning. This is where the organisation can step in and create a structured path to skills development," he advised.
The KNOLSKAPE team told this Bank to start thinking about the essential elements needed for digital: design thinking, data strategy, and agility. They advised the bank to start by at least building those layers. They could look at more specialised capabilities later.
The HR department of that organisation was also wondering at what level in the organisational structure should the transformation begin. Should they start with senior leaders or mid-management? Should they start with millennials, who are more ready to embrace digital?
Speaking of another incident, Jayaraman said, "I met with this HR team in Delhi recently. They have been asked to acquire skills in Python and R (programming languages) because their leadership wants HR analytics, and they are nowhere close to implementing it. I don't think it is necessary for these HR folks to become coders at this point in time. But they need to understand what technology can do for a business," he said.
KNOLSKAPE's experiential learning programs
KNOLSKAPE sees that companies are at different stages in their digital transformation journeys. Some are ready, so they want online solutions. Others believe this is more of a culture building exercise, so they opt for classroom learning.
Seeing the variation in the way companies set out to build digital skills, KNOLSCAPE set out to offer four experiential training solutions, all aligned to the Digital BLUR framework.
Digital Strategy solutions help senior leaders formulate exponential digital strategies and devising new business models. The experiential solutions take leaders through the entire strategy definition process, starting with a fresh perspective on how to look at the business landscape and competition, to identifying existing and newer elements to create, reduce, reuse and eliminate in their business model canvas.
"Here we have a framework called Digital Leapfrog, which is an eight-step process for you to leapfrog from a pipe-based business model, which is a linear business model to something that is more networked, and something that is more platform driven," informed Jayaraman.
This is designed as a two-day experiential workshop wherein one goes through the eight-step leapfrog process. The program can also be delivered online – in a live virtual fashion.
"The outcome of this particular exercise is for organisations to come up with differentiated business models, which are ready for the digital age," he adds.
Digital Execution solutions act as the necessary bridge between strategy and execution. These experiential solutions enable managers across levels to develop the necessary digital culture, capabilities and mindsets for executing breakthrough strategies to deliver exponential business results.
This program can be done in a two-day format that focusses on data, design, agility and ecosystem building. These are the four building blocks that are aligned to Digital BLUR.
"All managers that go through this exercise collect a lot of (behavioural) data on how they are responding to certain digital situations. Using that, can help their organisations prepare their talent better," informed Jayaraman.
Interestingly, the training is interspersed with simulation games.
Digital Assessment solutions offer a suite of cognitive, psychometric, creativity and simulation tools to assess the digital awareness of your employees, the digital maturity of your organisation, and the digital readiness of your leaders.
Digital Awareness program offers a suite of sessions that aim to demystify digital concepts, trends, and disruptions, and provide an understanding of the expected behaviours and capabilities to succeed in the digital age.
"This program addresses more around the 'What is' question. What is 3D printing and what does it do to my business? It is the knowledge aspect keeping up with changes outside. It is a completely online solution where you are constantly being fed with developments in the digital world," adds Jayaraman.
From Academics to Digital Transformation
Jayaraman founded KNOLSKAPE almost ten years ago after his graduation from INSEAD in Singapore. The company first focused on the academic market. They worked closely with elite academic institutions such as Kellogg Business School, MIT and INSEAD.
KNOLSKAPE wanted to make the classroom more experiential through simulations and other experiential products. It partnered with these institutions for these products and then licensed these to other academic institutions.
Around the year 2010 it began working with some companies with use cases around on-boarding of employees using gamification as a main theme; talent development, and talent assessment. The uniqueness around these solutions was revolving around gamification and simulation — things that are experiential.
It works with large companies mainly on the leadership pipeline.
KNOLSKAPE has worked with 300+ companies in 25+ countries. It is physically present in four countries.
"As we went through this (journey) we realised that things were changing, with many of our large clients, because of Digital. So around 18 months ago, we began some research around what needs to change, with respect to talent development — and that has led me to write a book on that topic called 'Clearing the Digital Blur'" said Jayaraman.
You might also like:
'We are seeing demand for Digital skills in functional and leadership roles'
Main image: Designed by Pressfoto / Freepik