TOP STORIES OF THE WEEK
India Will Need Nine Times as Many Digital Skilled Workers by 2025
New survey of digital workers reveals cloud architecture design, cybersecurity, and large-scale data modeling are among the top in-demand skills in India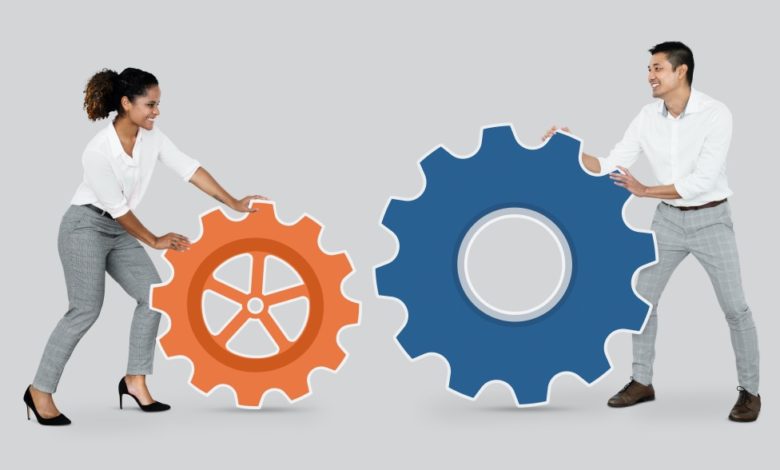 Businesses embraced digital platforms at an accelerated rate last year, as the pandemic set in. Suddenly digital skills were in demand, and not just in the ICT sector. While those working in the transportation/mobility, logistics and delivery sector (notably app-based services) have digital skills, a new study suggests that even electricians, carpenters, and plumbers will need basic digital skills by 2025. In fact, 58% of non-digitally skilled workers in India will need to gain basic digital skills by 2025. The average worker will require 7 new digital skills. Today, digital skill workers in India represent only 12% of India's workforce and 7 in 10 digital workers in India apply advanced digital skills in their jobs. These are the findings of a new research report, titled "Unlocking APAC's Digital Potential: Changing Digital Skill Needs and Policy Approaches." The report, prepared by strategy and economics consulting firm AlphaBeta, was commissioned by AWS (an Amazon company). It analyzes the digital skills applied by workers in their jobs today, and projects the digital skills required by workforces over the next five years in six Asia Pacific countries – India, Australia, Indonesia, Japan, Singapore, and South Korea.
What are the digital skills that will be in demand?
Digital skills refer to the abilities, knowledge, and know-how required to apply digital technologies for a range of tasks in the workplace, and also their personal lives.
Basic digital skills refer to digital skills requiring basic technological know-how — these entail having the ability to use digital software and hardware for the broader consumer. This includes knowing how to use smartphone apps, word processing software, email, and Internet browsing. It also entails having the knowledge about their use and understanding the basic principles of data privacy and cyber hygiene, such as not sharing one's passwords with others.
Advanced digital skills refer to digital skills requiring advanced technological know-how – these entail having the ability to customize or develop new digital tools, software, and applications.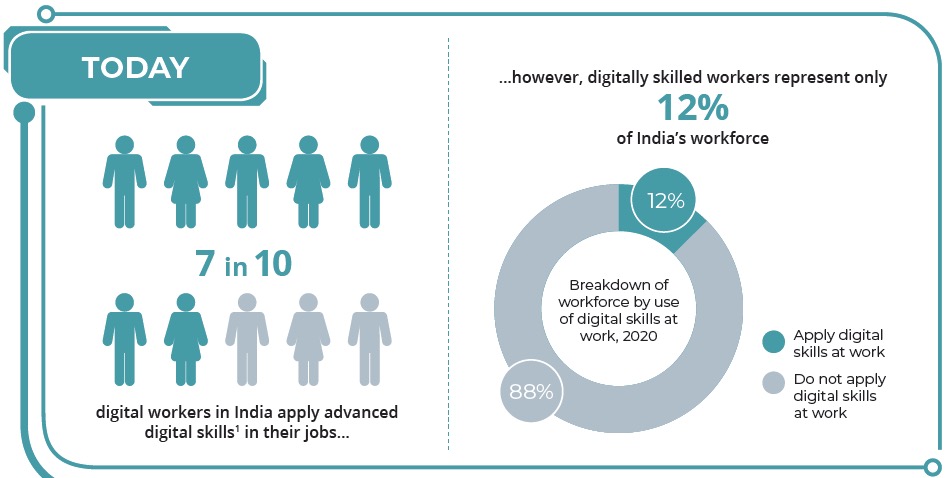 Key findings of the research
The research surveyed more than 500 digital workers in India and interviewed technology experts, business leaders, and policymakers. It confirms that digital skills are important for non-technology sectors like manufacturing and education. In the manufacturing sector, cloud architecture design and the ability to create original digital content such as software and web applications will be among the most in-demand digital skills by 2025, with more than 50% of digital workers in the manufacturing sector believing that they will require these skills to perform their jobs. In the education sector, the ability to develop digital security and cyber forensics tools and techniques will be an important skill. Given the increasing use of the internet in teaching and learning, especially with remote learning, it is becoming critical to ensure that schools, teachers, and students are able to protect against cyber-attacks.
The research reveals that digitally skilled workers currently represent 12% of India's workforce. The research estimates that the number of workers in India requiring digital skills will need to increase nine times by 2025, and the average worker in India will need to develop seven new digital skills by 2025 to keep pace with technology advancements and demand. This amounts to a total of 3.9 billion digital skill trainings from 2020 to 2025.
The report also reveals that 76% of the digital workers in India today expect cloud computing will be a required competency for digital workers to perform their jobs proficiently by 2025. Cloud architecture design, software operations support, website/game/software development, large-scale data modelling, and cybersecurity skills are the top five in-demand digital skills in India.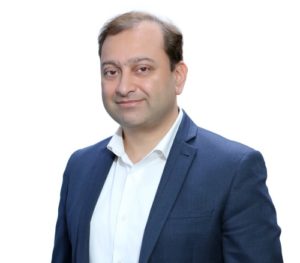 "The research highlights the demand for more digital workers even in the non-technology sectors such as manufacturing and education," said Rahul Sharma, President, Public Sector – AISPL, AWS India and South Asia. "AWS is committed to equipping more students and workers with cloud skills that will help drive digital transformation across all sectors. We look forward to expanding our collaboration with more education institutions and industry organizations to grow cloud-skilled talent. A cloud-skilled workforce is instrumental in accelerating innovation and creating a competitive edge for India."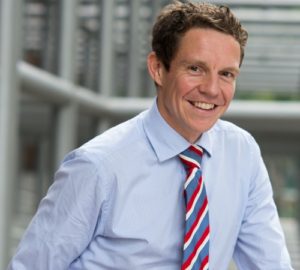 Dr. Frazer Thomson, Founder and Managing Director, AlphaBeta said, "If you look at the 6 focus countries (India, Australia, Indonesia, Japan, Singapore, and South Korea), roughly 150 million people are using digital skills today. And India has the most — just under 59 million. But what is interesting is the share of the workforce that is using these digital skills. Today it is 12% of the Indian workforce that are using digital skills in their workplace activities. And this is just the start of a journey. The big challenge and the big opportunity for India is how do we really scale that number as quickly as possible and get the right kind of digital skills to those workers.
Sharma of AISPL added, "60% of APACs GDP can be derived from Digital products. Looking at India, the digital sector is valued at $170 billion or about 7% of the GDP. This is expected to grow to $435 billion or 10% of its GDP by 2025. So it is a huge impetus and you can see it all around. In India, the demand will propagate quickly. COVID 19 has completely reinforced the need for digital skilling."
A granular approach
Unlike other reports on digital skills, this report takes a more granular approach. Dr. Thomson said the research identifies 28 different digital skills across sectors (not just ICT). It looks at both vertical and horizontal competencies. And the skills are classified into basic and advanced digital skills.
"We also looked at a number of areas called competencies and proficiencies. Competencies are the different areas of digital skills that are important. We looked at 8 separate areas. Some are vertical areas like Cloud, and some are horizontal areas like project management, collaboration, problem solving. Within each competency there's different levels of proficiency — from the very basic to the more advanced. The combination of competency and proficiency is what drives the 28 digital skills that we have identified," said Dr. Thomson.
The vertical competencies tend to change every year, because technology evolves. The horizontal competencies cut across different technology areas and they tend to be more sticky — they do not change as frequently.
"It is a combination of vertical and horizontal competencies that digital workers are going to need in the future," added Dr. Thomson. 
Digital Skills needed by 2025
To keep pace with technological changes, all currently digital skilled workers in India will need to upskill in new emerging technologies. Cloud architecture design, cybersecurity, and large-scale data modelling are among the top five in-demand skills that will be required in India by 2025.
New emerging technologies such as artificial intelligence, blockchain, big data analytics, cloud computing, cybersecurity, and Internet of Things are expected to created significant social or economic impact, the report added.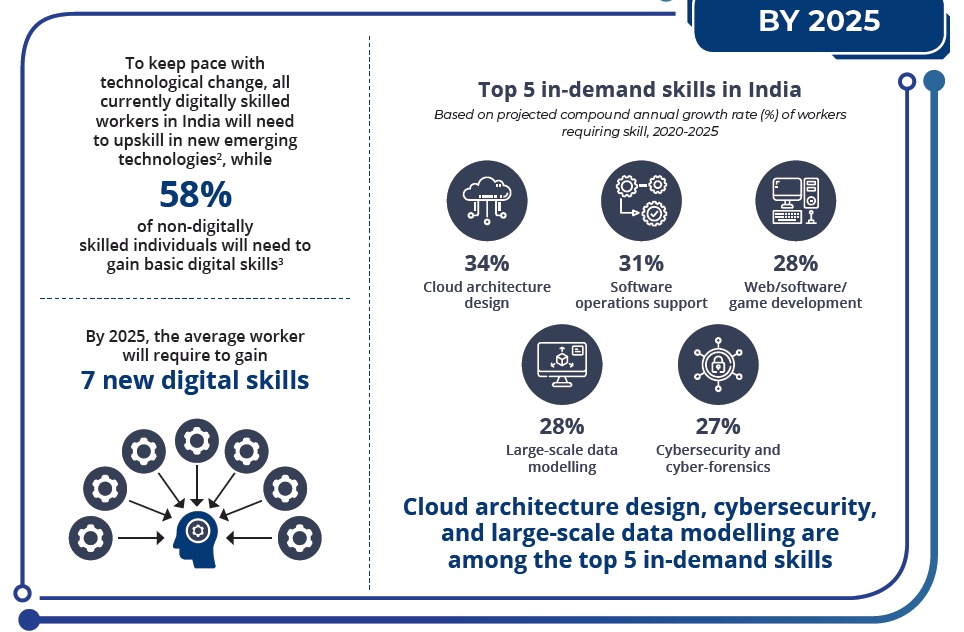 To develop the next generation of cloud professionals, higher education institutions in India have recently integrated AWS-designed cloud computing content into their mainstream college syllabus. The cloud computing content is offered as part of the education institutions' undergraduate degree and postgraduate diploma programs, designed to address India's growing requirement for cloud skills in cloud architecture, data analytics, cybersecurity, machine learning, and software development.
AWS provides a range of free training opportunities, including more than 500 free courses, interactive labs, and virtual day-long training sessions that are accessible through AWS Training and Certification. AWS also offers students free, self-paced, online learning content for cloud career pathways related to in-demand jobs such as cloud engineer, cybersecurity specialist, machine learning scientist, and data scientist.
To download the research report of "Unlocking APAC's Digital Potential: Changing Digital Skill Needs and Policy Approaches", please access here.