TRENDING
'Digital is a Layer on Top of Our Core Business'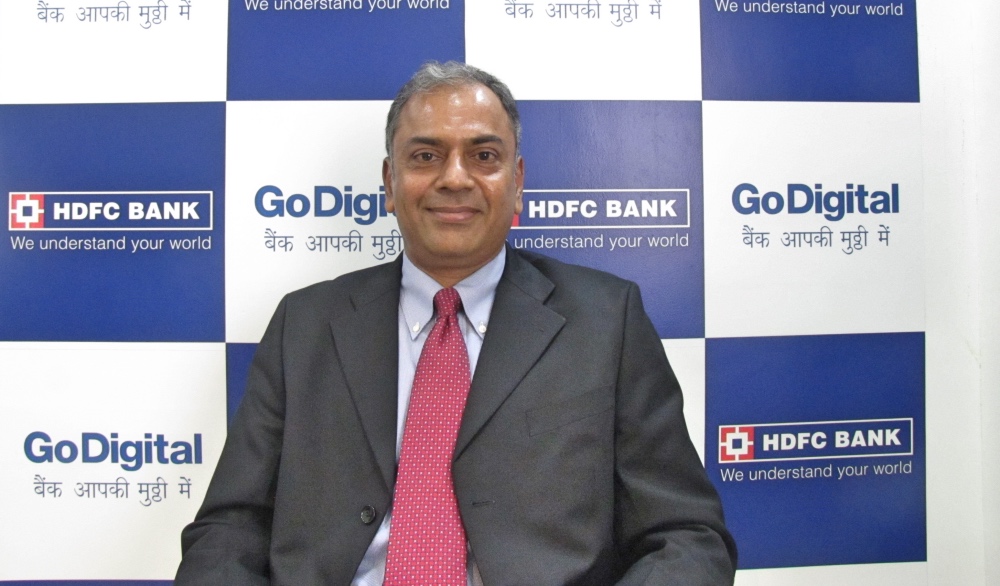 The HDFC Bank is the largest issuer of credit cards in the country, issuing three lakh new cards every month. The bank has issued more than 88 lakh cards and is set to be the first card issuer to cross one crore credit cards this year. It processes between 9 – 10 million transactions per day. HDFC Bank claims to have one-third the volume of all consumer payment transactions in the Indian market, in terms of value. It is the largest payments business in the country, in terms of customers, the network and the acquiring business.
To handle a network of this scale requires a robust, highly available, and secure infrastructure. In the last 15 years, the Bank has invested heavily to set up this network. Its annual investment in IT infrastructure runs into several crores of rupees – and much of this goes towards building scale.
Parag Rao, Country Head – Card Payment Products, Merchant Acquiring Services & Marketing, HDFC Bank Ltd talks bout the Bank's focus on digital, as another means to reach out to the customer.
Excerpts from the hour-long interview:
Q: What does Digital mean to you?
Parag Rao: Digital for us is one more way for the customer to interact with us and avail of our products and services. It is another mode of access.
We use technology to build a large, scalable, safe and secure backbone for our businesses. Technology enables us to create a simple user interface; it ensures that the linkage between that interface and the entire infrastructure is seamless, and delivers simple TATs (turnaround times), enhances the experience, and makes for faster processing.
Digital is a layer on top of our core business. We use digital to guide the customer through all the steps of say, a loan application. But digital is more than an app. It takes the customer through an entire experience.
Digital is not a project or a separate department for us; it is in the DNA of every product manager, business manager and channel.
We have got our customers to use our app only by word of mouth. Our branch staff, 25,000 in number, show customers how to use the app on their phones and they answer all their queries.
And this applies to the organisation.
Q: How do you measure Digital success?
Parag Rao: One metric that the industry uses is number of app downloads. The number of customers using your product continuously, is more important – and not just for the first time. Therefore, portfolio management or engaging the customer to constantly use your product is a key strategy of our payments business.
Q: How much do you invest in Digital?
Parag Rao: Our investments in technology go into core systems that drive scale. Our investment in digital is a mere fraction of our total investment in technology. We are perhaps the only bank in this region that has invested in a mainframe computer for the cards business. We made that investment eight years ago. We did this because we wanted to build scale and we wanted stability. We do between 9 to 10 million (credit card) transactions a day (on the issuing bank side). We invested in capacity at the beginning of this calendar year, for 25 million transactions (a day). This investment goes towards IT infrastructure; the scale of this investment is in triple digits. Over the years we have invested in the acquiring business, in the network, and network security. We also invested in (POS) devices. Out of the 1.5 million POS (Point of Sale) devices in the market, we invested in half a million devices.
We now have the infrastructure, customers, and data. What we did not have was an app (to facilitate a process digitally). With digital, processes can be done in parallel, thereby shortening the cycle. Loan applications through the app is achieved in seconds.
We had to re-engineer our back-end processes to ensure that what happened in five days, can now happen in five seconds. (HDFC Bank offers a loan in less than 10 seconds).
The key pillars for enabling digital already exist: Underwriting capability, risk checks and access points. We only need to invest a fraction in an app or in digital.
Q: Where are your investments in technology mostly directed?
A significant portion of our investments goes towards building scale and security. The investments ensure that my network is secure and highly available (24×7). It also goes towards building redundancy and in making our systems future proof. Business continuity and scalability are also important.
Credit card holders use their card anywhere in the world. They expect it to work 24×7.
Q: After making all those investments in infrastructure, what are the benefits that you and your customers derive from Digital?
Parag Rao: Digital is an incremental interface that the customer uses. It is a click, an app or something on a PC. Customers expect this to be simple, instant, idiot-proof, 24×7, with no forms to fill. For the client, it is all about convenience.
Digital gives us the capability to improve our top-line, and more customers are applying (for cards or loans) through digital channels, because they can conveniently do this anytime, anywhere. Digital gives us the capability to acquire many more customers and to offer existing customers higher levels of service.