TRENDING
DeitY to partner with CeBIT for deliberations on medical electronics in Pune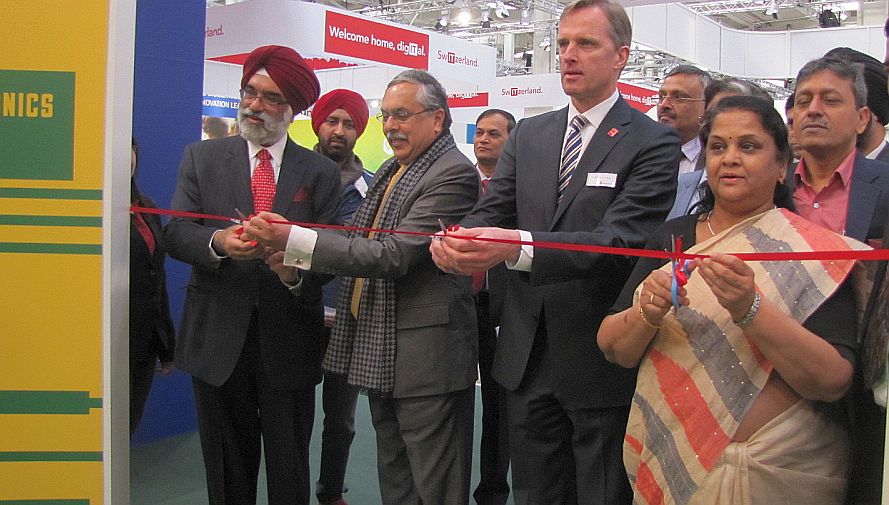 Fabs, medical electronics, joint research with industry are new focus areas
Hannover – 14th March, 2016: After inaugurating the India Pavilion on the opening day at CeBIT 2016, the high level delegation of officials from the Government of India visited some of the stalls and also the adjacent Swiss pavilion. This was then followed by a visit to the Intel booth and later, speeches at the Make in India CEO Summit. The overall theme of the discussions was the 360 approach that India and Germany are taking to take business relationships to a new level. The delegation comprised of Indian Ambassador to Germany Dr. Gurjit Singh; Dr. Aruna Sharma, Secretary, Department of Electronics and Information Technology (DeitY), Government of India; Deepak Sharma, Additional Director, DeitY; Dr. Omkar Rai, Director General, Software Technology Parks of India; CK Tiwari, Principal Secretary, Govt. Of UP; Dr. A. Didar Singh, Secretary General, FICCI.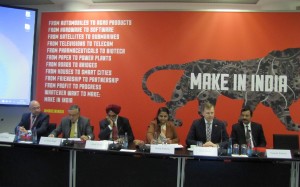 Speaking at the Make in India CEO Summit, Dr. Gurjit Singh said, "Under the Make in India program we had targeted 100 German companies to invest in India and we have now reached 25. This is about $400 mn in committed investment. Most of the investment is going into manufacturing."
Dr. Singh also said six Indian states were willing to interact (with foreign companies) on a regular basis. He offered to intervene when necessary, with the state governments. He also assured Indian companies of the Embassy's support, should they need to reach out to German companies.
Deepak Sharma from DeitY talked about the policies implemented by the Government of India to boost electronic manufacturing. The title of his presentation was 'Zero net import (on electronic components) by 2020'.
"The government is offering 25 percent capex subsidy in addition to CVT and excise, and R&D costs are included in this," said Sharma. "As per industry demand we recently introduced 10 percent (of turnover) as production subsidy, for 10 years. As of today we have received 181 proposals."
Sharma said that German companies like Bosch were the first to take advantage of this scheme.
He also spoke about the subsidy for electronic manufacturing clusters.
"For creating common facilities and infrastructure, we are giving up to 75 percent of the development cost. We received 44 proposals and 6,922 acres of land is available across 18 states," informed Sharma.
Dr. Aruna Sharma, Secretary, DeitY, said the present government has a clear focus of having IPRs and production within the country.
"There is hardly a government across the globe where there is such a heavy percentage of capital subsidy spread over different schemes. We have German companies who have come forward and are looking for expansion, and it is to cushion up the initial expansion…and for them to choose India as a destination," said Dr. Sharma.
The government has taken these initiatives to attract more investment in the electronics sector in the country. But it is now looking at a verticals. For instance, a new focus is the Healthcare sector and medical electronics.  Dr. Sharma said the government is hopeful that the population in a smart village will benefit from such electronic products.
"We are planning to have focussed deliberations (on medical electronics) with CeBIT in September 2016. This will be in Pune," said Dr. Sharma.
Dr. Sharma also talked about "preferential treatment" in the acquisition of purchases for those who manufacture in India.
"Now all government purchases will come through an organisation called DGS&D. DeitY is assisting them with software that will be similar to Flipkart where all the contracts will be distributed," said Dr. Sharma.
The first product taken up under this model is computer manufacturing, computer usage and computer purchase.
Dr. Sharma said the government was also seeking Germany's interest in setting up fabs in the country – solar fabs, digital fabs and manufacturing fabs. There was a specific policy in place for that.
"There is a vacuum with analog fabs and we hope to draw Bosch's interest in this. We are also working on a regime of disciplining our research, with industries," said Dr. Sharma.
The scope of the work here would include the design of IPRs and doing combined research with companies.
Apart from Bosch (which has been in India since 1922), Continental is another German company that is collaborating with the government.
Dr. Sharma also said that DeitY was looking at a cybersecurity regime and cloud storage.
"We are clear that good governance cannot come without the assistance of IT. But India has moved quickly. For instance, in the e-payments system, 100 percent transactions are taking place electronically. And this system has come into operation within three years," said Dr. Sharma.
The CeBIT IT trade fair and expo is conducted in India by Hannover Milano Fairs India Pvt. Ltd., a 100% subsidiary of Deutsche Messe, which also produces the world famous Hannover Fair every April. The annual CeBIT INDIA (www.cebit-india.com) is conducted at the end of the year in the city of Bengaluru.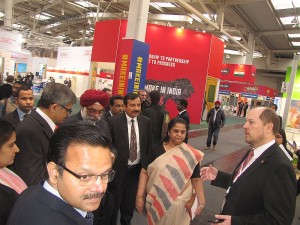 ————————————————————————————————————————————
This journalist was hosted by Deutsche Messe in Hannover for CeBIT 2016