TOP STORIES OF THE WEEK
Industry leaders say customer experiences are driving investment in digital
Elevate 2018 witnessed rich discussions on customer experiences and transforming infrastructure for digital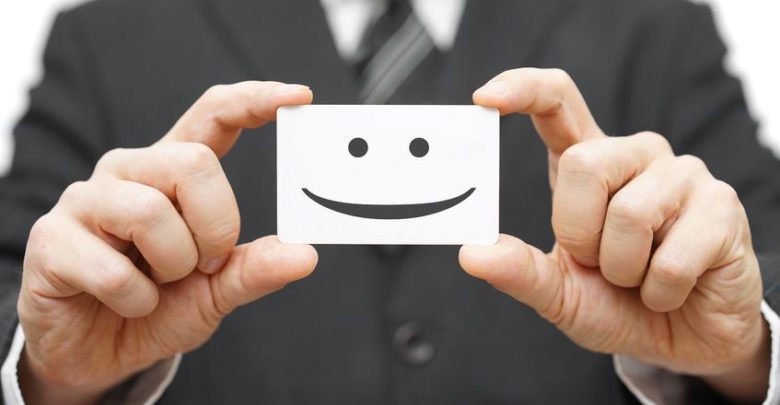 Dimension Data and its ecosystem of partners, customers, sales force, NTT Group companies, media & analysts got together for the first time for a two-day event in Pune on 6th & 7th April 2018. The event was titled Elevate 2018 and it was attended by a large gathering of CIOs and IT decision makers, notable among them being Mr. Mrutyunjay Mahapatra, Deputy Managing Director and CIO, SBI. Dimension Data is one of the companies in the NTT Group, a global leader in ICT.
The agenda for the two-day event included a conference with keynotes and panel discussions, break-out sessions and an experience zone. Attendees had time to network in the evening over cocktails and dinner.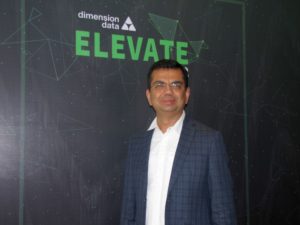 Kiran Bhagwanani, CEO-South Asia, Japan & New Zealand, Dimension Data opened the event and welcomed the delegates. He said the Digital phenomena is all pervasive and touching all aspects of our lives.
"The purpose of Elevate 2018 is three-fold: To look at how Digital Transformation is giving us an elevated experience; to look at how digital transformation helps us deliver business outcomes," said Bhagwanani. "Thirdly, systems become more open, in this open, hyper-connected era. So how do we make sure it does not happen at the cost of compromising on the vital data of the company. How do we make sure that the risk profile of the organisation is maintained low as we put more data in the public domain? The focus of Elevate 2018 is going to be around experience, outcome, and security."
Experiences drive Digital
Bhagwanani said customer experience is driving investment in digital technologies today. "People are becoming less loyal to brands and more loyal to the experience the brands give them," he said. "The experience we give to our customers becomes the single biggest differentiator and a huge competitive advantage to the business."
Dimension Data published the 20th edition of the Customer Experience Benchmarking Report. As per this report, over 80% of the companies rated customer experience as the single biggest competitive advantage.
"That is what is driving their investment in digital. To improve the experience, companies need to transform their business models," said Bhagwanani.
To illustrate this, he cited the example of Tour de France, and how Dimension Data (the official partner) improved the experiences of the cyclists with digital technologies. Tour de France used analytics to improve the race. Dimension Data also enhanced the security of its systems and IT infrastructure powering the event. Read more about this here.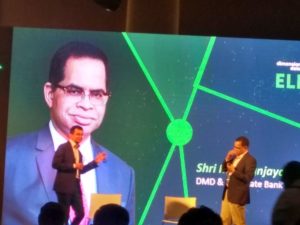 Dimension Data has also been helping the State Bank of India in its digital transformation. At the event, Mr. Mrutyunjay Mahapatra, Deputy Managing Director and CIO, SBI said customer experiences were really important especially when an organisation has hundreds of thousands of customers. He also said it was important to go with the right partner and to use the right tools.
"Technology is just 25% of the entire project and 75% of it is about operations and customer experience," said Mahapatra.
Read more about what Mr. Mahapatra had to say about customer experiences and doing innovation at scale here.
One NTT
Speakers from other NTT Group companies such as NTT Data and NTT i3 made presentations at this event. They were trying to make a point that customers can benefit from one company for all their needs and this is where 'One NTT' a unison of companies in the NTT Group can help.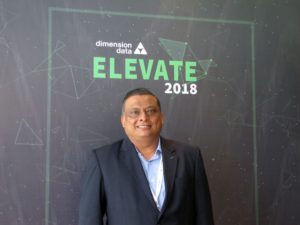 Srini Katakam, Head India Business, NTT Data said that in an outcome-oriented world the focus has shifted away from technical parameters like network latency, to business outcomes. "So it makes sense to have a partner that would bring it all together rather than adopt a siloed approach and work with multiple partners," he said.
Sunil Gupta Executive Director, President & COO – Netmagic (an NTT Communications Company) said, "When you talk about different experiences they capture the entire value chain and convert it to applications, which need to be supported by robust infrastructure and managed services. Unless you work on the entire value chain, right from the business need, you will not be able to deliver the digital user experience."
NTT i3 (Innovation Institute Inc) is one of the companies of the NTT Group. Based in Palo Alto (California), the company runs a customer experience centre and evangelises the One NTT story with customers. It works with all 800 of the NTT operating companies. It showcases the innovation for the group companies and it innovates for the group.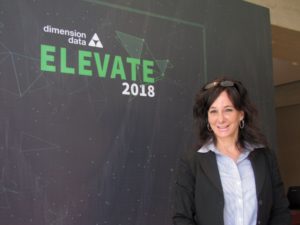 Nina Simosko, President & CEO, NTT i3 and Ravi Srivatsav, Managing Director, NTT i3 talked about how NTT i3 is fuelling innovation within the NTT Group.
"We wholesale our innovation to the NTT operating companies, who are our customers," said Simosko. "We do applied R&D and take an idea through to commercialisation."
Read our exclusive interview with Nina Simosko.
The second day of the event began with a keynote by John Lombard CEO, Dimension Data APAC. He gave many examples of how digital is changing the experience for Dimension Data customers. He said software is the key in defining the future and software defined networks are redefining infrastructure to improve customer experiences.
"All technology companies are becoming software companies. Cybersecurity, automation and digital workplace are the key elements to this future and all of this must be seamlessly integrated," said Lombard.
Read our exclusive interview with John Lombard.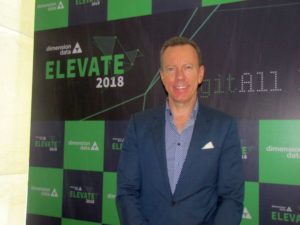 Slideshow: Glimpses from Elevate 2018
Some of the highlights of the event were: 
The Digitall Reinvention – Trends 2018 – John Lombard, CEO, Dimension Data APAC and Sanchit Vir Gogia, Chief Analyst, Founder & CEO, Greyhound Research discussed digital trends for 2018. 
Power Panel – Reality check – Using Digital to elevate enterprise IT from the mundane. The panel was moderated by Sanchit Vir Gogia, Chief Analyst, Founder & CEO, Greyhound Research. The panellists were Meenakshi Vajpai, CIO, Vodafone; Kalpana Maniar, President & Group CIO, Edelweiss; KN Murali, Head Solutions, Dimension Data and Vineet Bahal, SVP Nihilent. The panellists discussed the challenges that CIOs face in their organisations, the ways to address agility (through cloud), managing legacy infrastructure, organisation of internal teams, budget allocation (run & grow vs transform & secure), automation, and CIO priorities. 
Power Panel – Reality check – Playing with boundaries for a digital customer experience. The panel was moderated by Anoop Mathur, President, Core Media. The panellists were N Jambunathan, CEO, C-Edge; Sachin Jain, CIO, Evalueserve; Achal Kataria, VP-IT EXL; Anil Shankar, CIO, Shoppers Stop; Raghuveer HR, Director Sales, Dimension Data. The panellists discussed the importance of security infrastructure, automation, provision of services through partners, managing costs, enhancing customer experiences through innovative approaches, and building new capabilities through adoption of emerging technologies. 
Knowledge sessions: Apart from the One NTT presentations there were sessions related to digital adoption and transformation. Guest speakers included Ms. Chhavi Rajawat, Sarpanch, SODA, Rajasthan and Vijay Ramachandran, Storyteller & Knowledge Navigator.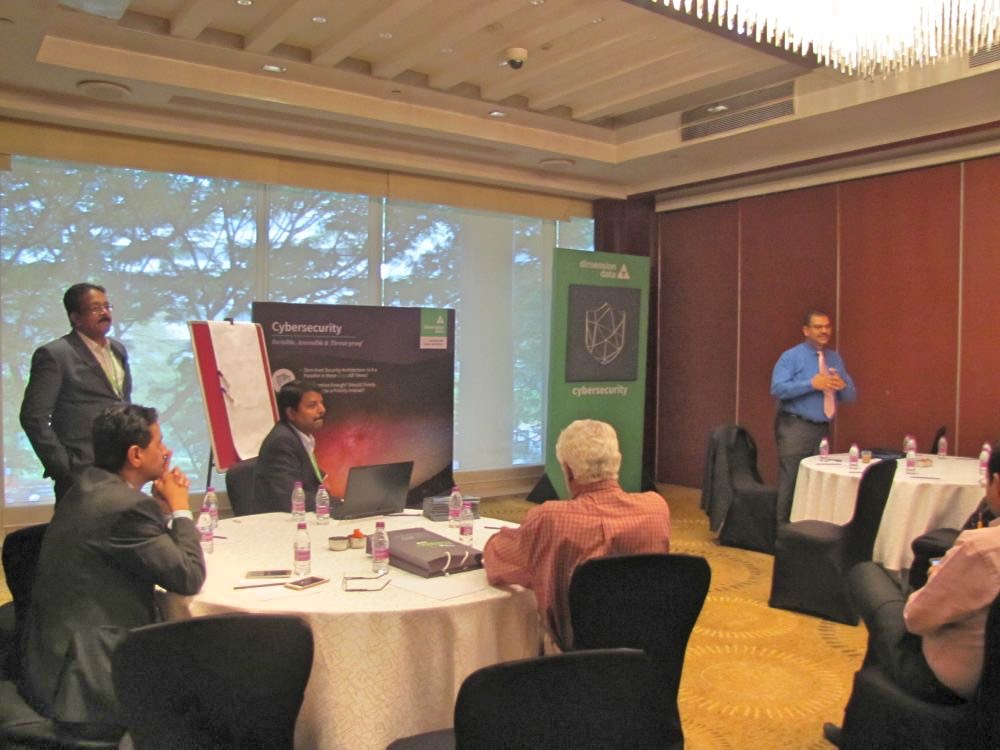 Sandbox break-outs: The audience, which included CXOs, was split up into groups designated Cybersecurity, Hybrid Cloud, Digital Infrastructure, Digital Workplaces & CX. Each group discussed the challenges they faced in their organisations. They discussed and shared best practices for deploying the respective solution. Each group appointed a leader who had to present the summary of the discussion to the general audience. There were group moderators.
One NTT Experience Zone: Companies from the NTT Group  showcased cloud computing and infrastructure solutions. There were areas designated as Multi-cloud platform, Hybrid Cloud, Cloud Communications, Adaptive Enterprise, Digital Workplaces & CX, SAP Practice, Oracle & PLM Capabilities, and User Adoption Service.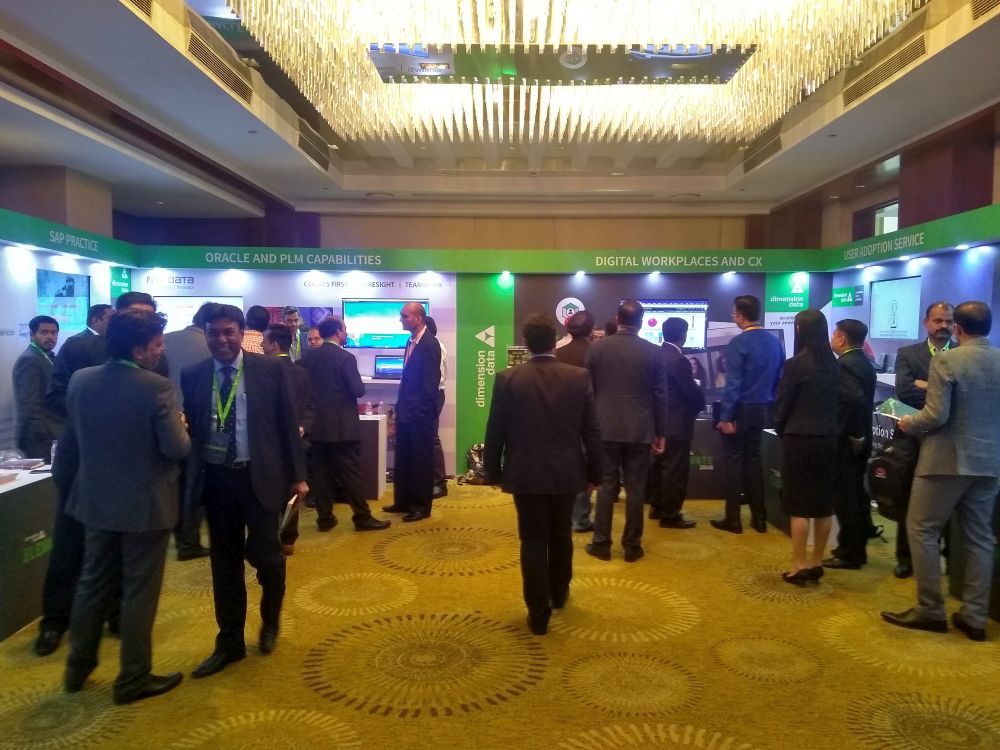 About Dimension Data
Founded in 1983, Dimension Data is a USD 8 billion global leader in designing, optimising, and managing today's evolving technology environments. This enables its clients to leverage data in a digital age, turn it into information, and extract insights. Headquartered in Johannesburg, Dimension Data employs 28,000 people across 46 countries. The company brings together the world's best technology provided by market leaders and niche innovators with the service support that clients need for their businesses – from consulting, technical, and support services to a fully-managed service. In the Asia Pacific, we operate in 35 offices across 13 countries. We help clients enable technology, operate their IT infrastructures and transform technology solutions that deliver value. It combines an expertise in digital infrastructure, cybersecurity, customer experience (CX), and digital workplace, with advanced skills in IT outsourcing, IT-as-a-Service, Systems integration services and training.
Dimension Data is a proud member of the NTT Group.