UPDATED: 21-Jan-2019. Ask for chatbots and dozens of companies will line up at your doorstep. However, there is a new category of intelligent chatbots capable of doing certain back-office tasks. Few companies in the world can make this type of chatbot. The intelligent chatbot can augment the role of a service desk or call centre agent, cutting down the problem resolution time by almost 50 per cent. In many cases, it will process a customer request and answer emails or messages without the need to escalate requests to a human agent. Welcome to the age of Conversational AI and the Conversational Enterprise.
Senseforth.AI may be regarded as a pioneer in Conversational AI; it is already leading in the Indian market with clients like HDFC Bank, HDFC Life, ICICI Bank, ICICI Lombard, Airtel, Nestle, Manipal Hospitals, SBI Card, Godrej, Club Mahindra, and many others.
Senseforth was founded in 2013 and the founding team currently consists of Sridhar Marri (CEO), Krishna Kadiri (Chief Innovation Officer) and Ritesh Radhakrishna (CTO).
Senseforth.AI is a leader in Conversational AI for enterprises. It is a human-like conversation platform powered by Artificial Intelligence. Senseforth mimics human cognitive abilities in reading, listening, comprehending, interpreting and conversing. This ability combined with several actionization modules creates intelligent bots for your business so that you can respond to customers in an automated, real-time and contextual way.
Senseforth. AI has built industry-specific models for key industries with thousands of intents and entities. The platform is available in the cloud or on-premise and comes with ready connectors to connect to a range of IT systems.
The strikingly unique aspects of this company are that it is a product company from India selling products on a global platform. It also has a lot of IP and believes in making its own tools, frameworks, APIs and technology stack – unlike other startups that source this from the cloud.
DIGITAL CREED met Shridhar Marri in Bengaluru last month and chatted over breakfast about his plans for the company.
During his tenure at Infosys Technologies, Sridhar built and led the experience design group in India and conceptualised and created InfyTV, which was touted to be the world's first Corporate TV channel for Infosys. This experience is coming in handy now with his venture, Senseforth, where he is looking to help enterprises leverage cognitive computing and conversational interface to increase their efficiency.  Sridhar is currently pursuing his PhD in artificial intelligence.
Excerpts from the interview:
DC: What inspired you to start the company? What is the opportunity that you saw?
Shridhar Marri: I worked at Infosys for 15 years as VP, serving global enterprises. We built a practice in experience design for software, and offered experience design services to hundreds of clients.
For a long time, the only way we could interact with computers was through graphical user interfaces. Interfaces have not evolved much over the years. Human cognitive abilities were never in the realm of computing. For a long time, computers could never understand what we said or wrote. But that's changing. We can now make the computer understand our instructions.
Millions of people around the world are not tech savvy because of that. A survey of 33 nations shows that 70 per cent have poor computing skills. Only 10 per cent have good computing skills, and these are not coding skills but interacting with computers skills. There is a massive divide as millions of people cannot interact with a computer using natural language.
That's the gap we saw when we founded the company.
Then we saw many enterprise challenges. There are silos, legacy systems, cumbersome enterprise technologies, clunky infrastructure built over many decades. There are layers of technology. It is not interoperable and there are many issues. We see the struggles the enterprises go through as they use technology for their customers.
There is a middle problem too. These enterprises and the consumers are generating a lot of unstructured data and computers can't understand that.
So we wanted to address all these three challenges and build something new. But when we founded the company in 2013, we were not sure what to build.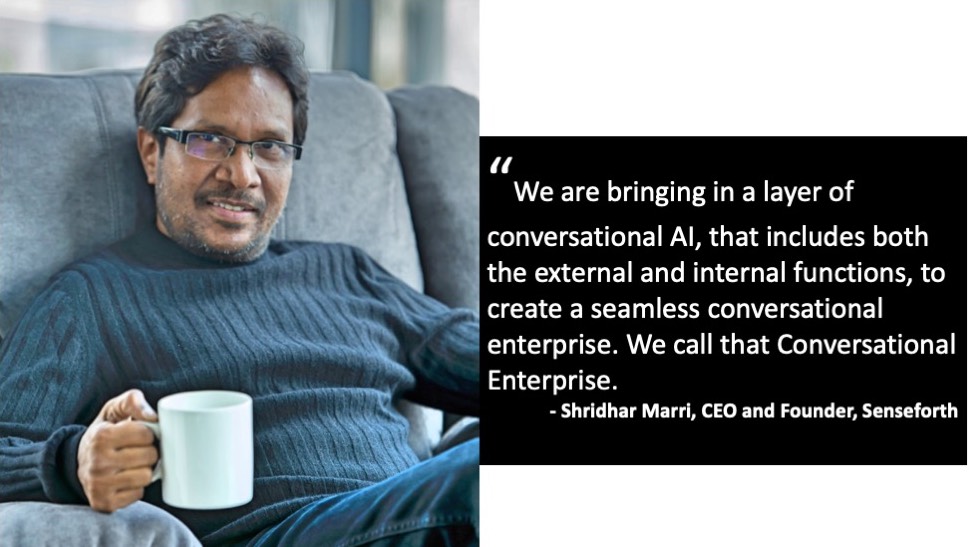 DC: What was the technology that you finally identified to address these three challenges? What did you decide to build?
Shridhar Marri: We wanted to work around comprehending natural language input. it could be in any format: text, an SMS, a document, or an email. So we built a natural language processing (NLP) engine which can read human text.
It is built for English but for all other languages, we translate it into English first before feeding it to the NLP engine, which is our proprietary technology. We are also building proprietary niche modules in Hinglish.
We are in the space of conversational AI which addresses all the three problems that I spoke of earlier.
DC: How did you take your product to market? How does your product work?
Shridhar Marri: After building this NLP engine we worked on the use cases directed at organisations. With this, people can now interact with an organisation without the need to talk to a human. It's a natural language conversation. Once it understands the intent of the user it needs to take an action based on that. An action could be a response, a workflow, or an integration into a backend system. It could kick off multiple workflows, open up different systems, fetch data, rewrite into it — a whole suite of actions; we have an 'actionisation' layer that takes care of that.
We have also built hybrid conversational AI technology that will switch between a human and a machine on the fly. Some tasks can be done by bots and some are best done by humans.
DC: So what's your proposition and what does your solution do?
Shridhar Marri: An enterprise has external (customers, partners, suppliers, vendors) and internal stakeholders (employees across all functions, management, board members). So we are bringing in a layer of conversational AI, that includes both the external and internal functions, to create a seamless conversational enterprise. We call that Conversational Enterprise. We feel this is the next wave of enterprise technology.
This is an automated conversational layer. A customer will send a message saying "I am locked out of my account". Our chatbot will do more than just respond to the email. It will also address the issue and fix things at the backend. It's a completely automated process that does not involve a human person at the company's end.
Let's say an employee wants to apply for leave. The bot takes care of the whole process and informs the concerned people in HR.
So there are internal and external layers for communication.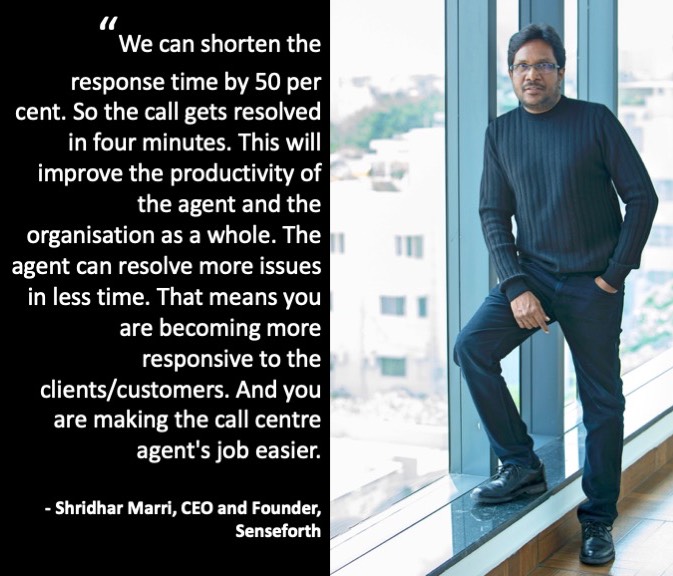 DC: How is your solution different from the other bots out there?
Shridhar Marri: Our bot takes care of the repetitive transactions that are not high risk. We can do decision assist processes, internally. The average time to resolve a call in a call centre is eight minutes. The agent will put him on hold, go to various systems and figure out where the problem is. We bring in an assist layer — he will ask our bot, which does the triangulation and fetch the result. So we can shorten the response time by 50 per cent.
So the call gets resolved in four minutes. This will improve the productivity of the agent and the organisation as a whole. The agent can resolve more issues in less time. That means you are becoming more responsive to the clients/customers. And you are making the call centre agent's job easier.
DC: How are some of your customers using your conversational AI product?
Shridhar Marri: We created a complex conversational AI for HDFC Bank. It may look like any other bot on a website. But it can also fulfil tasks like transferring money. In a suite of 300 – 350 transactions, at least half of them can be fulfilled without a human.
Checking balances, how much you spent on food last month on your credit card — you don't need a human to get that data. You don't need a human to process a loan application. A bot can help with that. A bot can even collect user documentation for eKYC. But authenticating those documents is still a human task.
Today we have nearly 20 clients and we are the only AI startup in India which is profitable and cashflow positive. We have clients in banking, insurance, healthcare, retail and telecom. Airtel is one of our clients.
DC: What is the accuracy of your NLP engine?
Shridhar Marri: Different use cases have different accuracy levels. In some cases, we have achieved 93 per cent. And in other cases, it is 90 per cent That's because there is proprietary technology in the NLP engine. We don't use cloud-based NLP APIs.
We only use the servers of cloud service providers. Only for hosting. Not their services, tools and frameworks. All these are our own IP.
Our solution is cloud-agnostic — it could run on AWS, Azure, even on-premise.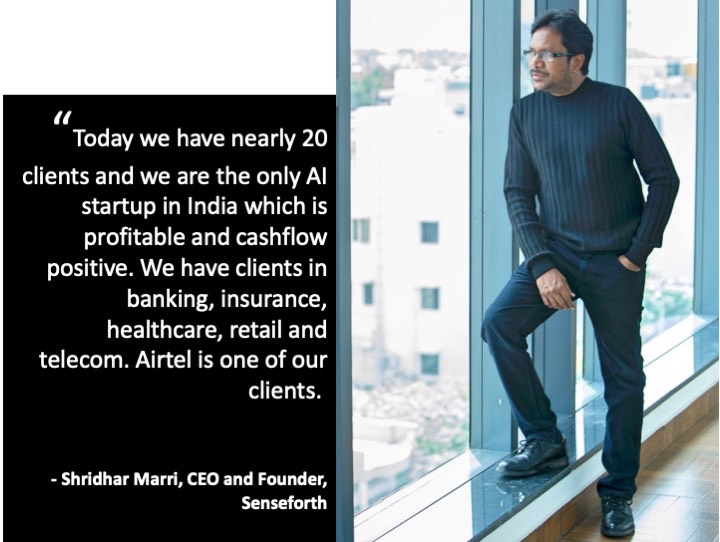 DC: Can you talk about some use cases in the other industries like healthcare?
Shridhar Marri: In healthcare, we have a doctor assist application. In a typical hospital, a doctor is seeing 100 to 150 patients a day. It's not possible for the doctor to remember all cases, so it is all recorded in files. Hospitals have EMR (electronic medical record) and EHR (electronic health record), but these are very cumbersome. One screen would have 150 fields.
A doctor could use conversational AI and ask what medicine she prescribed to a particular patient with a specific ailment. Manipal Hospital was using this for a different use case.
There is a lot of feedback that comes from hundreds of thousands of patients. Doctors and administrative staff are unable to read all of that and understand it. Who will categorise it and pull out insights?
All that is done by our NLP engine. It extracts insights. It is an insights bot. It is trying to figure out what the problem is (based on context) rather than on numbers.
DC: What about the funding for your venture?
Shridhar Marri: Last year we raised $2mn in the US in Series Seed Funding.  Our next stage of funding will be Series-A. We have an office in Palo Alto. We just hired a chief business officer in the US. We hired a sales director for UK, Australia, and the Middle East. This year we are going global. We have made a mark in India since we have been one of the leading conversational AI players here. We are now taking this to the global arena.
---
Key differentiators for Senseforth are:
Dominant Player In India: The company claims to be the most dominant, emergent chatbot player in India with the largest number of live bot deployments with 30 live bots.
Superior Technology: Marri emphasises that they are the only chatbot player in India with a platform that is proprietary, and homegrown, completely enterprise-grade, full-stack and domain agnostic. In fact, the entire bot store of nearly 20 bots is built on Senseforth's homegrown, proprietary platform called a.ware that is the core of the technology. It is a lot more advanced than other generic platforms and most Indian players use generic NLP platforms, available on the cloud which are not deep enough and end up lowering the accuracy of the platform.
Domain Agnostic: The company built the platform to be completely domain agnostic and currently focuses on four verticals – fintech, healthcare, retail and telecom and within these four verticals, there is a deeper penetration of software across various functions such as customer care, sales, lead generation.  Senseforth's platform covers a wide range of use cases that enterprises can get on and keep building other bots for functions. "We have bots prebuilt for these functions and bots for specific domains. For example, we built the first real estate bot for one of the largest real estate players in India, it is yet to go live and is currently in the stage of testing. It will address questions around the construction on their floor, when is the next EMI to be paid etc," he said.
NLP Engine Accuracy: Currently, Senseforth's bots achieve an accuracy of about 85.6 per cent that is considered top of the line but for mission-critical use cases, the company provides an accuracy of 100 per cent.