Every summer, just before the monsoon season begins in India, pictures like these appear in Indian newspapers or TV. But these could well be images shot in Ethiopia or another impoverished or drought-affected nation. Most of us do not see women and children walking several kilometers each day to fetch water from a distant well or lake. With pots stacked on their heads and cans strapped to cattle, they spend much time collecting water every day, and that's one reason children do not attend school. The water at that resource is usually not potable and causes water-borne diseases. Around the world, 785 million people do not have access to clean water. It's quite common to see cattle and humans consuming water from the same resource in India. While there is groundwater or water in wells, it takes a considerable effort to draw it out from the ground, as pumps are few in number or broken. A successful project undertaken by non-profit Charity: water in Ethiopia could be the solution to this problem. The project uses smart pumps with IoT enabled devices and cloud analytics. The IoT devices are designed by AWS partner Twisthink, an innovation design firm. And the cloud services are provided by AWS (Amazon Web Services). There is a partner ecosystem that handles other aspects of the project, like distribution, installation, and maintenance of the water pumps.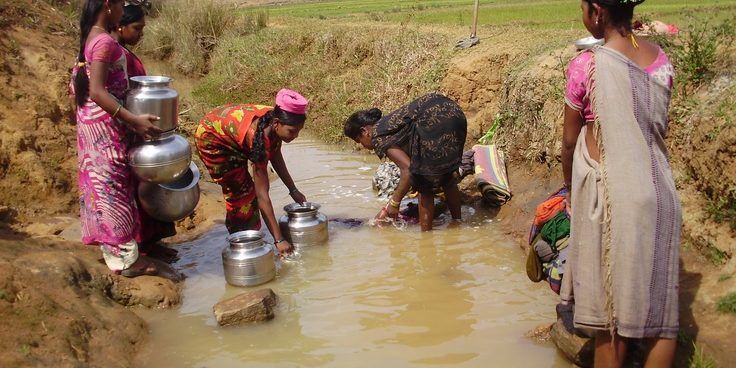 Meet charity: water
Charity: water is a non-profit organization with a mission to bring clean and safe drinking water to people in developing countries. It works with local experts and community members to find the best sustainable solution for each region where it operates. It works with local partners and the community to coordinate sanitation and hygiene training and establish a local Water Committee to help keep water flowing for years to come.
Christoph Gorder, Chief Global Water Officer at charity: water, informs us that his organization works in 22 countries worldwide. They have been working in India for some time by funding NGOs who provide water systems in rural areas in Rajasthan, Bihar, West Bengal, Odisha, and Calcutta.
The solutions vary for different regions and could either be a well, a piped system, a BioSand Filter, or a system for harvesting rainwater. For instance, in Kolkata, there are water filtration devices installed in schools, while in Rajasthan, which is much drier, there is a rainwater catchment. Gorder estimates there are five million hand pumps in India. However, when the pumps break down, they are unusable for months.
Charity: water thought about this and realized that it would solve millions of citizens' water scarcity problem if the pumps are repaired sooner. So, it partnered with Twisthink and AWS to develop an IoT device with sensors installed inside these pumps. The sensors collect data as the pump is being used and sends this data to the cloud for processing. Analytics are applied to this data, and daily reports are prepared. If a pump is about to fail or breaks down, the local authorities are alerted in a few hours and could send a mechanic to service it the next day.
This simple and cost-effective IoT solution works even in regions where there is poor connectivity, and it could be the answer to India's water scarcity problems. Charity: water will undertake a pilot project in Andhra Pradesh this year, and it has already made presentations to the Department of Water and Sanitation.
"We started developing the IoT device for the pump in 2015 and launched the first model — the Afridev handpump then, for Africa. Our largest concentration of projects is in Ethiopia. There were some other models launched subsequently. And we began working on the India Mark II model about a year and a half ago. It is almost ready for production, and our first production run will happen in Q1 of 2021," informed Gorder.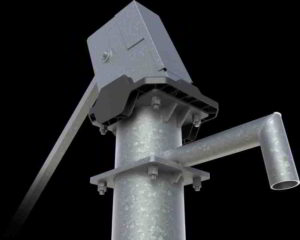 He said the IoT enabled handpumps will be sold in India on a non-profit basis. However, charity: water has yet to figure out a business model to fund the pumps and a way to pay/incentivize distributors and service technicians. According to Gordor, the cost of the pump and the sensor, which includes 10 years of data transmission, works out to $250 (approx. Rs 18,306) per pump. Charity: water is trying to reduce the per-unit cost.
"We will need to develop a sustainable funding model to scale truly. However, in the next couple of years, our objective will prioritize adopting and familiarity with this new technology over cost recovery," said Gorder.
Efficiency on the Edge
Cloud computing and affordable sensors offer both scale and reduced costs. Here's how the system works.
At the edge, each pump has a stack of eight capacitive sensors that measure the level of water 20 times per second. That adds up to 60 million readings per sensor every week. This data is compressed at the edge and periodically uploaded to the cloud. The compression is highly efficient, and the compressed data packet is as low as 15 kilobytes for hourly readings; 60 million weekly readings are crunched down to 168 hourly readings a week. The cost to transmit 15 KB on GSM networks works out to just 1 penny, informs Gordor.
This is much efficiency on the edge, considering that there are thousands of sensors today, which will scale up to tens of thousands in the future.
Once the data is uploaded to the cloud, it is stored and analyzed. The sensors also transmit the pump's GPS location and collect data about the volume of water flowing (in liters) and some technical data about the pump's operation. Data such as the village's name, the name and contact number of the caretaker, and other information are added to a particular pump report.
The reports are then emailed to managers early in the morning. They can analyze the reports and look for anomalies such as declines in flow rates, reductions in the ratio of handle movement to flow, which is the energy expended to produce a liter of water. If that declines, it means more cranks will be required to produce a liter of water, which indicates either the failing health of a pump or low water levels in the well.
Various AWS services on the cloud make all this possible: AWS IoT Core, AWS IoT Analytics, AWS Redshift database, and Redash (dashboards).
"These (services) are all modular and easy for us to adapt to our use case. At a modest cost, we can see how it's working, we can adapt it, as it's flexible. We have all of the IoT management tools to manage the fleet, to send out updates over the air, and to do all of the monitoring of the fleet," said Gordor.
Amazon Partner Network Support
Charity: water works with an ecosystem of partners who design and develop the pump; collect, process, and analyze data. Local partners are identified for the distribution, installation, and maintenance of the pumps.
When charity: water set out on its mission to develop an IoT sensor, they needed a partner who could help them with software support, with the mechanical and industrial design of, and connectivity to the IoT sensor. Through the APN (Amazon Partner Network), AWS (Amazon Web Services) was able to introduce charity: water to Twisthink, an innovation design firm that helped the non-profit expand the proof-of-concept which used IoT sensors to monitor their water pumps' health remotely, and Twisthink helped to design an end-to-end, cost-effective solution for remote pump monitoring that would mitigate downtime.
According to Sarah Cooper, General Manager, IoT Solutions, Amazon Web Services, Twisthink helped design a sensor that did not require any modification to the original pump. It used AWS IoT Core and AWS IoT Analytics to run machine learning algorithms to manage proactive and predictive water pump maintenance.
AWS engineering support: AWS and its partner Twisthink also work to help charity: water optimize their cost profile and ensures that charity: water benefits from AWS's latest capabilities through engineering/technical support that AWS offers.
Access to AWS Partner Network (APN): This is a global community of Partners who leverage Amazon Web Services to build solutions and services for customers. AWS helps Partners build, market, and sell their AWS offerings by providing valuable business, technical, and marketing support. There are tens of thousands of AWS Partners across the globe.
Fund-raising: charity: water has been selected to be highlighted at the AWS re:Invent conference (30 November – 18 December 2020), AWS's largest annual conference with well over 400,000 registrants. In being selected, charity: water will be the recipient of donations through the Fill-it-Forward initiative, where USD1 will be donated to charity: water for every water bottle refilled during AWS re:Invent 2020 and scanned into the Fill-it-Forward App.
---
The writer was invited by Amazon Web Services to attend re:Invent 2020, virtual edition.