TRENDING
CeBIT India showcases Innovation and Collaborative Disruption
Hackers to develop applications around new age technologies like Social Innovation; Internet of Things; Cloud; Mobile and Virtual Reality
Hannover Milano Fairs India Pvt Ltd (HMFI), today kick started the 3rd edition of their leading trade fair, CeBIT India 2016 at Bangalore International Exhibition Centre (BIEC) in Bengaluru, India. The theme for this year is – Discover the Business of Technology Innovation! See how collaborative disruption is changing tomorrow's innovation. The show saw a conglomeration of global and domestic exhibitors, consultants, business experts and key government officials on one platform to explore latest technologies and new products. Day one's sessions at the CeBIT Global Conferences consisted of speakerships and discussions on opportunities afforded by a Digitization with a generous amount of focus on collaborative disruption and technological innovation. CeBIT this year had participation from 400 brands |191 exhibitors | 70 speakers | 2 stages held over three days.
The inaugural ceremony of CeBIT India was honored by eminent guests, Padma Shri winner, Prof. Dinesh Singh, Ex. Vice Chancellor, Delhi University along with Mr. Hrishikesh Nair CEO Technopark & Infopark State Government of Kerala. Prof . Dinesh Singh who gave the opening keynote on 'Collaborative Disruptions in creating future ready workforce in India'. He emphasized that India is moving at a rapid pace of digitization with fast evolving social and digital tools. Digital disruption of work and workforces are continuously evolving by breaking down traditional boundaries, enriching and augmenting human capability and creating work opportunities.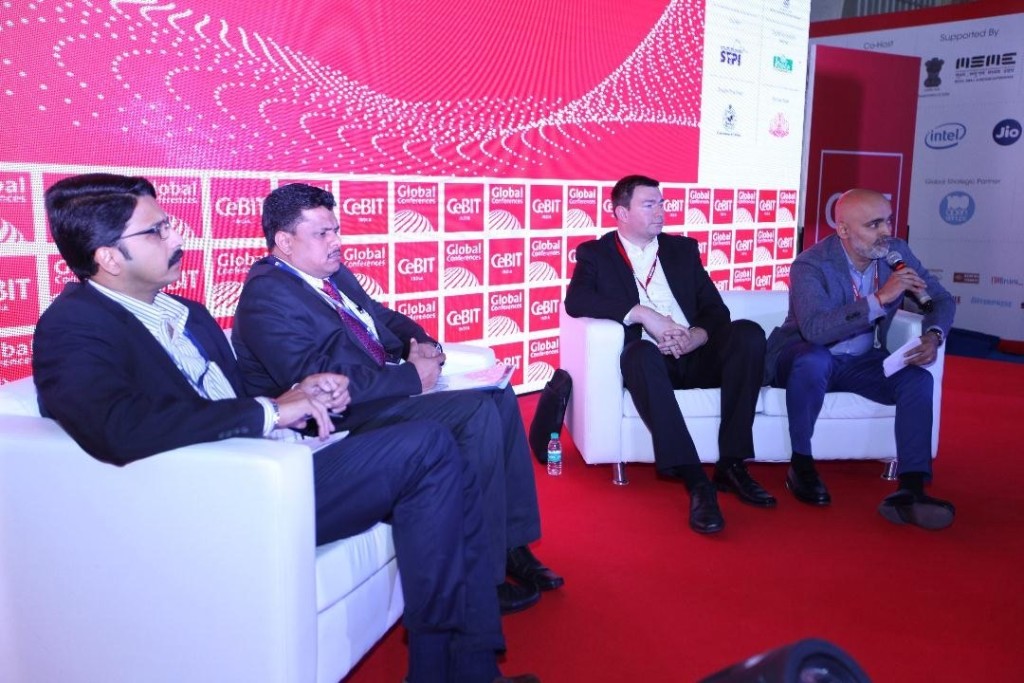 "Basis the immense success we have witnessed and the overall feedback received from the attendees over the previous two years, we are delighted to bring this year's CeBIT for the third year. We can expect the Indian IT and the ICT landscape gaining ground through remarkable technological advances bound to get even bigger in the coming year. There are plenty of exciting prospects for enterprises to undertake and stay ahead in their respective businesses. Digitisation has entered with a storm, there is no option for the companies but to keep pace with this change." said Mehul Lanvers-Shah, Managing Director, Hannover Milano Fairs India Pvt. Ltd. He further added, "With the consistent support from various government organisations, participation of IT companies and introduction of the IoT Hackathon, which is aimed to be the centre of attention for 2016, we anticipate the show this year to gain a bigger momentum. There is no dearth of talent in India and at CeBIT we help in supporting this pool of untapped potential"
"Over the years CeBit has been at the cutting edge of revolutionary ideas. There are few things that push the boundaries of innovation as much as the TeamIndus Moon Mission.. We are delighted to be part of CeBIT this year and to take everyone on board our exciting journey to the Moon" added Dilip Chabria – Jedi Master, Business Development, TeamIndus.
Prashant Mamtora, CEO Milople Technologies Pvt. Ltd "This is the second time that we are participating in CeBIT with very high expectations from the show. We have seen tremendous support from the visitors, customers and it provides a plethora of opportunities both globally and within the country."
Companies come together to encourage startups
The occasion also marked the launch of the IoT Hackathon, a 24 hour hackathon for developers, programmers and coders to find and develop solutions in the space of Social Innovation; Internet of Things; Cloud; Mobile & 4G and Virtual Reality. The hackathon will serve as a platform for knowledge sharing and networking. CeBIT India along with
Intel, Bosh & VentureSity, Digital Ocean, Reliance Jio is jointly organizing the IoT Hackathon for promoting the developer community. This 24 hour affair will give encouragement to the participants as they showcase new technologies to the honchos of the industry.
Continued support from government bodies
CeBIT India in its third edition,  have received unswerving support from the trade bodies as STPI reiterates its association for digital inclusion of upcountry locations, along with Ministry of Electronics & Information Technology, MeITY (formerly known as DeITY). This association will identify top 100 MSMEs in driving growth of the Indian manufacturing and ESDM sector, and enabling the Indian Government's focus on digitalized economy.
PRESS RELEASE