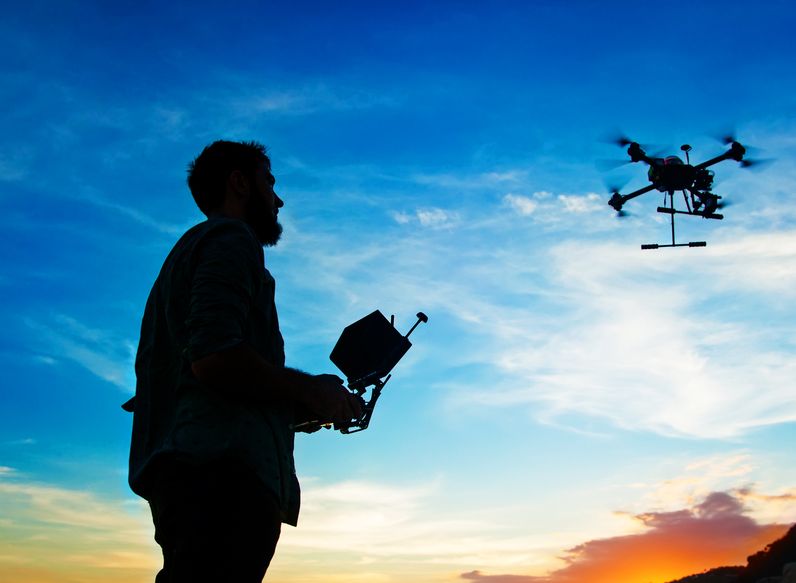 New drone technology paving the way to attractive business concepts in numerous sectors
Hannover. Unmanned aerial vehicles ("drones") have spawned numerous new business models – for example, in logistics, agriculture, public services and the security sector. Against this background CeBIT has teamed up with DRONEMASTERS in order to stage the "DRONEMASTERS [email protected]". This new event will consist of an exhibition, a conference extending over several days, as well as a flying arena in Hall 16. The spotlight will be on commercial drone applications.
The conference speakers include Lukas Wrede (CEO and founder of Skycart Drone Delivery Solutions in San Jose, California), Christian Janke (development engineer at the European Aviation Security Center), Jörg Lamprecht (co-founder of Dedrone, a manufacturer of drone detector systems based in Kassel, Germany) and Robert Reichert, head of OiC, a "full-service drone provider" based in Remscheid, Germany.
The goal of DRONEMASTERS is to actively influence the development and deployment of drones in all areas. This organization brings together innovative stakeholders from all business sectors with the aim of creating new business models, resolving regulatory issues and accelerating technological progress.
Trendsetters in civilian drone deployment
One of the trendsetters in civilian drone deployment is the Deutsche Post subsidiary DHL. In 2014 the company initiated a pilot project for the drone-based transport of medicines to the North Sea island of Juist. For this purpose the Federal Ministry of Transport and Digital Infrastructure and the German Air Traffic Control Authority created an exclusive flying zone for the DHL "Parcel-Copter". Other European postal service providers (e.g. Swiss Post – an exhibitor at Partner Country Switzerland during CeBIT 2016) have deployed unmanned aerial vehicles to make deliveries to remote mountain villages.
Major IT players such as Intel and Microsoft are likewise experimenting with drones. Just a few weeks ago Intel paid an undisclosed sum for a controlling interest in the German start-up Ascending Technologies (Asc-Tec), which manufactures drones for professional civilian applications, e.g. the monitoring of pipelines.
Researchers at the Fraunhofer Institute for Material Flow and Logistics (Fraunhofer IML) are working on an aerial robot ("InventAIRy") which is capable of carrying out stock checks in warehouses. This flying assistant is designed to locate and log objects automatically by means of barcodes and RFID chips. In parallel the researchers are developing smart interfaces in order to transfer the collected data seamlessly to existing IT systems.
European Commission intent on introducing uniform legislation
The European Commission has announced uniform rules for the deployment of sensor-equipped aerial vehicles within the EU. This standardization is expected to generate annual savings of at least €5 billion and cut CO2 emissions by up to 50 million tons. The EU's key priorities are to enhance aviation safety and to create a consistent legal framework for commercial drone users.
Data protection and privacy are important considerations in this context. The Federal Transport Ministry is planning to introduce a proficiency test for commercial drone operators. In a recent interview Lufthansa's CEO Chef Carsten Spohr has stated that his company is interested in training drone pilots and in carrying out maintenance. The airline's Lufthansa Technik subsidiary already provides extensive technical support services for several aircraft manufacturers.
Big Data on farms and shark alarm systems
In future drones will belong to the technical infrastructure of many commercial enterprises. For example, Hubertus Paetow, the Chairman of the German Agricultural Association, regularly scans his fields with the aid of a drone-borne digital camera in order to detect problems such as excess moisture and pest damage.
A company in China has come up with an autonomous drone which deposits liquid fertilizers and herbicides on arable land. An on-board radar system navigates the drone to the target area and ensures that sufficient altitude is maintained in order to avoid any over-fertilization of the crops.
Drones can also play a valuable role in the planning of wind farms. German researchers have used unmanned aerial vehicles to measure wind speeds near the island of Heligoland. And along Australia's coastlines drones are now used to prevent shark attacks. As soon as a threat is detected the drones relays the exact GPS data to a control center, which then issues loudspeaker warnings to swimmers and surfers.
These examples illustrate the enormous potential of drones in a wide spectrum of applications ranging from agriculture to logistics and healthcare. "DRONEMASTERS [email protected]" will deliver a literally uplifting mix of conference dialogue and presentations of all the latest advances in the field.
—————————————————————————————————————————————–
PRESS RELEASE