Every progressive organization and visionary business leader is thinking about AI (Artificial Intelligence) today. They acknowledge that it will shape the future of business and help them stay in the race. AI is now a boardroom discussion — it has moved beyond the hype stage and is the new normal in enterprises. Yet most do not know how to implement AI within the organization and make it mainstream to accelerate decision-making process. Forrester's 2017 survey found that 39 percent of business respondents are not sure what AI would be used for, and 29 percent think they need to invest in data management first, in preparation for a possible application.
While everyone is talking about AI these days, few organizations have implemented it for business outcomes. At one end of the spectrum, you will see start-ups dabbling in AI. And at the other end of the spectrum, we see all the tech giants — Amazon, Google, IBM, Microsoft, Tesla — with AI products and technologies that are beginning to impact our lives.  But what about the rest of the Fortune 500 or the Global 3000 companies? In that sense, AI is still in its nascent stage of adoption and is yet to become mainstream.
According to a 2017 report by MIT Sloan Management Review and BCG, while nearly 75 percent of business executives expect AI to be critical in opening doors for new lines of business and creating competitive advantage for organizations, only about 20 percent have incorporated AI in their offerings and processes. Around 39 percent of all companies have an AI strategy in place, which is about half of the expected number of large companies.
Why?
Because there is a lack of understanding of the AI strategy and implementation. Business leaders fail to understand how AI can be weaved into their core strategy, business processes and operations.
As I set out to read this book, I had some questions in mind, and was looking for the answers:
How long will it take for machines empowered by AI to surpass human intelligence?
Will intelligent machines replace human workers in factories, warehouses and offices?
Will AI become an existential threat to humanity?
When will machines have the same common sense as humans?
When will machines be able to respond to new situations without human intervention?
You could get some of these answers if you read Sameer's blog titled 'Demystifying Data Analytics, Decision Science & Digital'. Sameer has written 150 blogs over the past five years covering various topical themes and genres in AI and Analytics.  These blogs serve as the basis for this book.
I was delighted to discover that Sameer started answering these questions in the Preface itself. And as I read through the chapters, I got a deeper understanding of the enormous possibilities and limitations of AI, and how it is evolving.  I also understood what business leaders need to do to leverage AI for business advantage.
Sameer Dhanrajani is a renowned AI and Analytics evangelist and thought leader who has consulted for several Fortune 500 and global enterprises in driving AI and Analytics led strategic transformation. He is currently the Chief Strategy Officer at Fractal Analytics. Sameer has previously worked in the capacity of Global Business Leader – Analytics & Data Sciences at Cognizant Technology Solutions, where he scaled the analytics and data science business to a market leadership position.  He also served as Country Head at Fidelity National Financial and as Vice President – Analytics at Genpact. He is a regular speaker at AI, Analytics and leading business conferences and has won multiple industry awards as a business leader. Sameer is also an industry advisor and council member to multiple government forums and academic institutions.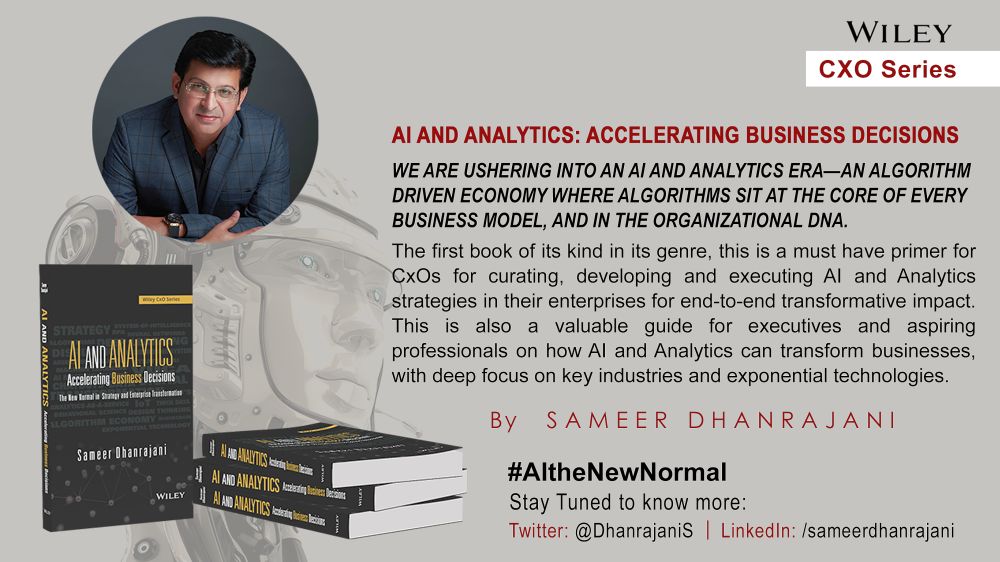 What's in it for the C-suite?
I'm not surprised to learn that it is not just the CIO or CEO who expresses interest in AI these days — other C-suite execs like the CMO, CFO and CHRO are also asking questions about AI.  And this book is also for them. The CHRO for instance wants to know how AI can help in doing more accurate skills assessment for employees. Can AI determine if a candidate has the right experience, soft skills and knowledge for a particular job role?
The second section provides a commentary on specific examples of analytics and AI adoption for CXOs, with contextualized working scenarios and use cases of functions and business value chain disruptions.
The third section demonstrates topical details of disruption and transformation brought about by AI and Analytics, for multiple sets of industries – Banking, Insurance, Healthcare & Life Sciences, Retail & CPG.  Each industry chapter entails specific nuances of the way AI and analytics have created high decibel business impact in areas of Risk Mitigation and Fraud Prevention, Customer Experience, supply chain, Personalized Medicine and RWE based Drug Testing, claim processing and customer experience using robotization and chatbots.
While exponential technologies like Blockchain, IoT, cryptocurrencies, drones, RPA are creating ripples in enterprises, a section is dedicated to exhibit all these exponential technologies core frameworks underpinned by AI and Analytics.
In nutshell, the book will attempt to lay out a complete roadmap of AI and Analytics strategies, provide an aggregated view of adoption scenarios and consumption for CXO's and multiple industries and demonstrate accelerated decision-making process mechanisms for CXO's. Finally, the book takes a forward-looking outlook for AI and analytics industry that can arm CXO's and make them future ready.
Salient highlights of the Book:
A detailed primer for executives and professionals on executing AI and Analytics strategies in their enterprises for end to end transformative impact
Exhaustive repertoire of AI and Analytics strategy roadmaps, frameworks and methodologies for CXO's coupled with broad exhibit plan of making the enterprises AI ready
A comprehensive overview of algorithm economy and its deep transformative potential of morphing enterprises into math houses
Incisive study of C-suite stakeholders – CMO, CPO, CFO, CIO radical role and functional changes on strategic and operational sides underpinned by AI and Analytics infusion
Discover the immense AI and Analytics adoption and consumption scenarios in high impact industries of Banking, Insurance, Healthcare, Life Sciences, Retail and CPG
Thought provoking facets of AI and Analytics pervasive interventions in exponential technologies: Chatbots , RPA , IoT , Cybersecurity , Blockchain , Cryptocurrency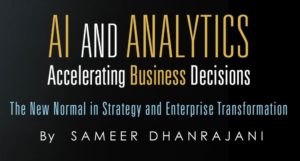 AI and Analytics
Accelerating Business Decisions
Sameer Dhanrajani
Wiley, 372 pages