TRENDING
BarrierBreak launches news app and website for disable persons at Techshare India 2016
NewzHook app and website launched for person with disabilities
Delhi –  3rd March 2016: At the two day Techshare India 2016 conference here, start-ups were urged to look at the 4,500 crore assistive tech market for persons with disability. The conference and exhibition was organised by BarrierBreak on 3rd and 4th of March. About 1000+ people turn up at the event's 5th Edition at India Habitat Centre Delhi.
At the event BarrierBreak launched NewzHook, the first ever news for persons with disability.
"50% of India's 100 million persons with disability are under the age of 30. This is a huge market for assistive technology products," says Shilpi Kapoor, MD Barrierbreak, a company that works in the area of accessibility and assistive technology.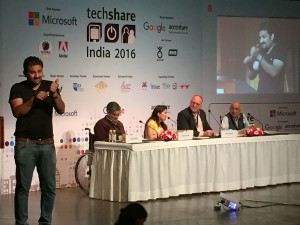 Techshare 2016 was inaugurated by Dr.Vinod Agarwal, Secretary, Department of Empowerment of Persons with Disabilities, Ministry of Social Justice & Empowerment, Shilpi Kapoor, MD Barrier Break, Javed Abidi, Honorary Director NCPEDP, Som Mittal, Chairman NCPEDP and Robin Spinks, Principal Manager Digital Accessibility, RNIB.
Speaking at Tecshare 2016, Dr.Vinod Agarwal, announced a budget of 200 crore for Accessible India for this fiscal, which was received with a huge round of applause.
Talking about NewzHook, a NewsApp and Website for the persons with disabilities, Shilpi added, " persons with disability can read the news, listen to it with a screen reader, see a sign language video and view it in high contrast with different text sizes.
Most news portals and mobile apps are inaccessible to people with disabilities and the elderly. NewzHook aims to provide simple and accurate news that matters to every one of us, but differently.
BarrierBreak aims to include:
Our grandparents who find it difficult to read small print
Visually impaired who use a screen reader
People who are hearing impaired for whom sign language is their language
This has been in the making for a long time, in my mind. For the first time, I have taken this enormous leap of faith. We can partner with institutions and conduct training programs in order to spread this message."
Techshare India aims to bring together the government, corporates, educators, NGOs and the disabled people so as to understand the needs and provide information on available solutions that can include people with disabilities to participate independently in all walks of life.
Paypal, EBay, Accenture, G3ict, TCS, DAISY Consortium, Mobile Manufacturers Forum, Al Noor Training Centre for Persons with Disabilities, Union Bank of India, Deque Software, Voice Vision, Dolphin Computer Access will be key speakers at the conference.
Disability is a social problem, but the solution lies in technology. Techshare's work has been instrumental towards the launch of the 'Accessible India Campaign (Sugamya Bharat Abhiyan)', in Dec 2015, by the Social Justice & Empowerment Minister Thaawarchand Gehlot had said that the government has  decided to set up a special University for persons with disabilities with the cost of Rs 1,700 crore. The Sugamya Bharat Abhiyan campaign also seeks to make at least 50 percent of all government buildings in the national capital and all state capitals "fully accessible" for the disabled by July 2018.
The focus of Techshare India 2016 is 'digital inclusion' and hence there are set ups for:-
1.   Accessible resource centres  – libraries/universities that can be accessed by persons with disabilities
2.   Accessible banking- making banking easier for persons with disabilities.
Shilpi's own company, Barrierbreak in Mumbai is an organization that largely employs PWDs and also focuses on creating products that empower PWDs.
Adds Shilpi, "For start-ups in the technology space, there is a commercial opportunity of 4500 crore,  waiting to be tapped, across product categories for PWDs who have
1. Visual impairment
2. Low vision
3. Hearing impairment
4. Physical disability/motor disability
5. Learning disability
6. Speech impairment.
In today's technology age, and with campaigns like Digital India, Made in India & Smart Cities, people with disabilities cannot be forgotten."
About BarrierBreak 
BarrierBreak works in the area of accessibility and assistive technology. They are pioneers in accessibility in India. 75% of our team has a disability and we believe in ensuring that technology can empower the lives of people with disabilities and can build inclusion.
BarrierBreak has been responsible for getting the government to include accessibility as a requirement in the Guideline for Indian Government Websites and also drafted the National Policy on Electronic Universal Accessibility that was passed by cabinet under the DeiTy.
——————————————————————————————————————–
PRESS RELEASE