TRENDING
Banks reaching out to Gen Y through digital channels and smart devices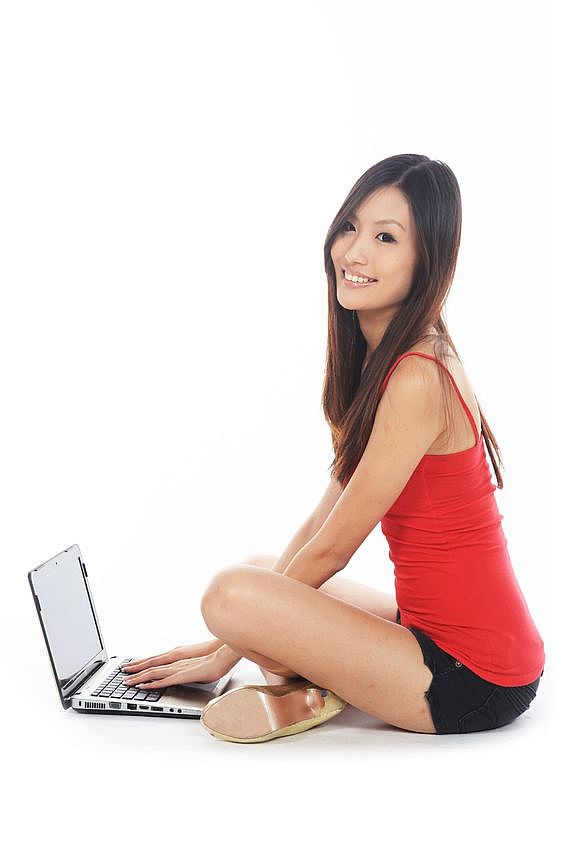 India has the youngest population in the world. More than 50% of its population is below the age of 25 and more than 65% below the age of 35. By 2020, the average age of an Indian will be 29 years. There is another interesting demographic: there are more mobile phones in India than bank accounts. And the youth are transfixed to their mobile phones, accessing the Internet for news, social media and entertainment. With most utility services going online, millennials are skipping traditional channels (like standing in long lines to pay bills) and logging in to sites to do the same, because of the convenience and speed. The BFSI industry in India sees a huge opportunity here and is now looking at social media as a strategic channel to sell services and products to the youth. You can pay utility bills through online banking. Even insurance companies sell policies online and through social media channel these days; the friendly neighbourhood LIC agent has kept up by going around with a laptop or tablet!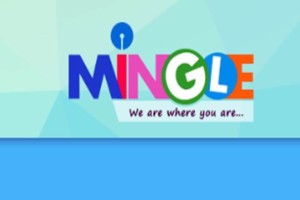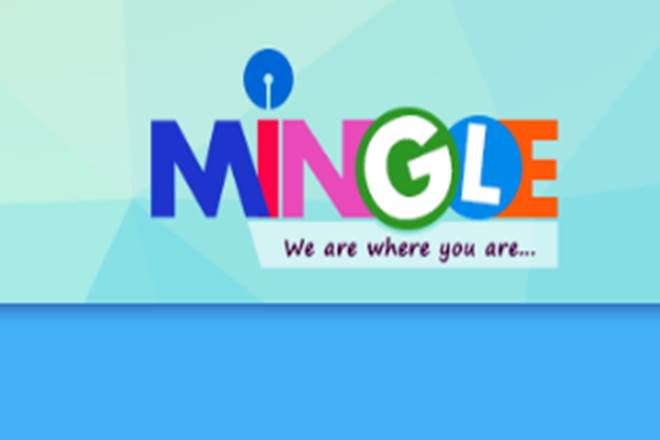 State Bank of India (SBI), the country's largest bank, recently launched SBI Mingle – its social media banking platform for Facebook and Twitter users. Using SBI Mingle, the bank's customers can avail of a host of banking services via their Facebook or Twitter networks.  For instance, SBI account holders can log into Facebook and transfer money to another SBI account holder, through the Facebook messenger widget. Even inter-bank transfers are possible. They can also perform other transactions such as checking balances or asking for mini statements. And all this without logging into their bank account online. Through 'Mingle' SBI has blended banking with a routine activity for the youth – chatting with friends or relatives on Facebook.
Speaking at the launch of SBI Mingle, Arundhati Bhattacharya, Chairman, SBI said, "The bank has witnessed tremendous engagement from its customers on each of its social platforms for queries, information, advice and complaint resolution. Being aware that the millennial customers no longer interact with their bank from a traditional channel perspective, the bank is planning to introduce more services like request for chequebook, stop cheque, register for mobile banking, internet banking, SMS alerts and block ATM/Debit Cards on this platform soon."
SBI customers have to register for this service through a simple one time registration process using either their account number or their ATM/Debit Card details. After registering they can undertake the various banking facilities available on the platform. Currently balance enquiry, mini statement, funds transfer within SBI as well as inter-bank and beneficiary management services are available for Facebook. On Twitter, using hashtags the customers can find out their account balance and view mini statements.
HDFC Bank, the country's second largest private sector bank has just launched digital banking for SMEs. Speaking over a video-conference link, HDFC Bank Group Head (Business Banking) Aseem Dhru said, "The new service will allow existing clients to access a complete suite of services instantly and round-the-clock on the device of their choice — desktop, laptop, tablet or mobile. This will eliminate the need for SMEs to call a relationship manager or visit a branch."
The bank has over one lakh SME customers and expects 60% of all types of SME transactions to move online within 12 months. SMEs constitute 15% of its overall loan book as of March 2016.
Kotak Mahindra Bank is all set to roll out account opening through computer tablets. The bank, according to its Senior Executive Vice-President Ambuj Chandna, is in the midst of a pilot run, trying out the process across select cities, such as Mumbai, Pune and Bangalore.
Axis Bank is a pioneer in digital banking and is the first Indian bank to offer Aadhaar based eKYC mode of paperless account opening service through MicroATMs for its customers. The bank was also the first Indian bank to introduce innovative services like Swipeon — a mobile phone based card acceptance service, Instant Money Transfer (IMT), an instant remittance service. Its mobile app Axis Mobile 2.0 offers a high level of personalization, allowing users to customize their mobile banking experience. The app topped Forrester's review of smartphone Mobile Banking apps in their 2015 Indian Mobile Banking Functionality Benchmark report. The bank has also introduced Ping Pay, a unique multi-social payment solution to enable customers to transfer funds, person to person, including to non-Axis Bank account holders, using varied social channels like WhatsApp, Facebook, Twitter, Email list and Phone Contact list.
DBS, Singapore's largest bank is raising the bar in the innovation space. It is offering DBS digibank, a mobile app designed to make banking simpler, smarter and faster for its customers. The new DBS digibank app delivers a 'mobile-first' experience and builds on the bank's continuous efforts to innovate on its digital offerings to enhance the customer experience. For the first time in Asia, customers are able to view their account balances with a simple swipe on their mobile devices or Apple Watch. This function, called the Peek Balance, does not require any pre-login and customers can choose to "peek" at any of their DBS/POSB deposit or credit card accounts. The "account balance enquiry" function is the most used among DBS' customers across the bank's platform, including ATMs, online services and its call centre.
Download the wallet app, enter Aadhaar and PAN number for KYC (Know-your-Customer), visit a Cafe Coffee Day outlet for biometric verification and your bank account with Singapore-based DBS bank will be up and running. This mobile-based bank's customer support uses artificial intelligence. A bot answers questions. About 90 per cent customer queries are standard which don't need human interference. The customer can also choose to chat with an executive. As it is mobile-only, the bank doesn't provide a cheque book. But, customers do get a debit card.
"Being relatively new in the market, we don't have legacy systems. The bank could therefore start from scratch and deploy newer systems and processes," says a DBS spokesperson.
Watch Banking
Gen Y is also taking to smart watches and fitness bands. And this is another channel that the banks are looking at.
SBI just announced SBI Smart Watch, an app for iOS and Android devices.
Mrutyunjay Mahapatra, DMD & CIO, SBI said, "Smart Watch is becoming an inseparable part of one's personality. When you use it for the first time you need to sync it with your SBI Anywhere Account. After that you can use it for your accounts statement enquiry, last transaction enquiry etc. The first version of Smart Watch has been launched today and we will be adding many more features in future versions."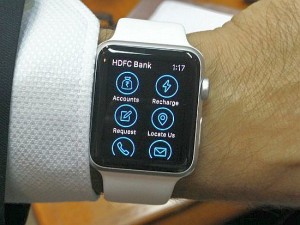 HDFC Bank's WatchBanking smartwatch app has about 14 features. The app allows HDFC customers to perform various tasks such as view information of all their accounts, recharge their mobile and DTH (direct-to-home) connection (users have to register for this service on their mobiles), request for an account statement or cheque book, locate an HDFC Bank ATM or branch, or even call the bank.
ICICI Bank was the first to launch a smart watch app. Its iWear app, which was launched on 22 April 2016 and works on Apple Watch, Android Wear and Samsung Gear.  Features on this app are similar to what's on HDFC Bank app.
Axis Bank too has a similar product, but has not yet given the app a name. It wants to make banking simple and hassle free for its customers.
Banks feel the Apple Watch has been the primary driver for watch banking. There is a sizable base of Apple iPhone users in India, and that makes watch banking a viable proposition.
E-commerce and online shopping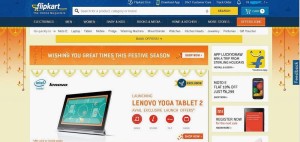 Gen Y also spends much time shopping online or just browsing through e-commerce sites. And SBI has also tapped that channel through a partnership with Flipkart to offer 'pre-approved EMI' for consumers.
Under this partnership SBI will provide overdraft facility to a pre-qualified set of customers for transacting on Flipkart for a minimum purchase of Rs. 5,000. The EMI facility will be available in 3 tenures – 6, 9 and 12 months. The bank will not charge any fees to process the facility.
Commenting on the launch, Rajnish Kumar, Managing Director (National Banking Group), SBI said, "With the introduction of this product EMI facilities on Flipkart are now not limited to just credit cardholders. The objective is to provide finance to credit worthy individuals through an end-to-end online facility without having to go through the process of applying for a personal loan for simple purchases."
So one can now purchase products online on Flipkart without the need to have a debit or credit card. It has been estimated that credit and consumer finance options in India are primarily limited to credit cards, which is confined to just 1% of the entire population.
Conclusion
Gen Y is India's future and the banks want to engage with this generation and 'catch them young'. Through initiatives like social media and watch banking, there is an opportunity to increase the customer base. And young customers are keen to adopt newer technologies. As banks go digital they will continue to come out with more innovative services that appeal to Gen Y. Millennials are also changing the face of banking and are driving this change. There is also a benefit for the banks: since the customer is young the bank can look forward to longevity of the relationship and many years of business.