TRENDING
Ambrane India launches heavy duty 15,600 mAh Power Bank
Made in India – Fabricated by Li-ion Cells – Multiple Chipset Protection
Key Features-
Heavy duty capacity of 15,600mAh
Two USB ports
Multiple chipset protection
Fabricated with (APB) Li-ion cells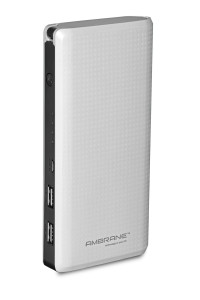 The bigger the capacity the more juice there is to charge your smartphones or tablets. Holding true to the thought Ambrane India one of the leading IT firms in computer peripherals, Mobile Accessories and No. 1 in power banks* announces the launch of its latest high capacity 'P- 1311 15,600mAh Power Bank', pocket friendly solution to your battery life woes. Undoubtedly dedicated to modern style of living, the Power bank offers long lasting support to all your charging needs anytime, anywhere!
Good Looks with Performance:
It's not always that you have to compromise on aesthetics for performance. Priced at Rs 1,499 and crafted perfectly to match your style quotient with its classy texture finish, the device is everything to adore. Compact and light enough to have in a bag and forget about – It's the power to go the extra mile with ease.
High Power Capacity:
When you absolutely, positively got to charge every device in the room, accept no substitutes.
This versatile charger offers two USB Ports 2.1A port and 1A port, allowing you to simultaneously charge two devices at one go. The Micro USB Port in the center is the speedy solution, both at charging itself up and at charging multiple devices!
The portable charger suffices the need to charge all your devices multiple times and still have some more power left in it. Designed for the heavy users one can expect 6 times full charge cycle for Apple iphone5, 4 times for iphone6 and also 3-5 times for Samsung Galaxy and
Compatible to most of the devices:
If you want something stylish that packs plenty of power, indeed this is it – The perfect external battery for all your smartphones, tablets, laptops etc. even if you are on an expedition to the end of the world. It's compatible, with several digital devices which include smartphones, cameras, rechargeable speakers, smart watches and several other digital devices.
Safety First:
The powerbank is not only efficient but technologically intuitive as well. Its multiple chipset protection provides better security features. Crafted with keeping safety in mind – The device monitors output current and shuts off when current exceeds the maximum limit to protect the device. Furthermore the device is well protected from High temperatures, short circuits, over discharge and electromagnetic fields.
P-1311 is fabricated by Ambrane Power Batteries (APB) Li-ion cells, which provide better charging capacity with 15600 mAh.
A fanatically blazed flat torch light has also adhered with P-1311 which may be used as a table lamp. A toggle switch for the Torch Light along with the power button on top brings four bar LED to life to indicate roughly how much power remains to pump up your gadgets.
Overall this is a great value, portable charger for everyday use. The product is already available with leading retail stores and ecommerce portals with one Year of Warranty.
About Ambrane India
Ambrane India has been at the forefront of technology since 2012. A pioneer in technology, with its PAN-India presence, through its wide network comprising of over 330+ service touch points. The aesthetically designed products at affordable prices helps Ambrane enjoy a leading market share in many of its product categories.
With 330+ service centres pan India and online customer support infrastructure, seamless service support and customer satisfaction strengthens the core of Ambrane's existence.
Ambrane products are sold at all the leading online platforms such as Homeshop18, Flipkart, Snapdeal, Amazon, Indiatimes, Shop clues among others as well as at different retails stores like Reliance Digital, Metro, DigitalXpress, Best Price and many more.
———————————————————————————————————————————————
PRESS RELEASE