ESDS (Exuberant Support for Data Service) launched its second datacenter at Navi Mumbai. This is a Tier-III datacenter, certified by the prestigious Uptime Institute. It also signed an MoU with the Government of Maharashtra to provide cloud services for its G2C initiatives. ESDS hosts the government's Stand Up India portal that was launched a few days ago.
In an exclusive interview with DIGITAL CREED, Piyush Somani, MD & CEO, ESDS reveals the secret honey (auto scaling technology) that is attracting CIOs and government to his beehive in the cloud. ESDS has received an international patent for this technology.
In this interview, he also helps us understand terms like vertical and horizontal scaling.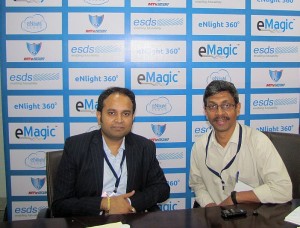 Q. In his keynote here at the launch of your new datacenter, the Chief Minister of Maharashtra spoke about e-tendering, smart cities and integration of government services. What is the role that Cloud can play in G2C (Government to Citizen) and in supporting initiatives like Stand Up India?
Piyush: G2C is not at all possible without Cloud. Earlier it was G2G, wherein the Government knew they has 5,000 people (fixed number) in their department. So when they needed to do sizing for that department the hardware was procured for those 5,000 people. And those 5,000 people only communicated on an intranet or MPLS network, which was completely isolated from the Internet. So they never had any security issues, and they did not have to buy a lot of hardware. But when you initiate G2C for 10 crore citizens within Maharashtra, you cannot get the sizing done in a similar manner (as was done in the days of G2G). Also, there is no assurance that all the five crore people are going to log in and connect at the same time. It could be 50,000 or 50 lakh people logging in. So you do not have any fixed sizing.
The Stand Up India portal was launched from our cloud platform a few days ago. No one knew about the sizing. We were told to expect a concurrent number of 10 lakh connections during the media coverage of this event. It is impossible to procure hardware for all this, and at such scale. Our cloud was ready to handle 1 – 10 million connections for Stand Up India. After the event, the traffic dropped, and now the usage is low. But the usage will increase over the next few months as the government increases awareness about Stand Up India.
I have observed that new services launched in India do not become popular immediately. People want others to test these services and give their feedback. People start using the service or product only when they hear good things about it.
So I believe G2C will be a huge success in future, but only if the right strategy to deploy G2C on cloud is adopted.
We are ready to partner with Government, PSUs and corporate.
Q. What is the biggest change you have made to the cloud with eNlight 360?
Piyush: The biggest thing is Vertical Scaling (also see explanation at the end of this article). To explain this in simple language: Let's say you are expecting a few guests at your place, because of a big event in your locality. To accommodate them, should I buy a new 5 BHK house or just take a guest house on lease? Cloud is just like that – you need something temporarily.
So in enterprises, you have some workloads that are going to consume a lot of compute resources. They want to borrow resources from other VMs. eNlight cloud can borrow VMs in real-time, service the workload and then return those resources in real-time, after the processing is over. And this is available now for on-premise. This enables a group of companies to borrow compute resources from each other. And there are charge-back and pay-back mechanisms.
So you pay only for the resources you use and we call this 'pay-as-you-consume'.
Then there is a burst feature – when you fall short of resources (during peak loads) in your on-premise infrastructure, certain VMs will move to our public cloud. This is called bursting out to the cloud. As and when resources are available in your datacentre, the VMs will be moved back on-premise.
Q. How exactly does eNlight cloud lower the Total Cost of Ownership of running a datacenter?
Piyush: There is a misconception that money is only needed at one time to set up a datacentre. But you will see that, from the second year onward, there are recurring AMC costs and renewals, licensing costs, managed services, manpower, replacement of components and many other costs. So the costs add up – if you initially invest Rs 2 crore to set up a datacentre, over a period of four years you are spending Rs 1 crore to maintain it. And then there is manpower cost. The hardware becomes obsolete in four years.
So cloud is actually helping CIOs to save costs and they want to move their infrastructure to the cloud. It helps you run your organization in an optimum way, and you cut down your investment in non-productive work; you want your IT staff to focus on product innovation, not on troubleshooting or firefighting.
I see that organizations that have moved onto cloud have realized improvements in top-line and bottom-line. Their businesses are enjoying double-digit growth and are profitable.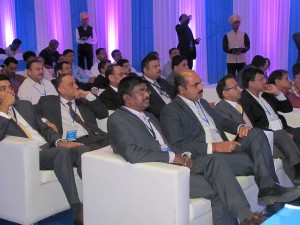 Q. What is driving demand for datacenters in India?
Piyush: India was only focused on B2B and the government on G2G. Now, businesses are also focusing on B2C and you see many e-commerce giants and Internet services emerging. And the government is focusing on G2C. This shift is driving demand for datacenters.
IoT is also driving demand for datacenters. And the large, tech-driven enterprises have been buying a lot of hardware and going in for co-location.
I see many moving to the cloud now, and the utilization of the horizontal space would be optimized. Over the next 5 years I see compute power per square meter in the datacentre increase by a factor of 25X – 35X. That's because people want to make optimum utilization of the space rather than just scale out.
We host customers from BFSI, manufacturing, government/PSUs, large corporates, oil & gas, infrastructure sectors. There is limited exposure to e-commerce.
Q. What is your vision and plans for the ESDS datacenter business in India?
Piyush: We want to have a triangular cloud setup between Nashik, Mumbai and Bangalore. So we will set up one more datacenter in Bangalore.
Our aim is to become the number one cloud service provider in India. And then we will look at global, which has a different cloud model.
And we develop our cloud platform based on the needs of people. eNlight 360 was developed because our customers had a particular challenge. We addressed that challenge and found that they only needed vertical scaling and some horizontal scaling. For instance, SAP HANA is an in-memory database and it needs vertical scaling.
The companies do not change their architecture, so we have adapted our cloud platform to their specific needs. Our platform supports both Tier-1 and Tier-III.
———————————————————————————————————————————————–

DC explains: Vertical, Horizontal, and Auto scaling
Vertical and Horizontal scaling are ways to scale up IT infrastructure when workloads increase. And this is done either when more users are added to an internal network or when more users try to access a server. It is triggered by events such as team expansion (during an M&A) or during media-promoted events such as cricket matches, elections, or online flash sales. There are two ways to respond to this demand: Horizontal scaling – wherein you just add more servers to the network, in a cluster configuration. This is also called scaling out/across and it is an expensive option.
With Vertical scaling you top up computing resources like compute, storage, and networking, within the same machine. In this manner, you can generate more Virtual Machines (VMs) and compute power to service increasing workloads. This is the smarter (and most cost-effective) way to scale your infrastructure.
Patented Auto scaling technology from eNlight cloud can scale your infrastructure up or down depending on your exact usage, so you pay only for what you consume. You do not over-provision resources and you do not over pay. You do not pay for a bunch of VMs in advance (in anticipation of a jump in workloads) and then find that you do not really need so many VMs, after all. It is like ordering 100 chairs for a family function from the decorator, and paying only for the 50 that your guests actually use – returning the other 50 without paying for those. In terms of IT resources, that translates to lower TCO and huge cost savings for organizations.
Now we know why CIOs love auto scaling!
———————————————————————————————————————————————–