Report from TiECON Mumbai 2016
Mumbai, 7 Jan 2016: CP Gurnani (CP) is credited with playing a key role in the merger of the ill-fated Satyam with Tech Mahindra. He oversaw the transformation of the merged entity, Mahindra Satyam, and its integration with Tech Mahindra. He has extensive experience in international business development, start-ups and turnarounds, joint ventures, mergers and acquisitions.
CP is also the Vice-Chairman of Nasscom.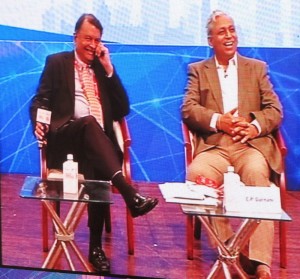 In 2009, no investor wanted to be associated with Satyam, and it was CP's task to change the image of the brand and make it a respectable company again.
We heard CP speak on stage in a Q&A fireside chat at TieCON Mumbai 2016. He was interviewed by Harish Mehta, CMD, Onward.
When asked how he handled the Satyam merger, CP was very candid in his response.
CP: When we looked at Satyam in 2009, we approached every PE firm that has an office in New York, London or in India. I personally pitched to them to partner with us. With the exception of one, all said it wasn't a great idea in 2009. The one exception that gave this idea a second meeting was a guy called Wilbur Ross, but he wanted 21 percent assured returns and a corporate guarantee from the house of Mahindra.
The learning: Many a time when you go to a VC or equity firm and they turn you down, they are not the smartest guys in the world.
When I walked into Satyam  in 2009, we faced 15 lawsuits from 15 parts of the world. There were hundreds of things that could have gone wrong – stock agencies threatening to blacklist us (Satyam); government agencies wanting to investigate us. Telling our people that we will rebuild this company and that they have a future – telling all these people that we will settle all the lawsuits, comply with investigators, do the audits – let's go through this crisis together.
The learning: Once we got people aligned to the task ahead, it worked very well.
He also spoke more about his experience with people, particularly the youth, and how they were a major source in the turnaround of the company.
CP: We had to rely on two sets of people: one set is the youngsters. (The other being experienced people). We took in seven young grads from the management schools – they were the only ones not asking questions and were willing to work 18 hours a day. We called it the Mahindra Satyam Global Leadership Cadre.
The thing was to bring in a lot of experience. And that's where Nasscom helped me. Without even knowing (the seriousness of this matter) the senior Nasscom members said they would not let this (Satyam) ship sink.
We need the firepower of youth. But we also need the experience and wisdom of "senior citizens" (laughs).  The model will only succeed if we are able to bring in a certain amount of checks and balances. For instance, Mark Zuckerberg can rely on Sheryl Sandberg who comes in with strong COO experience.
The learning: The lesson we learned from our Satyam experience was that youth have that can-do (spirit) and can ignite your minds, but at the same time you need some wisdom (experienced people).
That hybrid model worked; breaking the problem into smaller pieces and taking risks works.
He was also commended about his energy and asked what is the source of it.
CP: When we get up in the morning, we have a sense of purpose. Anand (Mahindra) has said on stage and addressed the leadership. He has made it almost like a mission statement saying: If you get up in the morning and you don't have bounce in your step, if you don't have a sense of energy or a sense of purpose, it is not worth coming to office.
I have always looked at challenges as an opportunity. I have always looked at the exponential – I have never looked at 1X growth – I looked at 10x growth. If I set the bar higher, I have to work harder to get to that higher bar. So this is what (drives me).
Words of wisdom from CP
CP: My father was an honest government officer he was kicked out of his job ever 18 months or two years – he was transferred every two years. So when we went to a new city or town – nobody knew us there. The place survived without us. The school there survived without me. Nobody needs you. You need to find your place.
The learning: The reality is no one needs your company. If we work on that as the principle and then make our pitches, I think it will work.
And what was the one thing that got Tech Mahindra ahead?
CP: All of us realise that it is never a bad idea; it is always the timing of an idea. We like to take calculated risks and some of us at Tech Mahindra did exactly that.
———————————————————————————————–