India has almost 100 million farmers who are heavily dependent on agriculture for their survival and livelihood. These farmers borrow money from banks and money lenders. When the monsoon season is weak there is low agricultural yield, and the farmers are unable to repay their high-interest loans. As a result, there have been thousands of farmer suicides in India every year. This is a massive societal problem for India.  Agriculture contributed 17% to India's GDP in 2013 -14 (declining) and provides employment to 60% of the population.
Microsoft India decided to do its bit to address this problem. It looked at all the technologies – AI, IoT, machine learning, drones, mixed reality – and produced an application to help farmers increase their productivity.
Photo gallery: Inside Microsoft Garage
The application started as a research project called 'Farm Beats' and the idea was born in the Microsoft Garage. The application gathers environmental information necessary for agriculture. It offers predictive models and gives actionable insights to farmers, to enable them to be more productive.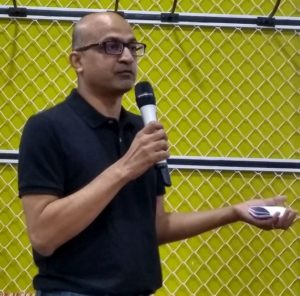 "Our goal is to empower every person and every organization," said Anil Bhansali, Corporate Vice President, Cloud & Enterprise, Managing Director, Microsoft India (R&D) Private Limited. "Garage is a resource that is available for all Microsoft employees to come and collaborate on a day-to-day basis, so that they can produce new innovative ideas and ways to solve problems."
Farm Beats is just one of many big ideas that were born in the Garage. The other applications that were initiated in the India Garage are: SMS Organizer, Seeing AI, Kaizala, Favorite Lock Screen.
Though Garage has been active in India for some time, it was officially launched in Hyderabad on 26 March, 2018. The Hackathon and other Garage activities are driving culture change across Microsoft by empowering employees to take risks and try new things. Employees make prototypes and show these to customers. Folks from the Microsoft ecosystem (even competitors) can interact with these prototypes and contribute ideas.
Microsoft has an Innovation Life Cycle with a series of phases like Idea stage, Proof of concept,  Prototyping, Incubation, Accelerating, Scale — until it becomes a product that can be shipped to market.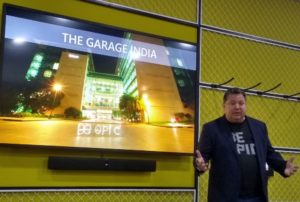 Speaking at the inauguration of Garage, Jeff Ramos, Partner Director, Microsoft Garage said, "The Garage is about the democratization of innovation. There was a time in the corporate world where we worked in a hierarchical system and senior people would tell us what good ideas were; a small group of people were responsible for ideas. We believe that anyone can have a great idea. At Microsoft we hire the brightest people in the industry and give them an opportunity to be creative and to share their ideas."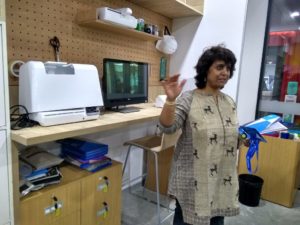 Reena Dayal Yadav, Director, Microsoft Garage – India said, "The Garage gives people an opportunity to harness their collective potential. The focus of Garage is on Employee, Ecosystem and Experimentation. We have established Garage Chapters (technical topics like AI) and we create working groups that do the prototyping in the labs here. We provide certain equipment to people to work on cutting-edge technology. For instance, an IoT enthusiast will have the sensors and necessary equipment to work on an IoT project. But they also have access to a bigger group of people at a global level, who can offer advice and mentorship."
Microsoft has opened Garages globally in Redmond, Silicon Valley, Vancouver, New England, Boston, Herzliya (Israel), and Beijing. Microsoft employees in other Garages collaborate on projects. Ramos informed that a second India Garage will open in Bengaluru this year.
There is an annual global hackathon that takes place in Redmond, every July. Microsoft sponsors an Indian team with the best idea for the global hackathon.
Great ideas can indeed lead to something big!
Brian was hosted by Microsoft India in Hyderabad.
You might also like to read: Microsoft inaugurates The Garage – India