[vc_row][vc_column width="8/12″][vc_single_image image="3437″ img_size="large"][vc_column_text]Mail: [email protected]
What is Digital Creed (DC) all about?
As we embark on the fourth wave of IT, we see traditional businesses becoming technology companies, where IT is no longer an outsourced service. IT once played a supportive role, but has now become the core of business. This trend is driven by consumers who are always connected and who embrace the latest digital technologies. And this is disrupting old business models. So businesses must embrace Social, Mobile, Cloud and Analytics to become truly digital. This journey is known as Digital Transformation.
Digital Creed will encourage, highlight, exemplify, illustrate and report on the digital transformation journeys and experiences by global businesses.
4,458 connections on Linkedin
2,500+ followers on Twitter
WE UNDERTAKE PROJECTS FOR CUSTOM CONTENT (Blogs, Articles, Ghostwriting, whitepapers, newsletters – write to [email protected])
SPONSORED CONTENT
Paid or sponsored articles are promoted through SEO and paid social media to maximise viewership. SEM strategies are also applied. We also recommend articles to our content syndication partners/partner networks.
UNSPONSORED CONTENT
We receive many pitches from PR agencies with requests for interviews. Digital Creed and its editors will remain highly selective about these pitches. The criteria for servicing such requests are:
> Relevance to target audience
> Social media promotion, article promotion (from the client's end)
> Brand equity
> Seniority of the spokesperson
> For startups and SMEs: Uniqueness of the idea/innovation
---
Editorial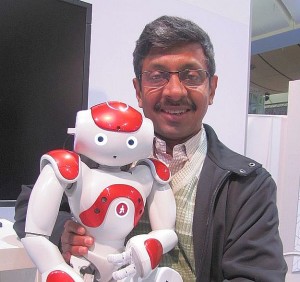 This Website is owned and edited by Brian Pereira, https://in.linkedin.com/in/pereirabrian a veteran technology journalist/analyst from India with over two decades of journalism experience. Brian has been tracking consumer and enterprise technology trends since 1990. He has travelled around the world and across India to cover tech events and conferences. And he has interviewed hundreds of CIOs, CTOs, CEOs, MDs, VPs and other business leaders in Fortune 500 corporations.
Brian is the former editor of CHIP Magazine and former Editor-in-chief of InformationWeek (India). He has served leading publishing houses in India such as The Times of India and The Indian Express Group.
You can also read his exclusive reports on http://www.informationweek.in (now discontinued),  http://techwow.wordpress.com and Linkedin Pulse.
Having mastered new media and digital marketing, Brian is applying these skills to create content that attracts, informs and engages readers, customers, online & live audiences.
Twitter: @brian9p (2,500+ followers)
Write to Brian  : [email protected]
LinkedIn Profile: https://in.linkedin.com/in/pereirabrian
---
DISCLAIMER
Digital Creed has not verified the claims made in the Press Releases posted on this site.  Products have not been tested to verify specifications. These stories have been labelled "PRESS RELEASE".
---
LEGAL
All original content published on this site is Copyrighted material and considered the property of Digital Creed and its editor, Brian Pereira. No article may be republished or reproduced without explicit written permission from the Editor. Failing to abide with this clause will invoke legal action.
For content syndication and sponsored content enquiries write to [email protected]
(c) Digital Creed 2016, 2017
---
[/vc_column_text][/vc_column][vc_column width="4/12″][vc_row_inner][vc_column_inner width="11/12″][vc_widget_sidebar sidebar_id="default-sidebar-1″][/vc_column_inner][/vc_row_inner][/vc_column][/vc_row]