Announces the launch of industry's first Endpoint Detection, Protection, Response (EDPR) based on Artificial Intelligence that helps simplify endpoint security across heterogeneous operating systems
Comprehensive, centrally managed to detect and protect against advanced cyber threats, and vulnerabilities.
Mumbai, 4th Oct 2018: Mumbai-based Cyber security company Sequretek, which was started in 2013, by industry veterans Pankit Desai and Anand Naik, has announced the launch of Sequretek EDPR.
In this digital transformation era, businesses rely on latest technologies such as AI, IoT, block chain, mobility, cloud as the backbone to offer products and services to customers, employees and the extended ecosystem. Extensive digital footprint makes the organization susceptible to cyber attacks, with attacks becoming more targeted, stealthy and sophisticated. The problem is getting compounded with heterogeneity of endpoints and enterprise's needs to offer interaction to their extended value chains from outside their traditional perimeter defenses. This transformation of landscape means that "Endpoints are the new perimeter" needing them to become the next frontier of cyber defense.
Sequretek Endpoint Detection Prevention Response (EDPR) is a next generation endpoint security product that looks to plug the gaps of the current End Detection and Response (EDR) offerings, which are primarily focused around threat detection. The product marries extensive threat detection capabilities with protection elements such as patching and application whitelisting.
The product is the result of over 3.5 years of R&D work done by the Company in mainly 4 areas — Artificial Intelligence, Threat Intelligence, Malware research and Product design and development.
With this launch, Sequretek delivers industry's only comprehensive endpoint agent that delivers Anti Malware, Patching, Application whitelisting, Data Leakage and Advanced persistent threat detection, prevention and protection. Sequretek helps 'simplify end point security' for customers and allows them to 'Take Control' of this new enterprise perimeter.
At its core is a very robust Artificial Intelligence based Detection technology that detects new generation and advanced threats. Sequretek EDPR's comprehensive protection and response secures the organization against multitude of attack vectors across heterogeneous endpoints. Sequretek EDPR removes the complexity of installing, managing and maintaining multiple technologies within an endpoint. Its superior product design ensures enterprise performance and scale. Sequretek EDPR's out of box reporting capabilities ensure compliance and eliminates human error.
Sequretek's EDPR offers in-memory protection and file less malware through its advanced machine learning capabilities. This eliminates the need for daily content update. As Sequretek EDPR maintains a comprehensive inventory and patch cycles for all endpoints along with automatic identification of vulnerable endpoints, contextual automated patch testing and roll out, reduces patch deployment cycle time. It enables faster response to ensure malware does not exploit known vulnerabilities.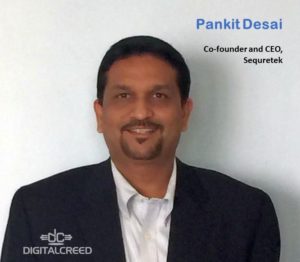 Pankit Desai, Co-founder and CEO, Sequretek, says, "Sequretek's vision is to simplify security and to this effect EDPR technology has been designed to offer comprehensive malware detection and protection whilst bringing down the overall Total Cost of Ownership (TCO). We believe, as endpoints will undergo change with advent of newer technologies our platform approach will allow us to on board newer security components without causing disruption in the customer environment."
Anand Naik, Co-founder & CEO, Sequretek says, "Complexity associated with securing endpoint is built into the product so that it is easy to manage and operate for the users and product administrators. The core of the product is designed with Machine learning based threat detection along with host of other technologies ranging from patching, whitelisting to traditional signature, behavior, heuristics and sandboxing, each activated as per the need and in staggered manner. We have achieved this through intelligence management on the end device. This is done to ensure minimum resource consumption for endpoints while delivering highest detection and protection."
Sequretek has also unveiled a new brand identity along with EDPR. The new logo has been designed keeping in mind the Company's vision to 'Simplify Security'.
About Sequretek
Sequretek, a Mumbai-based startup, was launched in late 2013, with an aim to provide cutting edge products and solutions in the area Information Security. Company's vision is to "Simplify Security" by moving away from offering point products to address security needs to offering platforms that bring disparate technology elements together. The Company currently offers products in the area of endpoint security, user access governance and enterprise visibility through its managed detection and response offering.