Hangzhou, China, September 19, 2018 — SAP SE, the German business software company and Alibaba announced the next phase of their partnership here on Wednesday. Under the new agreement, SAP's S4/HANA Cloud services will be available to Chinese companies on the Alibaba Cloud, which provides IaaS services. And AliCloud will host SAP services. SAP and Alibaba will continue to market and sell each other's products and services in the Asian market. This arrangement will also help Chinese businesses to go global with their services and products.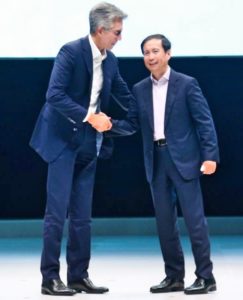 Speaking on the opening day at The Computing Conference here in Hangzhou, Bill McDermott, CEO, SAP said this partnership will create a growth revolution for companies here in China and around the world.
"As I think about the future, every customer, every CEO wants to have a single view of their consumer. These consumers are mobile, they are digital, they are social, they buy in many channels — and they want to connect the demand chain to the supply chain. So everything in the company, whether it is retail, manufacturing, financial services, government business — everything is in real time," said McDermott. "We are helping to reimagine new applications for the enterprise, in every industry."
McDermott commended the ease of consumption, the user experience and the simplicity of AliCloud, which is Alibaba Group's IaaS (Infrastructure as a Service) platform.
Brian was hosted by Alibaba Group in Hangzhou, China