Drivers and road warriors have become very dependent on maps and GPS. But a 3D digital map twin of the real world can accomplish far greater things and have a much bigger impact on society
GPS and maps have become an integral part of our lives; a phone or GPS device with a map, sitting on the dash of a cab, is common. When we travel on international flights, we see a moving map with information about our exact location on the globe. Even when we are on our way to a meeting or family function, we have our map app opened for directions. But can you imagine what you could achieve with a 3D map of the entire world?
The 3D map, called RealView was created by MapmyIndia. It offers full panoramic views with geo tagging capabilities. With RealView you can visualise streets, roads, motorways, railway tracks, as well as residential and commercial zones. The RealView Camera collects and saves highly accurate data which can then be processed using special software. The platform syncs the high resolution panoramic camera with a GNSS receiver and a high sensitivity accelerometer to store the real world in a digital format. MapmyIndia is now building the second version of RealView.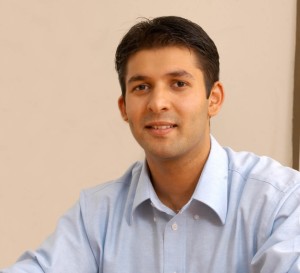 Rohan Verma, Director and CTO, MapmyIndia said, the better geospatial technology gets, the more maps and locations will empower people.
"The better the underlying data that we use for decision making, the more high precision, high fidelity, and freshness of data," said Verma. "Better map data will enable many more things, and examples are services like Uber. Everyday travel is also enhanced with GPS navigation."
Elaborating further, Verma explains that MapmyIndia is trying to model the real world in 360 degrees and create a digital equivalent. It will contain both outdoor and indoor views. The snapshots will be continuously updated, live. Cars with 360 degree cameras mounted on them will capture street level panoramic views. These cameras will also record location and posture. This is called geo-referencing. Lasers, and soon, drones, will also be used.
"We are trying to model the real world in entirety. Can we model the way the world operates? For instance, traffic flows based on the rules of the road. That will enable 'n' number of experimentations that can help us do things better in the actual world," said Verma.
This sounds similar to Linden Labs' Second Life – a virtual world that was introduced in 2003. The difference here is that RealView is based on geospatial data and maps. Unlike Second Life, the applications are not geared towards entertainment or amusement; RealView has some serious business applications for government, business and consumers.
Verma believes that the RealView models will become so powerful someday, they will actually improve things in the real world, like traffic flows. The models could be applied to other areas such as wellness. He talks about maps powering self-driving cars.
But here are some applications that are available today, in India.
Local Applications
MapmyIndia conducts customised surveys to capture streets, roads, motorways, railway tracks, plants, residential and commercial zones.
There are a couple of actual use cases of RealView surveys for real-estate, retail, utilities, urban planning and roads. RealView can also be used for marketing surveys. In fact, MapmyIndia serves 5,000 enterprise customers with these services.
The government and municipal corporations in India are also leveraging geospatial and geo-demographic data to improve governance, mitigate tax evasion, and improve citizen services.
MapmyIndia and Visit have come together to help the government launch Swastha Bharat m-health app for smart cities, tier-2 towns and villages. This app is powered by MapmyIndia's mapping technologies and Visit's AI enabled Telemedicine Platform. The app allows citizens to access emergency ambulance services, find nearby hospitals, clinics, labs, pharmacy outlets and consult doctors and specialists over chat, phone and video.
Another example is street light automation, using map technology.
"We help municipalities maximise their property tax revenues by allowing them to accurately understand the square footage of the building and other such measurements. We do these surveys and collect data for the government," informed Verma.
RealView can actually point out which buildings comply or do not comply to the permissible heights and number of floors, claims Verma.
"Real estate owners in Gurgaon, for instance, can go to the website of Municipal Corporation of Gurgaon, key in their address and see it on the map, with their  property tax notice," said Verma.
An application like this can indeed mitigate corruption and leaves no room for discretion.
Another example is Project Insight from the Central Government, for income tax. The I-T department  is using  MapmyIndia's digital addresses (called eLoc) and geo-coding engine to locate PAN card holders, at a digital level. They then leverage MapmyIndia's geo-demographic data to aggregate income levels, by locality, to get a sense of which localities are complying or deviating from the expected income returns. This project is driven by L&T Infotech, with MapmyIndia being the data provider.